The Christmas season in Seville, beginning in December and continuing to January 6, is a wonderful time to visit with kids.
City streets are illuminated with elaborate lights, Feast of the Immaculate Conception is celebrated with Baile de los Seises in the cathedral, many nativity scenes are on display around Seville, confiteria shops are filled with seasonal sweets.
The holiday season culminates in a spectacular Three Kings parade, celebrating the arrival of three Wise Men in Bethlehem, twelve days after Christmas.
Streets are sparkling
In November, lighted decorations are put up on city streets, the lights are turned on in December. Avenida de la Constitucion is especially sparkling.
Around the city are "Mapping Sevilla Navidad," 3-D multimedia shows with laser lights, animation and music in plazas and public places. Mapping Sevilla shows are free, and happen in different locales such as Parasol Metropol (Mushrooms), Palacio de San Telmo, Ayuntamiento (Town Hall).
Feast of the Immaculate Conception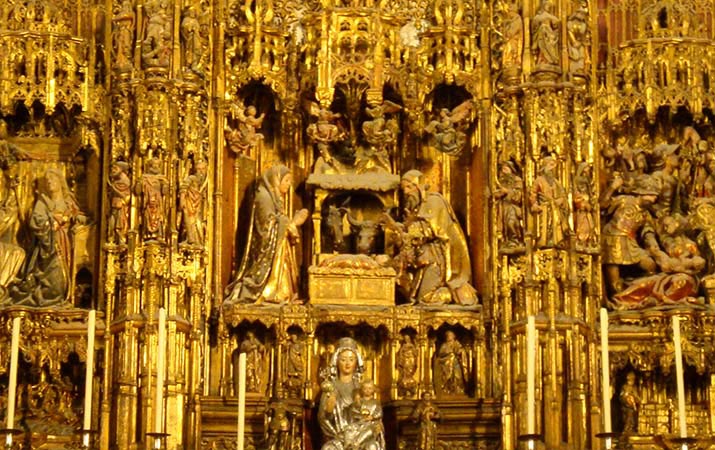 Dec. 8 is the start of the Feast of the Immaculate Conception (La Inmaculada Concepcion), which commemorates the immaculate conception of the Virgin Mary.
Tip: In Seville cathedral, on the main altar don't miss the silver statue of Mary, and above it a nativity scene (photo above).
On the streets, stop to listen to groups of medieval singers and lute players performing, especially around the Plaza del Triunfo, and other singers with guitars playing flamenco songs.
One portion of the religious celebration in the cathedral is Baile de los Seises ("dance of the sixes"), where ten boys wearing 16th century costumes, accompanied by a children's choir and orchestra, perform an elegant dance from the Renaissance. (Originally there were six boys who performed the dance, now it's ten.)
Nativity scenes
Nativity scenes (belenes) are very popular in Seville, both life-size and miniature figurines for homes.
Large navitity scenes are on display in churches, in front of banks, department stores, cultural centers and other buildings all over the city. See one of best nativity scenes at the Fundacion Cajasol.
Along with Mary, Joseph, the baby Jesus, figures in nativity scenes represent local people engaged in traditional activities – feeding the chickens, making clay pots, baking bread in an oven, forging metal tools, washing clothes by hand, carrying a basket of fish, collecting firewood, miniature food of all kinds – meat, fish, grapes, lemons, pepper, and a wonderful variety of animals – tigers, elephants, camels, rearing horses. It's like stepping back into Andalucia centuries ago.
Take a stroll through the Feria de Belen, looking at all the stalls stocked with small nativity figurines – so many to choose from! Feria de Belen is located near the cathedral at Avenida de la Constitucion and Calle Fray Ceferino.
Christmas sweets
The sweets and cake shops (confiterias and pastelerias) in Seville are filled with traditional candies and pastries throughout the holiday season.
It's fun for kids to try different sweets – mazapanes (marzipan) shaped like apples or vegetables, candied fruits such as pears, pumpkin, cherries, mandarin oranges, crumbly little cakes called polvorones and mantecados, or turrones, Spanish nougat of Arab origin made of honey-roasted almonds (or pine nuts, hazelnuts), egg whites and sugar.
Christmas eve and Christmas day
Christmas eve is typically family oriented, where the extended family gets together for a festive dinner at grandmother's house.
On Christmas day, Dec. 25, Seville children aren't waiting for Santa to pop down the chimney bringing lots of presents. Instead, gifts come from the Three Kings.
Feast of the Three Kings – Epiphany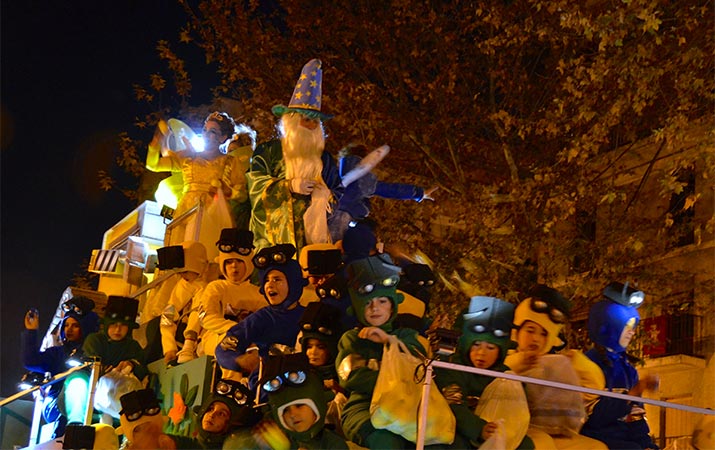 January 6 is the Feast of Three Kings, also called Epiphany throughout Europe. This holiday, twelve days after Christmas, celebrates the arrival of the Three Kings (Three Wise Men) in Bethlehem.
The night of January 5 is the Three Kings parade (Calbagata de Reyes Magos), an over-the-top spectacle. The parade, with more than forty floats, marching bands, people on horseback, lasts six to eight hours. Children in costumes ride on the floats, and tons of wrapped hard candies are tossed out to the spectators. Kids carry umbrellas upside down to catch lots of candy! At the end of the parade, there's so much candy on the streets, it's like sweet ice crunching under foot.
On January 6, families share a Three Kings Cake (roscon de reyes). The cake is a ring-shaped pastry, sliced into two layers with cream in the middle, and topped with candied fruits. Baked into the pastry is a small figurine, usually the Christ child or a king figure. The person who gets the figurine in his or her slice of cake, is "king for a day."
Tip: There's so many fun things to do with kids in Seville, you'll need a fun place to stay – check out Travel for Kids researched lists of Seville family hotels and apartment rentals.