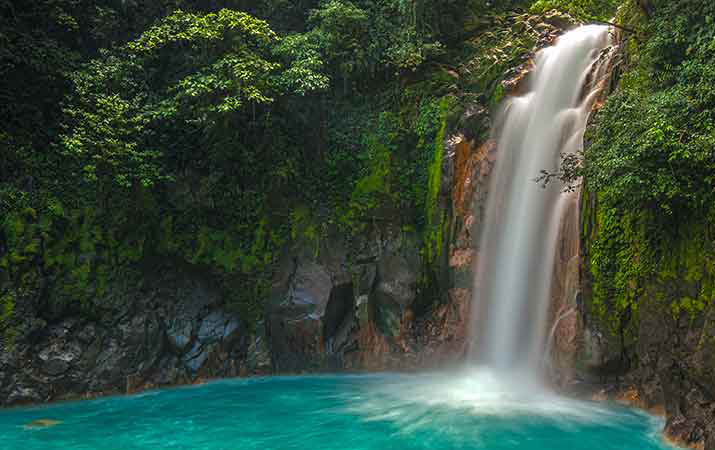 In a big, wide eco-world of possibilities, here are the no-fail family fun-makers.
Costa Rica has everything you crave in a family vacation – hyper-abundant amounts of exotic flora and fauna, awesome multisport options, luxurious (and extremely kid-friendly) lodges, and easy-to-play-in weather all year round. AND it just happens to be unstressfully close to the U.S. The real challenge when you take your family is how to pare it down to size. I've had 25 years of curating Costa Rica for families, and here are five essential moments that ring everybody's bell every time!
1. Zip and walk in the rainforest canopy.
Anybody can walk through a forest. But your family needs to know that the real action is up there, high in the leaves where monkeys swing, macaws fly and the world looks completely different. Strapped safely into a zipline harness, you all get a thrill and a look at an environment most people don't see. And don't overlook the suspended treetop canopies where you can take a slower look on foot.
2. Go wild over the wildlife.
Costa Rica has 850 bird species, 1,300 kinds of orchids, monkeys and crocodiles and anteaters, and clouds of butterflies. But it's nothing like a zoo. The most reliable way to see the best of the best is with expert naturalists like the local guides on our trips. Apart from the sheer amazement of seeing it all, your time in these environments is full of experiences that plug right into questions about if, when, how and why to preserve shrinking habitats.
3. Ride the whitewater.
Sure, it's splashy wet. Yes, it can be feel like a roller coaster ride. Absolutely, your expedition on a whitewater raft down the Savegre River is a guaranteed bonding experience. You'll have expert guides, a full support team, and all the safety equipment you need. Then you cut loose to rock-and-roll on the river through an almost-Jurassic Park forest where you can pull ashore for a picnic lunch.
4. Explore Arenal Volcano.
Dormant it may be, but there's no doubt that Arenal is a real volcano. How cool is it to walk on rivers of lava that long-ago turned to stone, but where you can still see the waves? Extremely. You can see the line where the lava flow covered one part of the forest and left the rest standing a few feet away. You can also soak in a thermal pool, heated by molten rock that's far below ground. Extra points because this can all be right outside the window of your family's room at a luxury 5-star resort.
5. Goof around on a horseshoe-shaped beach.
All of that nature and all of those multisport activities can have your family going non-stop. But time off is time well-spent, too. At Manuel Antonio Park, the Pacific beaches are great for boogie-boarding, swimming and vegging out. Of course, when you're in a lodge on a promontory overlooking those beaches, you may decide that your place is right beside the infinity pool.
If only I had space here for the top 50 things to do in Costa Rica, it would be easy enough to list them all. Trust me when I say that Costa Rica is just about the finest place in the world to make everybody in your hard-to-please family happy!
Thanks to See the World contributor Susie Piegza, Classic Journeys.