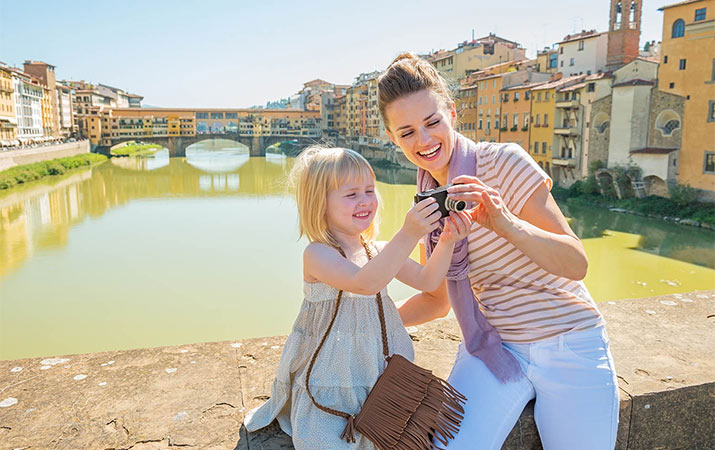 If you love to treat and inspire the young travelers in your family, you can't find a better way to do it than with a week in Venice, Florence and Rome. 
 
You'll be delighted how our handcrafted and carefully curated family trip to Venice, Florence and Rome recaptures all of that and more. It's a kick to watch your kids encounter three of the world's most famous cities. Our local guides give you that peaceful, easy feeling that you only get when you trust yourself to a friend who lives in the neighborhood.
 
The adventure begins in Venice. As huge as La Serenissima is in everyone's imagination, the floating city is quite small and easy to cover. Your time here will be a just-right blend of iconic sights like Piazza San Marco and the Bridge of Sighs and a gondola ride into some of the narrowest canals. Then, before "palazzo fatigue" sets in, you take a water taxi to the station for a high-speed train ride to Florence.
 
Many tourists think they need days in Florence, but that's because they do things like wait four hours to see Michelangelo's David. You, on the other hand, will come into near-magical possession of tickets that let you skip the line. From 20+ years of traveling with kids, we know that this is the right moment to break out of city mode and retreat to a Tuscan village where your hosts are a count and countess and the infinity edge pool overlooks vineyards and olive groves. Your country interlude is a great way to let off steam walking in vineyards, making pizzas, biking in Siena, and ogling the towers of San Gimignano.
 
By the time you de-train in Rome, you'll all feel like Italian pros. You know the walks to the Colosseum and the Forum will last just long enough. The Sistine Chapel? Of course we score rare tickets in advance. While the turisti shuffle off to another monument, your family goes for a cool gladiator training session. Rome unfolds for you all without overwhelming anyone.
Whether you are seeing these three cities for the first time—or just the first time with your family—you won't be disappointed in Italy and the wonderful Italians you'll come to know.
Thanks to See the World contributor Edward Piegza, founder Classic Journeys.