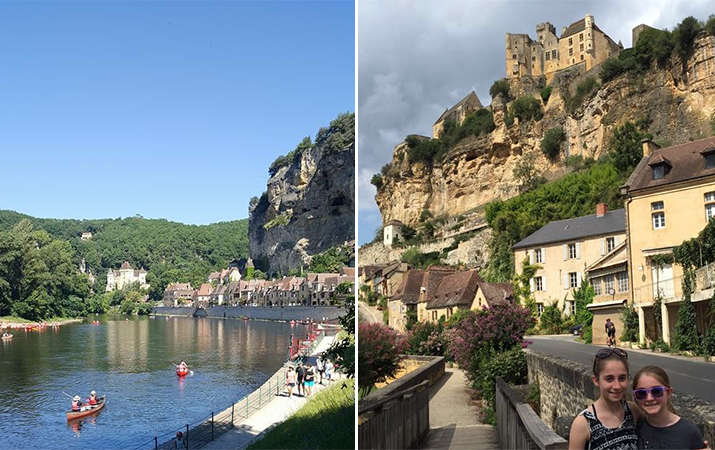 The Dordogne, in South Western France, is a perfect family destination.
With its medieval cliff top castles, beautiful villages built into the sides of mountains, some of the oldest and best preserved cave paintings, star attractions like Sarlat and Rocamadour, and as much biking, walking and canoeing/kayaking as anyone could want, this is a French region just begging to be explored.
Sarlat is a wonderful town to base yourselves. It's main pedestrian thoroughfare teems with life during the twice weekly produce market that sprawls throughout the town. Summer nights in Sarlat can feel like a genuine medieval Disneyland with street musicians and performers everywhere. But there's more – incredibly picturesque towns and villages like Domme, La Roque Gageac and Belves are just 3 of many that will take your breath away.
The Dordogne is characterized by its huge rivers, the Dordogne and the Vezere. While boating or canoeing on the rivers or walking or biking on its banks you'll be blown away by the incredible cliff top castles that look like they could tumble down any moment. The best known are Castlenaud and Beynac but there are many more. 
The stunning cave art of the Dordogne – many thousands of years old (oldest known to man) and spread over 25 kilometers and 15 caves – are the world's oldest art galleries. These are some the earliest and most extraordinary displays of human creativity. Wild animals and human figures, some up to 30,000 years old, adorning the caves are truly awe-inspiring. 
If all of this – as well as some fabulous French country food (you can learn to make chocolate fondant or honey stuffed nectarines with ice cream in a local guesthouse) – is not enough, there's still Rocamadour (technically in neighboring Lot region), the vertical village overlooking the Alzou Canyon, and built into the cliffside on successive levels. Definitely one of France's greatest wonders.
Treat yourself this spring or summer and get to the Dordogne – you won't regret it!
Thanks to See the World contributor Philip Nurick, Quivertree Family Expeditions.