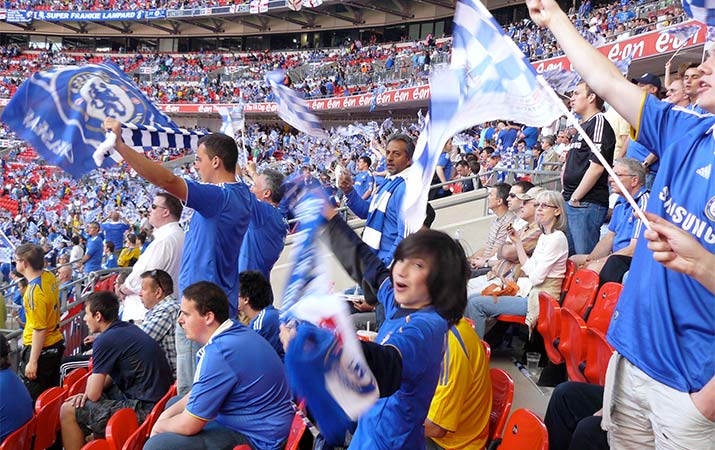 Travel is our passion. And sport is our passion, too. So why not combine the two?
Imagine watching Barcelona in the Nou Camp, Real Madrid in the Bernabeau or Manchester United, Liverpool or Chelsea in the Premier League? Sport – and in particular soccer (football) can provide a foreign cultural experience enjoyable to any fan.

Quivertree's founders, Philip & Gideon have been to soccer/football matches in places as far-flung as Turkey and Argentina, the FIFA World Cup Final in South Africa, the Rugby World Cup Final in London, the Cricket World Cup in South Africa, the US Open Tennis, Wimbledon and many more!
Philip recently explained: "I have been a sports fanatic since as far back as I can remember. Growing up in sports-crazy South Africa, I spent every weekend at rugby and cricket. At some point I fell in love with English football (soccer). I've been faithfully going to London to watch my beloved Chelsea Football Club since I was a teenager. When my son Benjy turned six he joined me and we have not stopped going since (going to a Chelsea Premier League game was his 6th birthday present. Sadly we lost)."
Whenever we travel to a new destination, we take in some local sport as it is part of the culture just like music, dance, food, art, and museums. And sport feels like an integral part of travel and one that works very well as it can be enjoyed by individuals, families, or multigenerational trips, and provides the opportunity to connect with real people, not just tourists!
Quivertree families have been to soccer all over the world – not only in places you'd expect like Barcelona and Madrid, but in Peru, Turkey, and Argentina, golfed in Ireland and Morocco, watched cricket in South Africa and much, much more.
We have established great contacts all over the world and so can get tickets for just about any sporting event! Add a new twist to your family travel experience with a local sporting event showcasing your favorite sport or discover something new. Hurling anyone? Watch a sumo workout in Japan?!
We can and will create a custom designed sports trip just for you – contact Quivertree Family Expeditions for further details.
Thanks to See the World contributor Philip Nurick, Quivertree Family Expeditions.