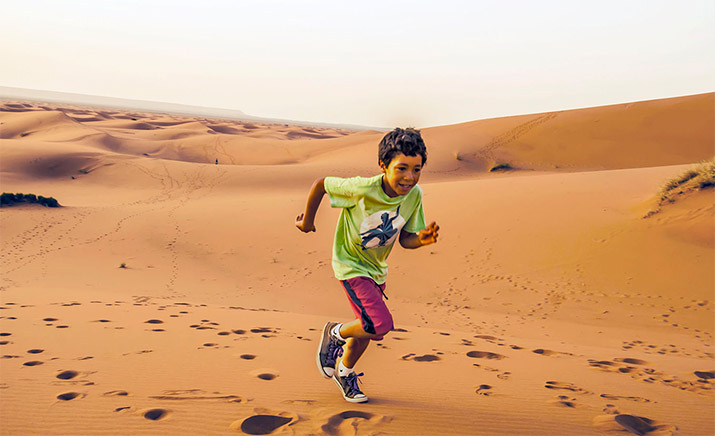 One of the biggest tricks to a successful family vacation is how to keep the kids engaged. Their excess energy needs burning. Attention spans must be respected. They'll revert to their touchscreens given half a chance.
But for anyone who's planned a family vacation (and taken the heat for the results), generating that kind of fun is a lot of work. That is the best argument for turning the job over to someone else. It's not cheating. It's self-preservation—and the easiest way for you to have a good time, too. The Multisport Family Journeys we create really mix it up with a ton of varied activities. They all include multiple guides so that kids vs. adults, or doers vs. loungers by the pool all get the attention they deserve. And "multisport" doesn't mean that the kids (or the parents or grandparents) need to be athletes. Family-friendly activities range from pizza making to zip lining.
For example, our way of experiencing the Galápagos is lot different than how most people do it. The typical cruise ship trip requires you all to ferry back out to your cabin every night. We stay on the islands in eco-lodges with swimming pools and beaches to walk. No cabin fever. And after days full of kayaking with sea lions, snorkeling, penguin watching and mountain biking, everybody sleeps like a log.
What could a destination like Morocco have for the kids? Try a camel ride into the Sahara (and a campfire night with lodgings in a Berber tent). Meet other kids working in the fields of an oasis. Time-travel back to the Middle Ages in the Medina of Fes. Explore the High Atlas Mountains on a mule.
We have a ton of eco-fun in Costa Rica. But for an extra twist (or if your family has already been), consider Belize and Guatemala. That means climbing a Mayan Pyramid, helping feed a colony of howler monkeys, four-wheeling to a jungle cave and swimming with docile nurse sharks and rays.
One of my kids' all-time favorite places is Peru. You may think Machu Picchu and ruins. They remember talking to llama herders, biking in the Sacred Valley, counting hummingbirds, and river-rafting on the Urubamba (with expert outfitters and safety equipment—plenty of wet and plenty of fun).
In my experience, it works every time. When you treat the kids to a steady flow of activities—especially ones they've never had a chance to try before—they learn to think of travel as an adventure. You make the coolest kind of memories together. And believe me, you will earn superhero status for making it all happen.
Thanks to See the World contributor Edward Piegza, founder of Classic Journeys.