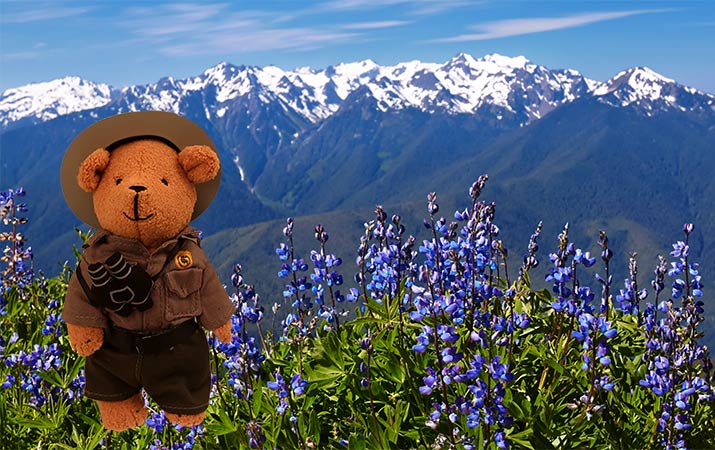 Already we're thinking about summer, and exploring national parks.
Picnicking in Yosemite Tuolumne Meadows, kayaking in Acadia National Park, exploring Bryce Canyon hoodoos, looking for fossils in the Badlands, watching pronghorns running at speed in Grand Teton, looking into turquoise hot springs in Yellowstone, taking the boat to Wizard Island in Crater Lake, and more.
Here's a national parks update, tips for visiting, free entrance days, campground reservations, check for weather conditions, children's books, and more.
Our information is current as of March 2021, but things can change, depending on the pandemic, extreme weather, wildfires etc.
Before visiting a specific park, find out what is available: National Park Service
Limited services
– National parks are open, but services may be limited.
– Visitor centers are typically closed.
– Not all campgrounds may be open, ranger-led hikes and programs are generally unavailable.
– Park concessions, such as grocery stores, delis, cafes, may be closed.
Good advice from a park ranger: "Visitors should bring everything they might need for a safe visit including water, meals, and hand sanitizer. Above all, visitors should pack their patience, avoid crowds, and have alternate destinations planned should parking lots be full,"
2021 Free entrance days –
On these days, national park entrance fees are free:
April 17
August 4
August 25
September 25
November 11
Tips for safely visiting national parks
– Face masks are required on all national park lands where physical distancing isn't possible (e.g. narrow trails), and inside all park buildings, including visitor centers and museums.
– Start early to avoid crowds on trails and lack of parking.
– When parking lots are full, do not park on the side of the road.
– Bring water, snacks, picnic lunch, everything you need for the day – park concessions may not be available.
– Check national park website or call park in advance to find out about campgrounds that are open, best trails to take, what park services are available.
– Postpone your visit to the park if you are sick, or someone in your family has tested positive for Covid.
Campground Reservations
National parks campgrounds are ideal, beautiful natural settings under the stars and close to areas you'll want to explore. But during busy summer seasons, campgrounds are full every night.
Popular national parks now require reservations for campgrounds inside the park. Advance reservations can be made up to six months in advance, call the national park directly, or reserve online.
Easiest way to find campground reservations online is to start with nps.gov website for an individual park, e.g. Grand Teton. From menu, select "Plan your visit, Eating & Sleeping, Camping" and click on reservation link provided: Grand Teton
Here's more campground reservations for popular parks:
Summer weather conditions
Temperatures in some desert national parks are just too hot (over 100 degrees) to visit in summer.
These parks are best visited at another season, November to April.
Death Valley
Mojave National Preserve
Joshua Tree
Grand Canyon Inner Canyon
High mountain parks may be open year round, but due to snow, hiking trails and roads can be closed at beginning of summer.
For example, Yosemite Tuolumne Meadows is seasonally open, depending on Sierra snow, sometimes it doesn't open until late July. Glacier, Mt. Rainier and Lassen can have snow on trails into mid-summer.
Check individual parks websites about roads and trails conditions.
Wildfires
Summer wildfires are now common throughout the western United States.
In 2020, due to large Sierra wildfires, Yosemite was closed at times for the safety of visitors and employees. Oregon, Washington, and British Columbia have had wildfires that cover large areas.
To reduce human-caused fires, please follow all instructions in the parks about campfires, don't camp illegally, set off fireworks, etc.
Tip: Summer wildfires can significantly affect air quality, which can be very unhealthy. The national weather service publishes "red flag" forecasts, for wildfire conditions; good idea to check for any warnings.
Children's books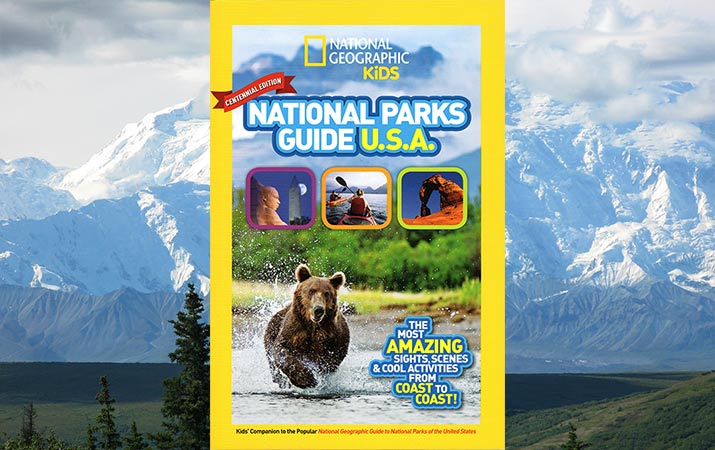 National Parks Guide U.S.A. by National Geographic Kids.
Planning a trip to the national parks, this is comprehensive overall guidebook to many national parks, monuments, and historic sites. Filled with activities, hiking, camping, biking in each park, ranger tips for your visit, excellent detailed maps, wildlife to look for, excursions near the park. (Guidebook)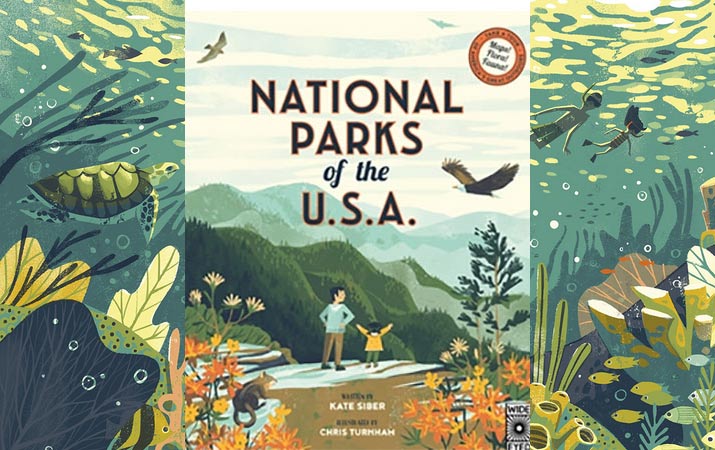 National Parks of the USA by Kate Siber, Chris Turnham.
Take a coast-to-coast journey of America's national parks, from the Everglades to fossil-filled Badlands, condors in Grand Canyon, hot and dry Death Valley, Bryce Canyon hoodoos, Mesa Verde cliff dwellings, Olympic rain forests, Hawaii volcanoes, and more, maps and facts for each park. Lots of unusual, fun details, beautifully illustrated. (Picture book)
National Parks: A Kid's Guide to America's Parks, Monuments, and Landmarks by Erin McHugh, Neal Aspinall.
Discover national parks, monuments and historical sites in each of the fifty states, famous battlegrounds, forts, memorials, archaeological sites, including newest national parks. (Illustrated chapter book)
More on Travel for Kids
More children's books and fun things to do in national parks on Travel for Kids:
Yosemite
Redwood Coast
Death Valley
Joshua Tree
Olympic
Crater Lake
Grand Canyon
Yellowstone
Grand Teton
Glacier
Zion
Bryce
Arches
Statue of Liberty & Ellis Island
Minuteman
Valley Forge
Golden Spike