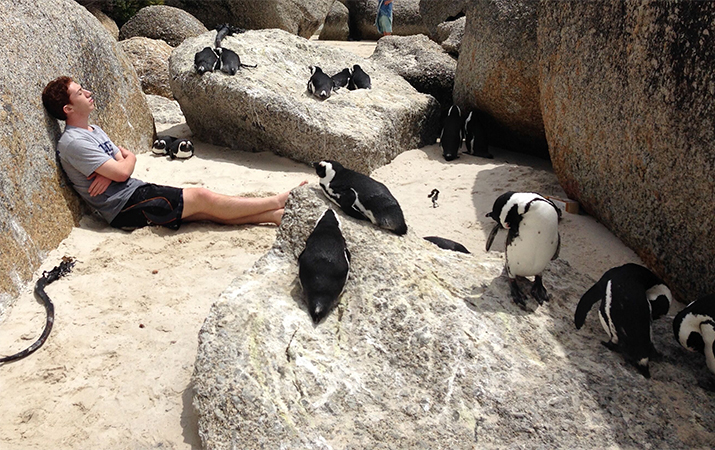 South Africa is one of the most exciting and memorable family adventure destinations anywhere in the world. There are many reasons why this is such a magical place to travel as a family. And there's never been a better time to visit than now.
So why South Africa NOW?
1. South Africa is an incredible value for money destination. You can expect to pay far less than you'd expect for food, accommodations and attractions. It really makes spending money quite a bit of fun!
2. Great infrastructure – excellent roads, shopping, telecommunications, hotels, restaurants, airports and lots of convenient domestic flights. The ideal introduction to Africa for families. 
4. Beaches, beaches and more beaches. With both Indian Ocean and Atlantic Ocean coastlines, Southern Africa has many fabulous beaches. And there's no other place in the world where you can swim and sunbathe with a huge colony of African Penguins as you will at Boulders Beach just outside Cape Town.
5. Talking of Cape Town – rated as one of the top destinations in the world. History, architecture, culture, food and wine, and of course one of the most incredible natural settings for a city anywhere. With majestic Table Mountain overlooking the city and Lion's Head next to it – many consider the latter to be the best city hike in the world – this is a glorious, cosmopolitan, dramatic city.
6. People – Southern Africans are friendly, gracious, eager to please and completely multicultural. A township tour in any of the large cities or a local cooking lesson (Cape Town's local 'Malay' culture is an integral part of the city and its cuisine is a wonderful blend of East and West) – is an incredible experience – unforgettable for the whole family. 
7. Adventure – great hiking, shark cave diving, ziplines, breakfast watching meerkats start their day (really unique) and feeding ostriches – it's a never ending list of amazing once in a lifetime experiences!
For many, South Africa is synonomous with safaris. And an African safari is truly something special. You get a real up-close and personal experience which does not end with the spectacular wildlife sightings. One of the most popular activities is the sleep-out, where you get to spend the night on a raised platform in the bush. After dinner, it's just you and nature before a ranger collects you in the early morning for a game drive (Two way radios are provided just in case you want to return to camp!). With luxury tents overlooking a watering hole, an outdoors, almost in the wild bathtub, a spa and kids' safari activities, this is an experience everyone should get to savour at least once in a lifetime. Add the gourmet meals, intimate settings (only 16 people in some camps) and the incredible level of personal attention and you'll see why this is a fantastic place for families to go.
 
South Africa really should be top of the list for your next family adventure!
Contact Quivertree Family Expeditions for further details.
Thanks to See the World contributor Philip Nurick, Quivertree Family Expeditions.