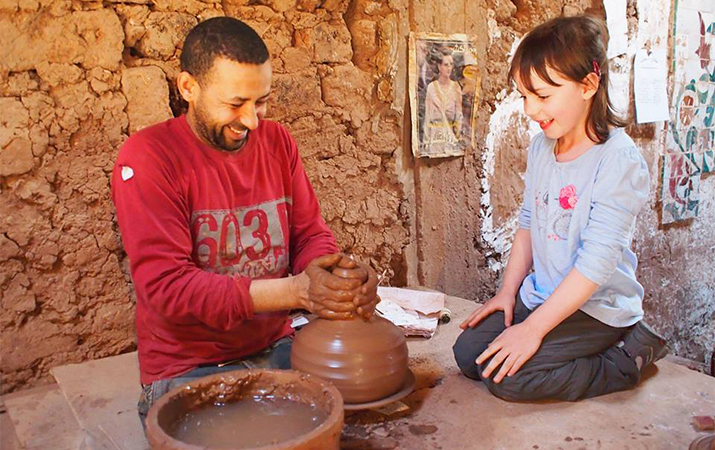 With an exotic culture, bustling souks, desert-like landscapes, palm filled oases, mountains and beaches, Morocco is a very popular destination for families looking to experience a totally different culture. Just a quick hop from Spain, England or a direct flight from New York, family adventure vacations in Morocco offer an Arabian Nights allure that is easy to reach and is incredibly family-oriented.
Quite simply, Moroccans love kids. Travel anywhere in the country, and your kids will immediately be a focus of gentle attention. Outstretched arms will beg to cuddle your baby, and older kids may be invited to play soccer or fly kites. You may be invited in to a local home for tea and sweets, just because you are traveling with kids.
What to see? Highlights include Marrakech, with its walled old city, palaces, exotic gardens and a giant public square where acrobats and snake charmers perform at night. The Atlas mountains offer wonderful day hikes past ancient villages. Fes is the most intact medieval city in the world, with streets so narrow that traffic is measured in mules and donkeys. Crumbling kasbahs in the desert and sand boarding on mighty Saharan dunes are just some additional highlights.
When to go – Morocco is an all year destination. It may be very hot in summer, but with a coast hundreds of miles long, the beach is never that far away. Food – Morocco has one of the great cuisines of the world, and if you have picky young eaters, then rest assured, French baguettes are available everywhere.
In summary, Morocco ranks as one of the most family friendly destinations anywhere!
Thanks to See the World contributor Philip Nurick, Quivertree Family Expeditions