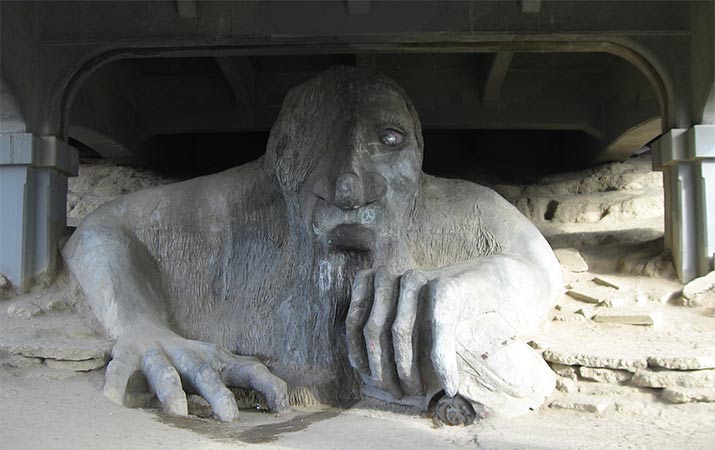 On a trip to Seattle, the Fremont Troll was something to see.
The Pacific Northwest has many bridges, some quite long, such as the bridge from Oregon to Washington over the Columbia River, bridges that connect islands to the mainland, a bridge for trains and pedestrians only, suspension bridge high above the trees in British Columbia, 19th century covered bridges.
At Cascade Locks on the Columbia River, Bridge of the Gods is for hikers. In Native American legends, Bridge of the Gods was originally a rock bridge, given by Manito, the Great Spirit, to the people so they could cross the river. A beautiful maiden, Loowit, guarded the bridge (and later she was transformed by Manito into a spectacular mountain, Mount St. Helens).
And in Seattle, under the Aurora Bridge, is a troll.
The Fremont Troll is a gigantic, one-eyed concrete troll, clutching a squashed car in its paw. Not an ancient troll, it appeared out of nowhere on Halloween in 1990.
Inspired by Hannah West in Center of the Universe, a mystery about the Fremont neighborhood, we had to see the troll for ourselves. It's located at N 36th St. and Troll Avenue N., under the Aurora Bridge. (Tip: The troll is not located at the blue and orange Fremont Bridge, close by.)
While in the neighborhood, as it was Sunday, we also stopped at the Fremont Sunday Market, a local farmers market, both indoors and outdoors, with snacks, pizza and other lunch goodies, and local fruits and vegetables. Fremont Sunday Market was founded the same year the Fremont Troll showed up. Perhaps the Troll likes those tasty local apples?
After seeing the Fremont Troll, we started to wonder about more monsters under the bridges in the Pacific Northwest?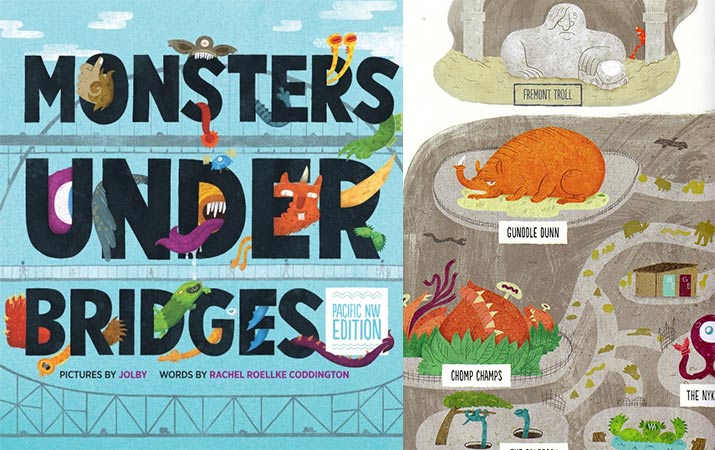 Monsters Under Bridges by Jolby and Rachel Roellke Coddington. Creative combination of Pacific Northwest bridges and imaginary monsters, e.g. Flixies are invisible helpers for a bridge in Portland, Weaseloes like cool damp covered bridges, at the Aurora Ave. Bridge, along with the Fremont Troll is a zoo of monsters (we didn't see a Bearded Bantoon or Cheerful Charnship). Delightful illustrations of all the creatures! (Picture book)
And here's the book that started us on our search for the Fremont Troll:
Hannah West in the Center of the Universe by Linda Johns. Hannah and her mother are house-sitting an apartment in Fremont, a very dog-friendly neighborhood, but dogs have gone missing. It's a mystery for Hannah to solve. (Chapter book)