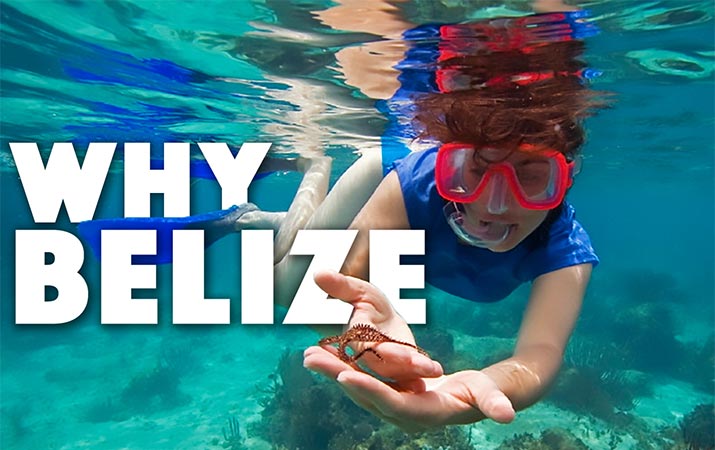 Belize has a well-deserved reputation as a top travel destination for families. It is a country that begs you to 'Unwind, loosen up, kick back ….and let the magic unfold!' Here are the top four reasons why you should consider a family trip to Belize for your next vacation:
Easy access to reefs: Exploring the second largest barrier reef in the world is fun for everyone, no matter your skill level. The Belize Barrier Reef offers all ranges of diving and snorkeling, from shallow water in front of your hotel to the famous Great Blue Hole.
Enchanting cave systems: There are amazing caves in Belize, with various ways to access them and each has a colorful story about the Mayan culture. There are many with easy access for families with little children or seniors. Some of my favorite cave experiences include Barton Creek Cave by canoe, rapelling into Actun Loch Tunich Cave or the Actun Tunichil Muknal on an inner tube.
Mayan ruins: At one time, it is estimated that 2 million Mayans inhabited the lands of Belize, so it's not surprising that it is still known as the epicenter of the ancient Mayan world. On a trip to Belize you can easily visit incredible Mayan Ruins such as Xunantunich and Cahal Pech. A longer drive will take you to Caracol, one of the most challenging ruins to reach but a very scenic drive. For adventurous travelers willing to cross the border to Guatemala, Tikal can be done in one day and is a jungle paradise.
Close to home: Getting to Belize is easier than you can imagine. It is just two hours from Miami and 4 hours from Los Angeles, and has many direct flight routes including American, United, Delta and Southwest Airlines. It is a great destination to escape the cold winter days for a quick tropical retreat.
Belize is a safe country and makes a great first international family trip. It is the perfect destination for parents with young children, a favorite for family reunions, an adventurous haven for teenagers and young adults, and a romantic destination for honeymooners and couples looking for a secluded utopian getaway. For your next trip, you can't go wrong if you just Belize it!
Bonus: For a limited time, Wildland Adventures is offering a $500 per adult/$300 per child/teen savings on our December 24 departures of our Holiday Ruins, Reef & Rainforest Active Adventure (8 days) and our Holiday Jungle Tree House & Reef Adventure (9 days).
Thanks to See the World contributor Grettel Calderon, Central America Director, Wildland Family Adventures.