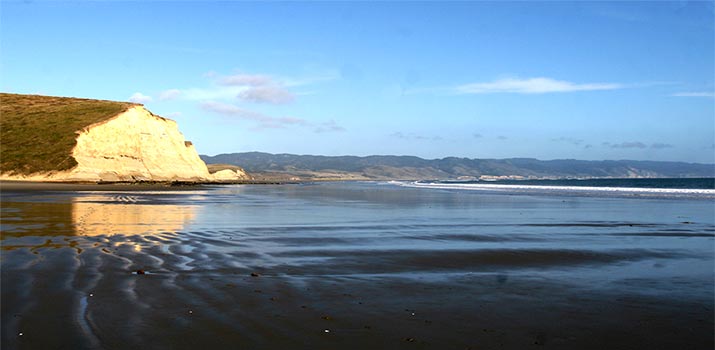 Last weekend we headed out to Point Reyes National Seashore, one hour north of San Francisco. It's a stunningly beautiful peninsula with long sandy beaches, rocky points and windswept headlands, pine and coast oak forests, dunes and lagoons, grasslands covered with wildflowers, and home to a diversity of wildlife – Tule elk, elephant and harbor seals, California sea lions, deer, woodpeckers, quail, great blue herons, pelicans, egrets and many more birds. In Point Reyes Station and Inverness there are hotels, cafes, restaurants, grocery, community playground, but for two days, we didn't see a stoplight or shopping mall.
First stop, Bear Valley Visitor Center, always a good place to stop to pick up trail maps, find out about wildlife sightings, and see exhibits about Point Reyes coast, marshes and forest habitats.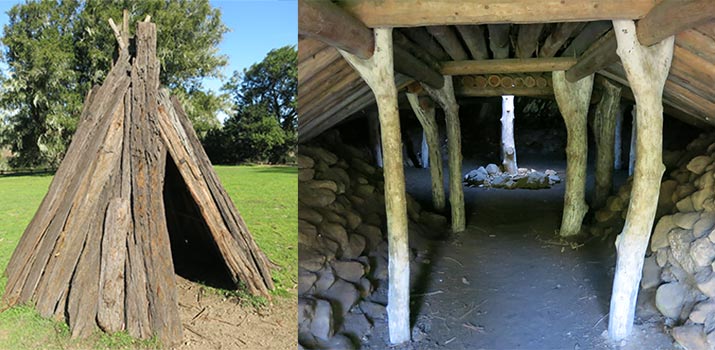 We followed the Kule Loklo trail to a re-creation of a Coast Miwok Indian village. For centuries before the arrival of Europeans, the Miwok lived in the area. Kids will have fun popping into redwood bark "houses" (kotca) and family sweat lodge – see if your family will fit.
One of the distinctive features of Point Reyes is the San Andreas Fault running right through Tomales Bay. The peninsula is situated on the Pacific Plate; on the east side of Tomales Bay is the North American Plate. Point Reyes is slowly scooting northwest. Walking down Earthquake Trail, kids can see how far a fence "jumped" in the 1906 earthquake, and blue poles that show an active fault.
We couldn't leave without taking a quick look at the Morgan horses in the paddock behind the Visitor Center. Because there are so few roads through the Point Reyes peninsula, the rangers use horses as a way to oversee the back country. At the Morgan Horse Farm, the horses are trained for park service work and how to navigate the wilderness.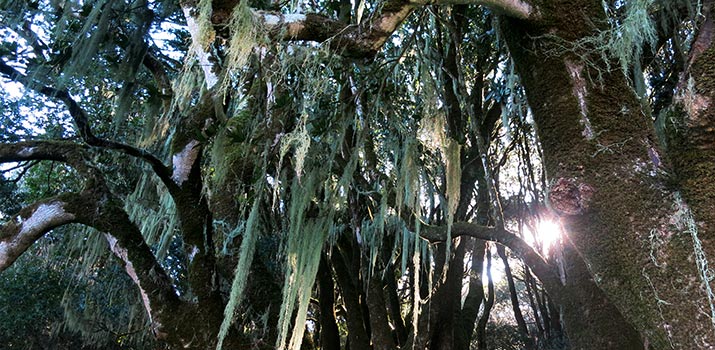 After stopping at Perry's Inverness Park Grocery to pick up snacks of bagels, cold drinks and coffee, we headed to one of our favorites, Heart's Desire Beach, on the Tomales Bay side of the peninsula. This secluded sandy beach has picnic tables and restrooms. Surrounding trees were covered with spooky-looking lichen that's called "old man's beard," and many ducks and migrating birds floated in the shallow water like a mini-flotilla. In summer this beach is great place for kids to wade, swim, bring the sand toys.
Driving on the Pierce Point Road past historic cattle ranches, we arrived at Pierce Ranch and Tomales Point trail parking. Although the trail goes to the very tip of Point Reyes, we were here to look for Tule elk. In the early 19th century, the native Tule elk were abundant on Point Reyes, but during the California gold rush, these elk were hunted for food for the gold miners, and hunted almost to extinction. The Tule elk now live in a protected reserve on Point Reyes.
The Tomales Point trail follows the wide ridge backbone, high above the ocean below. Starting out, we could hear the sound of big breakers rolling onto McClures Beach, even before we could see the beach. On the trail, there were different animal tracks, especially deer, which seemed to follow the trail for a time. It's always exhilarating to walk in a wide open world where the horizons are endless, even if we didn't see one Tule elk. We'll come back in September, which the rangers tell us is the best time for Tule elk spotting.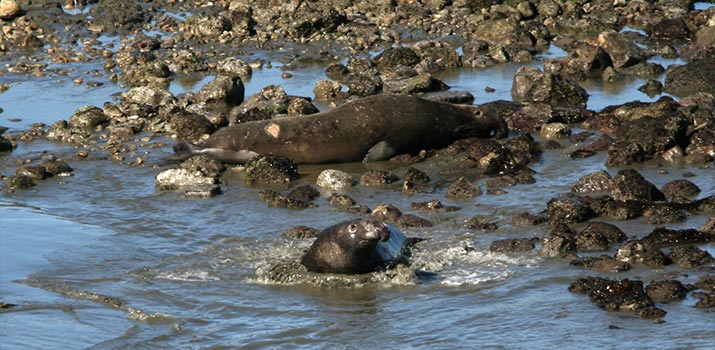 The next day, we headed out to Chimney Rock where the Northern elephant seals come every year. From December to late February, elephant seals arrive at Chimney Rock, and here seal pups are born. After the pups are weaned, males and females mate, then depart, leaving the pups to figure out how to swim and catch food.
From the Seal Overlook, down below were bunches of seals lolling on the beach, a few males flopped in the water, pups nestling next to mom, some seals tossing sand with their flippers (the way kids do at the beach). If the adult seals look like they're just snoozing away a day on the sand, it's their time to rest – elephant seals spend 90 percent of their time migrating thousands of miles in the open ocean.
Tip: With their big snouts, elephant seals are pretty distinctive, but sometimes it's not easy to tell seals from sea lions – read more "Seal or Sea Lion?"
We spread out our picnic lunch at Drakes Beach, and looked out to sea, imagining Sir Francis Drake sailing into the nearby cove on his ship, the Golden Hinde, in June 1579. Two years earlier Drake embarked on a secret voyage to explore the Pacific Ocean (and also snatch any Spanish treasure galleons that came his way). Looking for a northwest passage, the shortcut across the continent, Drake sailed up the west coast of North America.
Drake needed to repair his ship, stock up on food and water, before sailing thousands of miles across the Pacific. From descriptions of the landing site and contact with the Native Americans during his month-long stay, the protected cove (Drakes Estero) was the perfect location. He was also carrying 26 tons of silver, jewels and other goodies from Spanish treasure ships, and didn't want to lose that!
And what a mariner he was – when Drake returned to England in 1580, his treasure was quite welcome (Queen Elizabeth I knighted him), but most importantly Drake brought back detailed information about a voyage around the globe.
Tip: Read our blog post Sail with Sir Francis Drake: Golden Hinde in London, kids can an explore exact replica of Drake's ship.
As Drake sailed off into the sparkling light on the waves, we set out to explore Drakes Beach. Sometimes we fly kites at the beach, but today it was beach treasures – three different elephant seals sleeping away (don't get too close), the tide receding to reveal bright green seaweed and amazing chunks of rock squished together millions of years ago, remains of giant kelp forests and crab shells on the sand, it's always amazing at Point Reyes.