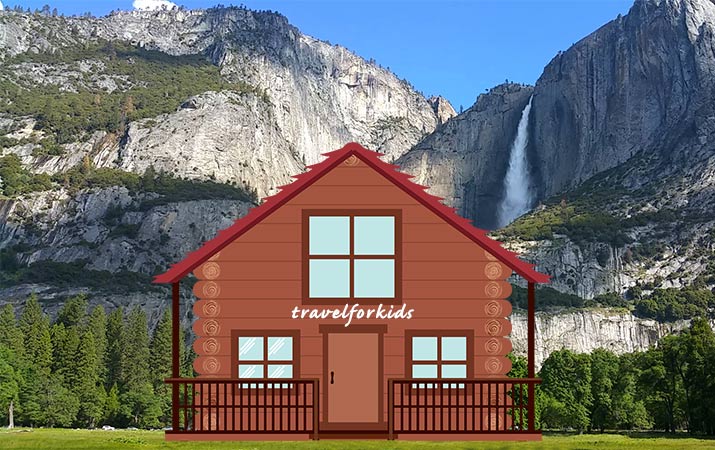 Where to stay when your family visits Yosemite National Park?
There are three options – hotels, vacation rentals, campgrounds.
Yosemite National Park covers a large area (over 1,100 square miles), accessible with two lane roads. There are four different entrances to the park, three on the west side of the park, one on the east side.
Before booking accommodation, plan which parts of the park you want to explore.
Tip: Summer 2023, due to heavy snowfall in the Sierra past winter, Tioga Road, campgrounds will open later than usual. Due to possible flooding, Yosemite Valley may be be closed on short notice. Check NPS Yosemite for alerts and current conditions.
Family Hotels

Family hotels are perfect for weekends and short stays to visit Yosemite.
If Yosemite Valley is your destination, hotels in Yosemite Valley, and outside the park at El Portal, Midpines, and Mariposa are the most convenient.
Best for exploring Wawona and Mariposa Grove are hotels near the south entrance – Fish Camp and Oakhurst.
Check out our list of best Yosemite Family Hotels.
Vacation Rentals

House rentals inside the national park, from small cabins to larger chalets that accommodate 10+ people, are located in Yosemite West, Foresta and Wawona.
Yosemite West vacation rentals are located off Wawona Rd. south out of the valley. It's about 30+ min. drive to Yosemite Village from Yosemite West.
Foresta rentals are situated off Big Oak Flat Rd., road going north from valley to Crane Flat and Highway 120. Foresta is very convenient both to the Yosemite Valley and Tuolumne Meadows.
Wawona is near the south entrance to the park and Mariposa Grove.
Check out our list of best Yosemite Family House Rentals in all three areas.
Tips for vacation rentals
No supermarkets are located inside the national park. And don't expect a pizza shop right down the street from your vacation rental. Restaurants, delis, groceries inside the park are located in Yosemite Valley and Wawona.
Plan ahead, and bring essential food, drinks, and snacks with you, for days of your vacation rental.
Coming to Yosemite to enjoy magnificent mountains and glorious scenery, there isn't density of cell phone or Wi-Fi coverage like urban areas.
Descriptions of vacation rental properties usually have information about Wi-Fi in the house.
Before you rent a property, check cancellation policies.
If the cancellation policy isn't posted, ask for details.
Feel free to email owner or property manager with any and all questions about your vacation rental, before you book.
Campgrounds
Campgrounds inside Yosemite national park are very popular, some available by reservation, others on a first-come-first-serve basis.
Here's where to make a campground reservation: Recreation.gov
Step one, read tips for making campground reservations.
For first-come-first-serve campgrounds, call to find out what is available, what is already full. 1-209-372-0200, option 3.
Note: Overnight parking an RV or illegal camping is not permitted inside the park.
On Travel for Kids, you'll find plenty of Yosemite fun things to do with kids, based on years of exploring Yosemite with our family.