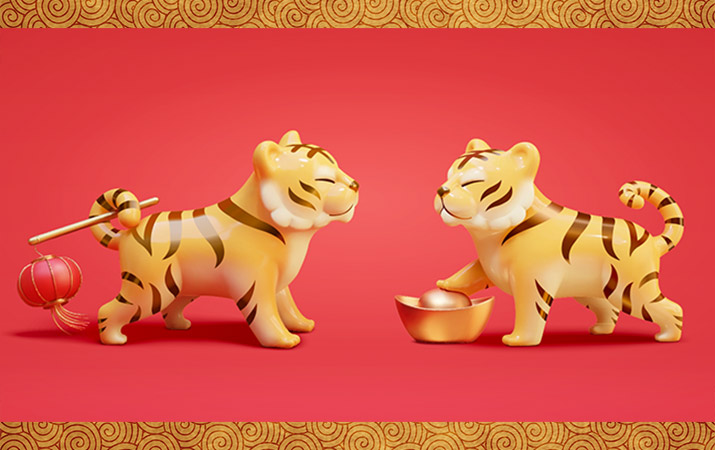 Lunar New Year is coming up on Feb. 1, celebrated on days of the new moon (Spring and Lantern Festivals) in the lunar calendar.
New Year 2022 is the Year of the Tiger.
Families and friends get together, cook and share special foods (especially dumplings and sticky rice cakes), wear new clothes, decorate houses with symbols of luck and prosperity.
Lunar New Year, also called Chinese New Year, is celebrated in Asian countries, from Tibet to Vietnam, and in many cities around the world, with parades, music and dance, performances, lion and dragon dances.
New Year Legends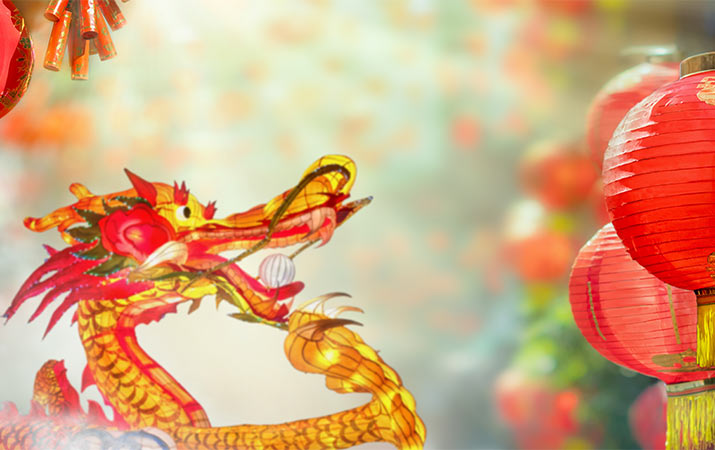 Origins of Chinese New Year is narrated in the legend of the Nian monster. There are many versions of this story, it could be it's a little boy, beggar, old monk, other heroes, who confront the monster.
Each year, the Nian monster would come to earth and destroy whole villages. The old monk cleverly gave Nian some sticky rice cakes, the monster's mouth stuck together so he couldn't eat people. Then monk told the villagers that Nian doesn't like loud noises or the color red, so they lit firecrackers, which scared away Nian, and the villagers were saved.
The Lantern Festival, ending the holiday, is celebrated with red lanterns and firecrackers.
In the mists of time, the Jade Emperor in Heaven was angry with people and tried to destroy the earth with fire. Instead the Jade Emperor's daughter came to earth, and told everyone to light red lanterns and set off lots of exploding firecrackers. The Jade Emperor was fooled into thinking earth had burned up, so everyone was saved.
Parades, Lion and Dragon Dances
We are lucky to live in the San Franciso Bay Area, one of largest and oldest Chinese communities in the United States.
Here's the Spring Festival Parade, with boys and girls drumming, dancing with scarves, Fu, Lu and Shou, three gods of prosperity, good fortune and longevity, drumming and martial arts, lion dances with yellow, red, black and white lions, even balancing on high poles, and red dragon dance, swooping and chasing a ball (which represents "pearl of wisdom" or sun for a good harvest).
Lantern Festival Parade is the finale of the New Year celebration. A spectacular nighttime parade through the streets of downtown San Francisco with huge figures zodiac animal of the year and lucky gods, marching bands, acrobats, lion dances and a huge dragon, carried by 100 people.
See how the Lunar New Year is celebrated in Bangkok. Yaowat Road is turned into a pedestrian mall of the first day of the festival. The street is lined with stalls, where vendors sell red clothes, red fruits such as pomegranates and strawberries (good luck for the coming year). Martial arts groups perform lion and dragon dances, stopping at merchants to bring luck and prosperity in the coming year.
Lucky New Year Symbols
The Lunar New Year is a time of new beginnings, and wishes for good fortune, prosperity, long life and abundance in the coming year.
Decorations, food, flowers, performances have special symbols and significance.
Read our separate blog post Lucky Symbols of Chinese New Year – to find out meaning of Three Star Gods Fu, Lu and Shou, fish, bamboo, mandarin oranges, firecrackers, lions, dragons, and more.
Children's Books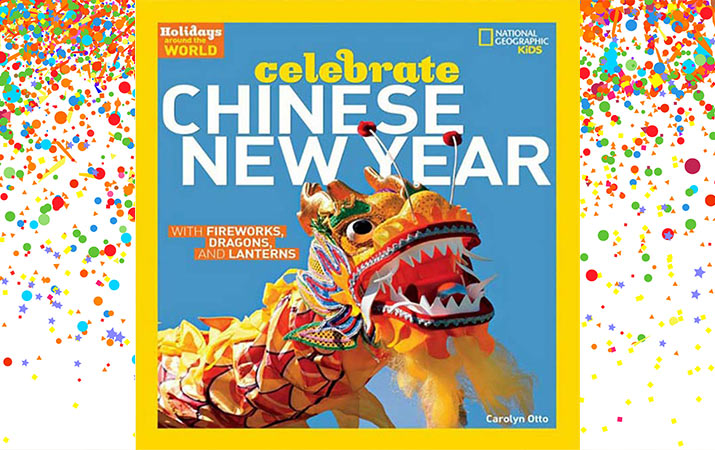 Here's our favorite books to read about the Lunar New Year:
Fun Food

"Your future looks delicious."

Every year we try out new recipes to celebrate Lunar New Year.

Here's Lion's Head Meatballs, a specialty of Shanghai, and for dessert, egg custard tarts.

Lion's Head Meatballs

1 pound ground pork
1 tablespoon sugar
1 teaspoon salt
1 tablespoon shaoxing cooking wine, mirin, or sake
2 tablespoons soy sauce
1 tablespoon sesame oil
1 green onion, chopped finely
1 teaspoon minced ginger
2 cloves garlic minced (up to 3)
2 eggs, beaten
1/4 cornstarch
1 pound bok choy, stems trimmed but otherwise intact
Vegetable oil for cooking meatballs

Combine ground pork, sugar, salt, Shaoxing (or mirin, sake), soy sauce, sesame oil, green onion, ginger, garlic.

Add cornstarch, mix well. Then add eggs until mixture is well blended.

Steam the bok choy.
In a pot with steamer, or a skillet with lid (add a little water), steam the bok choy for about 2 – 5 minutes (depending on size of boy choy) until cooked, but not limp. Keep warm.

Cook rice.
Cook Jasmine rice to go with meatballs and bok choy.

Cook meatballs.
Use ice cream scoop to make meatballs. Flatten into patties.
Pour some oil into large frying pan. Cook meatballs on medium low heat, about 3 minutes until browned, flip over to other side, cook 3 minutes more, than cook until meatballs are done.

In large bowl, put in large scoop of rice, put in meatballs, surround with boy choy to make a "green mane" around the meatballs.

Egg Custard Tarts

Pastry Dough
2 cups all purpose flour
½ cup unsalted butter, cold and cubed into half inch pieces
2 tbsp powdered sugar
¼ tsp salt
¼ cup ice water

Custard Filling
4 eggs, beaten
¾ cup hot water
1/3 cup heavy cream
¼ cup sugar
½ tsp vanilla extract

In food processor, add flour, cubed butter, powdered sugar and salt. Pulse mix on and off for one minute, until the consistency of the flour mixture turns into small crumbs.

Drizzle ice water into the mixture. Close the lid and continue to pulse mix on and off for another 1 minute. Squeeze the crumbs together with your hands, making ball of dough.

Flatten the dough, on lightly floured surface, roll dough ¼ inch thick.

Use 3 ½ inch cookie cutter to cut out 12 rounds.

Press dough into non-stick 12 cup muffin tin. Refrigerate pan until custard filling is ready.

Heat oven to 450 degrees.

In small bowl, whisk beaten eggs, hot water, heavy cream, sugar and vanilla extract until smooth and sugar is dissolved. Optional, strain filling through fine mesh strainer to remove any lumps.

Pour custard into dough shells in muffin tin, up to ¾ full.

Bake 16 – 18 minutes, until golden brown and custard is set. Allow tarts to cool for 5 – 10 minutes in pan, then remove, and serve warm.

Store completely cooled tarts into airtight container, and store for up to 3 days in the refrigerator.

Tip: To make mini-egg custard tarts, use 2 inch cookie cutter for the dough rounds, and 24 cup mini-muffin tin. Cook 12 – 15 minutes.

Recipe adapted from Ahead of Thyme, by Sam Hu.

Lunar New Year 2022 Online

During the pandemic, museums have online family days and activities to celebrate Lunar New Year.

Smithsonian American Art Museum
Saturday – Feb. 5

Asian Art Museum
Art activities, performances, storytelling, tiger artwork in the museum.

Met Museum NYC
Art activities – make lanterns and mandalas, Vietnamese dance performance, storytelling "Bee-Bim-Bop".

Tiger Crafts
Tiger mask (to color)
Tiger mask (colored)