Visiting San Francisco with kids during the Christmas holidays is lots of fun – the cable cars are decorated with silver garlands and sparkly streamers, go ice skating at Union Square and the Embarcadero, Ghirardelli has seasonal treats such as peppermint bark and buckets of chocolates, at the California Academy of Sciences reindeer are in residence, landmark hotels are gorgeously decorated with sugar trees and gingerbread houses, even lettuces at Ferry Building farmers market are red and green, and at night, streets sparkle with snowflakes in the trees.
Union Square – A huge Christmas tree looms over the Holiday Ice Rink, so get on your skates and take a turn on the ice. Buy a balloon Santa or reindeer with red nose from vendors around the square. There are often live music performances, e.g. Hanukkah songs and carols.
Pop into Westin St. Francis to see a 12 foot high "Sugar Tree" decorated with spun sugar stars, candies, presents, elves and snowmen, with miniature train going round and round.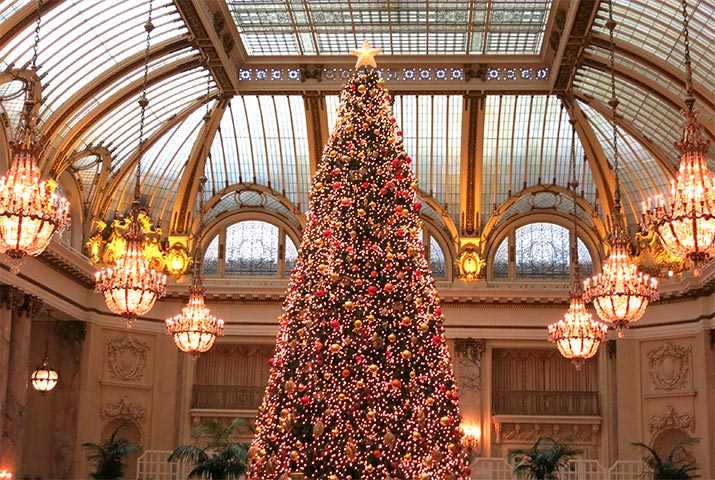 Palace Hotel – In the 1880's, the Palace Hotel was the largest hotel in the United States. Today in the Garden Court, with a Christmas tree almost as tall as the luminous glass ceiling and sparkling chandeliers, kids can get a taste of a San Francisco 19th century grand hotel.
Across from the Garden Court are three large gingerbread houses created by the Palace pastry chef with 600 lbs of gingerbread, 300 lbs of candy – we're not going to try this at home, but we loved the red licorice roofs.
Step next door to Ghirardelli Ice Cream and Chocolate Shop where you'll want to "strike it rich" with hot fudge sundaes, and stock up on Christmas sweets.
Fairmont Hotel – Ride the California cable car up to Nob Hill and the Fairmont Hotel (which opened a year after the 1906 earthquake). Step into an opulent lobby with marble floors, gold and white ceiling, giant Christmas tree, glowing lights. For kids there's an old fashioned house with train zipping around, and post letters to Santa. Also, check with the concierge about holiday programs for kids, such as special teas and decorate cookies.
Nutcracker under the Dome – The Westfield San Francisco shopping center on Market St. retains a gigantic dome from the Emporium department store, founded in 1896. Every afternoon, starting at 5pm, is a free light show on the dome with ballet from the Nutcracker Tip: The cafe La Boulange is perfectly situated under the dome, so grab a snack, hot chocolate, coffee or glass of wine.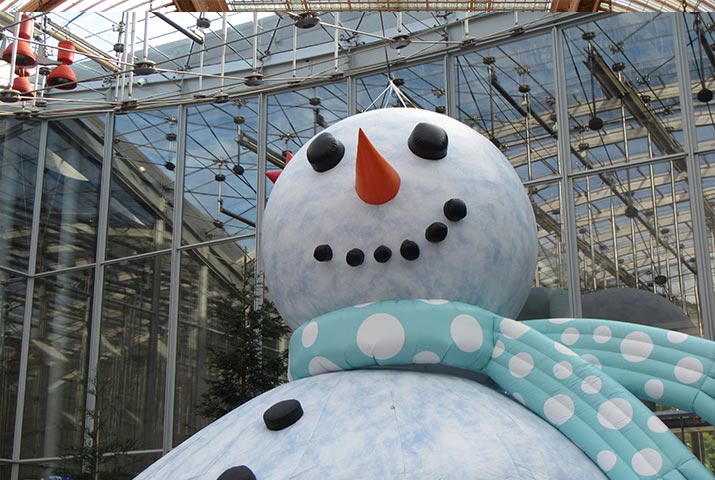 California Academy of Sciences – This stellar science museum has holiday exhibits where kids can see real live reindeer (huge antlers), watch a movie inside the Snowman Theater, and see it "snow" indoors. Also, learn about more animals that live in snowy climates, such as polar bears, weasels, snow geese, and snow leopards.
Snow Village Hyatt Regency – One of our favorite traditions is in the atrium of the Hyatt Regency on the Embarcadero. It's a complete miniature village in a winter wonderland with hundreds of different ceramic houses, charming shops, skiers on a snowy mountain, fun fair going round and round, twinkling lights on the Golden Gate Bridge, Santa on his sleigh gliding above the village.
The ice rink next door to the Hyatt has ice skating from end of November through December, and pop over to the Ferry Building for holiday treats.
Travel tip: In December it's fun stay right in the city and see all the twinkling lights. Even it rains, for all the fun stuff above, except ice skating, it won't matter. Travel for Kids San Francisco family hotels will help your find the best place to stay and reserve in advance.