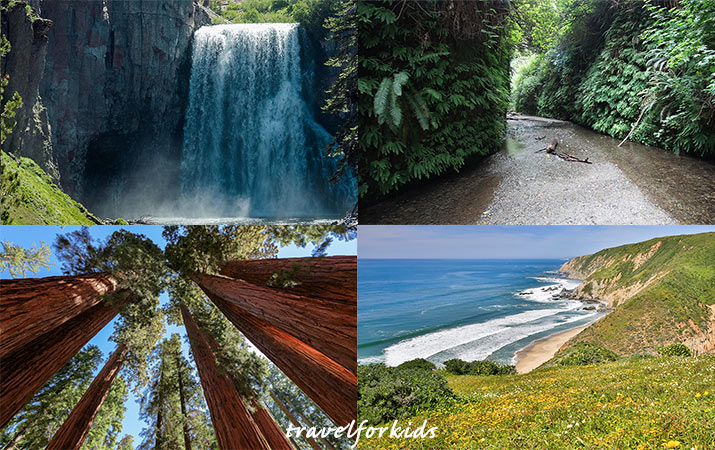 Summer 2023, here's four favorite hikes with kids in California – Rainbow Falls – Reds Meadow Valley, Fern Canyon – Redwood Coast, Tomales Point Trail – Point Reyes, Crescent Meadow Trail – Sequoia National Park.
Usually we feature five hikes, but this summer three favorite hikes will not open until end of summer at the earliest, due to extraordinary heavy snowfall past winter.
But this also means wonderful waterfalls in the High Sierra, sparkling full lakes, flowers blooming throughout July.
See section "Save for Next Summer," to find out about hikes in Yosemite Tuolumne Meadows, Eastern Sierra Rainbow Falls, and Bumpass Hell mudpots in Lassen National Park.
Rainbow Falls – Reds Meadow Valley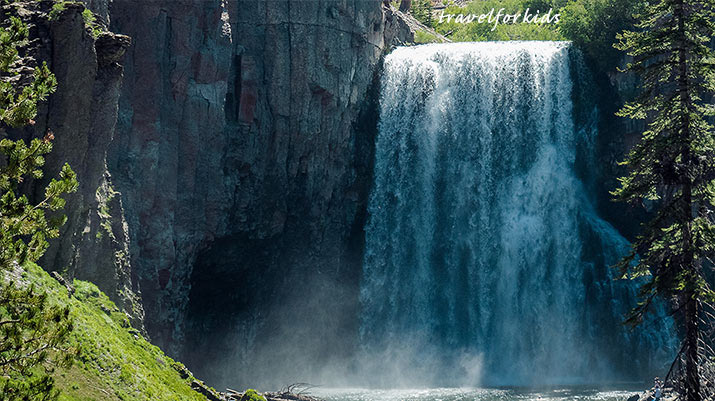 Both our guys agree that Rainbow Falls was the best hike when they were kids.
Also, in summers grandparents, aunts and uncles, cousins, and friends joined our family in Reds Meadow Valley and Eastern Sierra.
Rainbow Falls
From the Reds Meadow General Store and ranger station, pick up the Rainbow Falls trail. It's a wide, easy trail, little over 1.25 mile each way.
When you get Rainbow Falls, it's impressive – the Middle Fork of the San Joaquin River plunges 101 ft. down over a volcanic rock cliff, making rainbows as it goes.
At the bottom of the falls, the water is shallow, and kids can wade and skip rocks for hours. (Swimsuits are a plus when the kids get wet).
Red Cones Trail
For a longer hike, for older kids and teens, this is a stellar hike. From the Reds Meadow General Store, follow the Mammoth Pass trail for 1.25 miles. Continue straight to the top of the Red Cone, a huge rusty-red cinder pile, with great views in all directions.
From Reds Meadow it's 6.5 miles round trip, with some up and down (1000 ft elevation gain), but even younger kid can do it, if you spend all day.
Agnew Meadows
Fern Canyon – Redwood Coast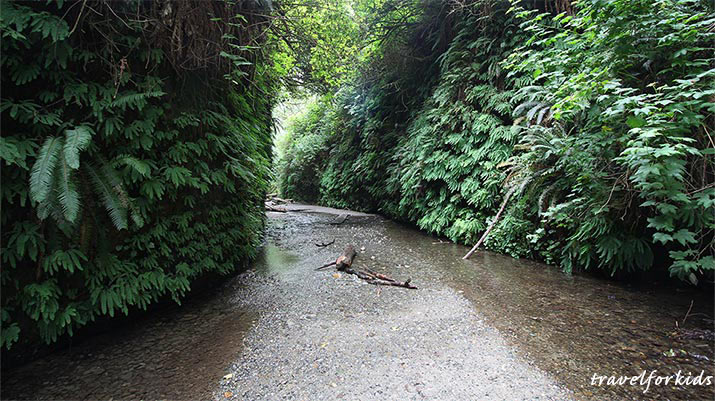 Fern Canyon is located in Prairie Creek Redwoods State Park, on the Redwood Coast (includes both Redwoods National and State Parks).
From the parking lot, it's just a short walk to the opening of the canyon, covered with walls of five-finger ferns, glittering mini-waterfalls cascading off mossy green cliffs, a creek flowing through the sandy bottom of the canyon.
Walk up the canyon as far as kids feel like exploring. The canyon is just spectacular, and if it feels like a setting for Jurassic dinosaurs, it was used as a location in "The Lost World" movie.
Tip: Best to wear water shoes, so kids can wade in the creek in low water season during the summer.
Fern Canyon Loop Trail –
For a longer hike with older kids, at the entrance to Fern Canyon, take a left and go up the James Irvine Trail, which follows above the canyon. At .5 mile, turn right onto the Fern Canyon trail, and follow the stairs down into the canyon, then hike out to the parking lot through the creek.
To reach Fern Canyon, it's over ten miles off Hwy 101, including seven miles down a gravel dirt road with stream crossings, but well worth visiting. From Hwy 101, take Davison Rd, which turns into Gold Bluffs Beach Rd., drive to the end of the gravel dirt road to the parking lot.
Tip: In summer, Fern Canyon is very popular, and there are limited number of parking spots for the hike – go early the day.
Tomales Point – Point Reyes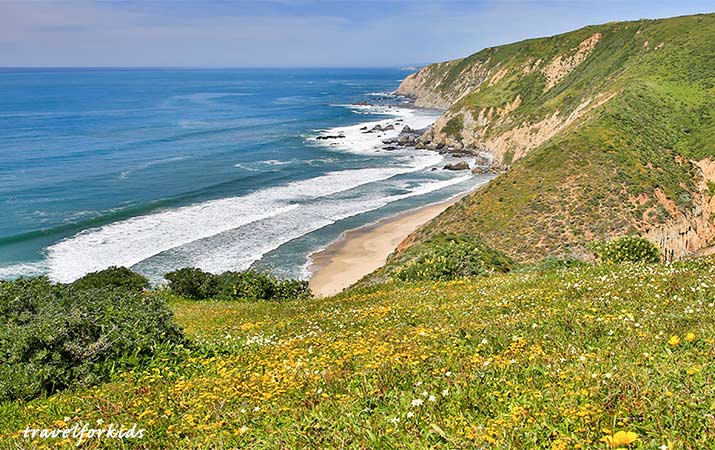 The Tomales Point Trail goes to northern end of Point Reyes National Seashore, this area is a magnificent peninsula with views of open ocean beaches to the west (listen to waves crashing), and views of Tomales Bay and Hog Island to the east.
Take the road to Pierce Point Ranch, parking is available, then follow the trail going north.
The trail goes through the Tule Elk Reserve, and you're likely to see these majestic animals, native to California. The two best places to spot the herds are White Gulch, and a pond about 45 min. north. Bring binoculars.
Just hike down the trail as far as kids want to go, at 2.5 miles is the highest point, and fabulous views in all directions.
Teens will enjoy hiking to end of Tomales Point, 4.7 miles out, 9.5 miles round trip.
Tip: Stay on the Tomales Point Trail. Tule elk can be grazing close by the trail, do not wander off for a closer view. This is an exposed ridge, and can be windy, and foggy in summer if weather changes, bring a jacket.
Crescent Meadow Loop – Sequoia National Park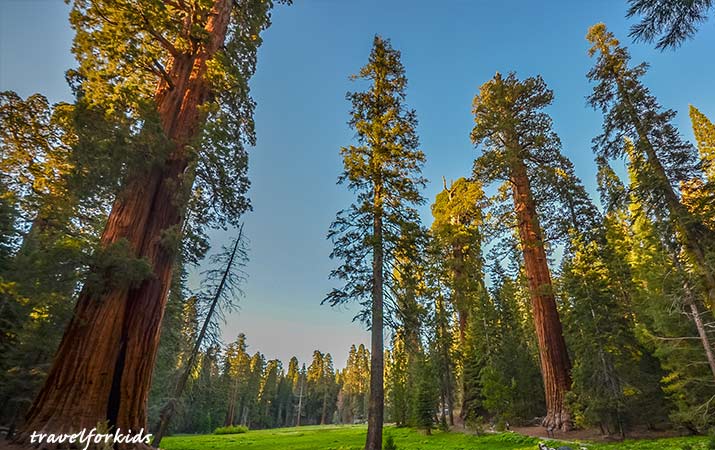 In Sequoia National Park, before hiking Crescent Meadow, stop to see the General Sherman Tree. This giant sequoia is "world's largest tree" – not the tallest tree, but it has the largest diameter, and weighs more than 1,300 tons.
Crescent Meadow hike is a loop trail that follows around a lush meadow, surrounded by groves of sequoia trees. Crescent Meadow is filled with wildflowers in summer, John Muir called it "gem of the Sierra."
The trail leads to Tharp's log cabin, a log cabin made out of a fallen sequoia tree. Every summer from 1861 – 1890, Hale Tharp grazed his cattle in the meadow and lived in the cabin. Step inside the log, furnished with hand-made wooden tables, bed and bench, a stone fireplace.
From Generals Highway, turn off onto the Crescent Meadow Road, parking lot at the end of the road. Picnic tables, restrooms are available. Tip: During the summer, Monday to Friday, road to Crescent Meadow is open to cars, Friday and Saturday a shuttle runs to the end of the road.
From east side of the parking lot, take the Crescent Meadow Trail, cross over Crescent Creek on two bridges. Stay to the right and follow Log Meadow Trail, about .8 mile, to the Tharp's cabin.
To make a loop, from the cabin, return on trail that goes by Chimney Tree, and down the west side of Crescent Meadow. Hike is about mile and half round trip.
Tip: Have a good trail map of Giant Forest Sequoia Grove, there's a maze of trails in this area.
California Hiking Tips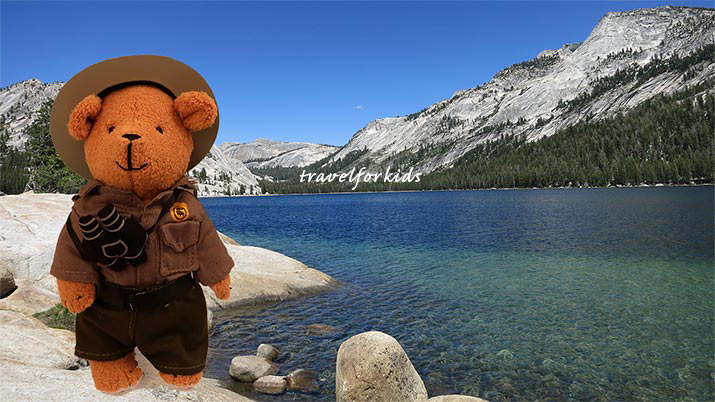 Do not hike in California deserts this summer – Joshua Tree, Death Valley, Mojave National Preserve. Summer temperatures are just too hot, over 100 degrees. Even on a short hike, it's easy to get dehydrated and disoriented.
Weather and temporary closures – For hikes inside national parks, check on NPS.GOV for alerts about temporary closures, and WEATHER.GOV for red flag warnings. Some roads may be closed, trails not available.
Rushing rivers and flooding – Rivers from snowmelt are extremely cold. Do you step into fast flowing rivers, kids may be swept away. Pay attention to signs warning of danger.
Fire danger – Due to heavy rainful last winter, fire danger is less extreme than previous summers. However, if campfires are allowed, never leave open flames unattended. Do not set off fireworks, even sparklers, dry grassy areas can easily catch fire!
Coastal headlands – Along the northern California coast, Big Sur to Crescent City, coastal headlands are often cloaked in summer fog. Also, it might be sunny one moment, then fog rolls in, panoramic vistas are obscured.

Save for next summer

It's August, Tuolumne Meadows is finally open (due to heavy snows road was closed until end of July), but meadows are soggy, there's no drinking water or facilities available, Elizabeth Lake trail is closed. In Lassen, Bumpass Hell Trail is closed.

Tuolumne Meadows – Yosemite


Tuolumne Meadows in Yosemite National Park is alpine "high country," with mossy green meadows, bubbling streams and sparkling rivers, surrounded by rugged mountains, but is very accessible for kids.

Another advantage, meadows covers wide area, and trails are less constrained, so even with summer crowds, there's lots of room to spread out.

Two hikes shown the video are Lyell Fork, and Pothole Dome.

Lyell Fork, Tuolumne River

Fom the Dog Lake parking lot, follow take the trail (Pacific Coast Trail and John Muir Trail) to the Lyell Fork of the Tuolumne River.

At the bridge are wonderful shallow rock pools and sandy beaches where kids can play, while the panorama of the surrounding mountains is just glorious.

The trail continues along the river – follow it as long as you like. Bring a picnic and spend the day.

Tip: Bring your picnic lunch, Tuolumne Meadows Grill doesn't seem to be open this summer.

Pothole Dome

You can see Pothole Dome from Tioga Road (Hwy 120), poking up at the western edge of Tuolumne Meadows.

From the parking area, follow the trail that goes around to the eastern side of the dome. From there, climb up the gentle rock slope to the top (200 ft.).

Sitting on a big boulder on Pohole Dome, kids will have a bird's eye view all around – the meadows to the east, high mountains to the north and another rock dome, Fairview Dome, right across the way.

Elizabeth Lake Trail

With older kids, take a hike to Elizabeth Lake, the trail winds up through a shady pine forest, goes along green meadows next to a sparkling creek, arriving at a spectacular lake, nestled at the base of Unicorn Peak.

Kids will want to explore the paths around the lake, and may even find a little snow at the eastern shore.

The hike is 4.6 miles round trip, the trail begins at Tuolumne Meadows Campground.

Bumpass Hell – Lassen

In Lassen Volcanic National Park, Bumpass Hell with its mud pots, fumaroles and boiling springs is a "must see "

The trail is largely level, goes around the side of the mountain, then drops down. You can smell and hear loud hissing sounds and stinky egg smells. Fumaroles steam like dragons breathing out of the earth, boiling springs ooze with sulfuric acid and iron pyrite, mud pots slurp and burp.

The trail to Bumpass Hell is 3.0 miles round trip, even little kids can manage the trail. Stay on the trail and boardwalk, don't let the kids wander off.

Find more hikes and fun things to do with kids in California on Travel for Kids.