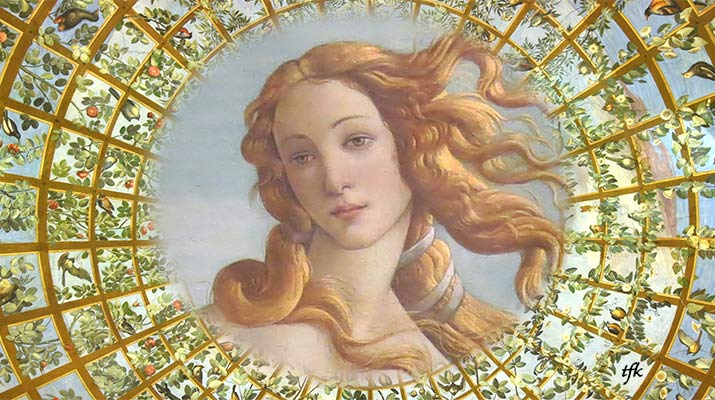 The Uffizi Museum (Galleria degli Uffizi) in Florence has a magnificent collection of Italian painting and sculpture.
Compared to the "gazillion rooms" Louvre or British Museum, the Uffizi Gallery is a more manageable museum experience with kids, enhanced by a helpful museum staff.
Here's our tips for families visiting the Uffizi, and some favorite artworks to see.
Courtyard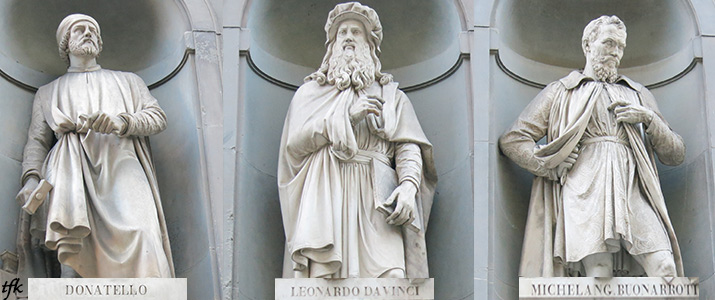 In the courtyard, while waiting to pick up your tickets, check out the statues of famous Italians – Donatello, Leonardo da Vinci, Michelangelo (photo above), also Dante, Machiavelli, Galileo and more.
Start your visit, by climbing the grand staircase, past two fierce ancient Roman dog statues, to the second floor.
Botticelli paintings
Rooms 10 -14 are devoted to Botticelli, displaying two of his most famous paintings Allegory of Spring (Primavera) and Birth of Venus (detail from painting at top of page).
Also don't miss Madonna of the Pomegranate – an angelic Christ child holding a pomegranate, sitting on Mary's lap, and Madonna of the Magnificat – Mary crowned by angels (shown above).
Uccello – Battle of San Romano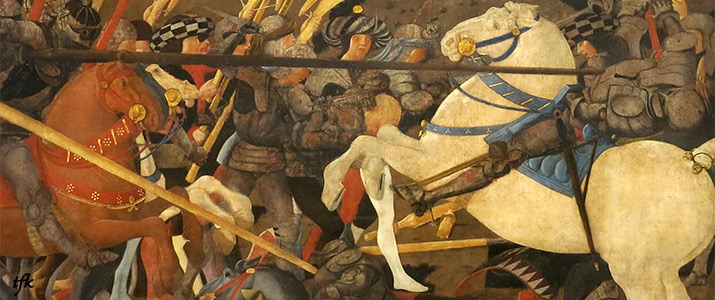 Paolo Uccello painted three different scenes of this victorious battle between Florence and Siena in 1432. It's quite a free-for-all – armored knights trying to stay on horseback, riders toppled by lances. Room 8
Tip: The other two paintings of the Battle of San Romano by Uccello are in the Louvre in Paris, and National Gallery in London.
Adoration of the Magi paintings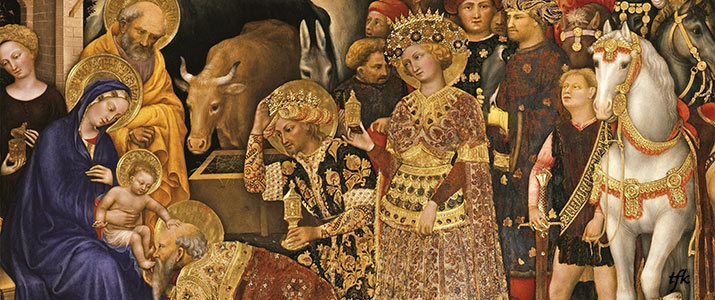 The Florentines commissioned many paintings called "Adoration of the Magi," scenes of the Three Wise Men in Bethlehem, bringing gifts to the Christ child.
One of the most famous is the Adoration of the Magi by Gentile da Fabriano (above). See if you can spot these animals in the painting – monkeys, cheetah, horses, dogs, ox, donkey, birds.
Find more Adoration of the Magi paintings by Botticelli, Leonardo da Vinci, Ghirlandaio, Rosselli, and Hugo van der Goes in different rooms around the Uffizi.
Leonardo da Vinci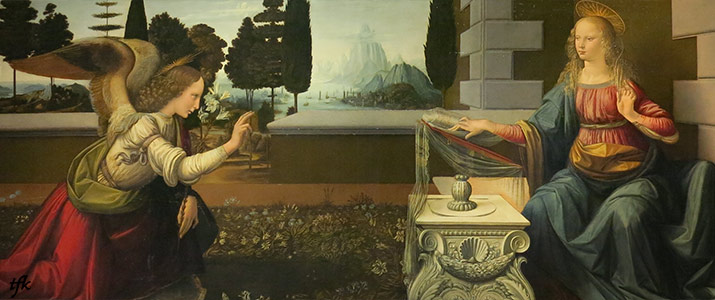 Da Vinci did not complete many paintings, but what there is – it's extraordinary. The three Leonardo works in the Uffizi were done while he lived in Florence, apprenticed to the artist Verrocchio
His Annunciation, a scene of an angel announcing to Mary she will be the mother of Christ – is sublime. The angel, kneeling in the garden and holding a lily, gracefully extends his hand in greeting. Virgin Mary looks up from her book in surprise.
In the Baptism of Christ, the overall painting is by Verrocchio, but Leonardo painted the glowing angel at the far left.
Adoration of the Magi, though unfinished, is a masterpiece. Look at the baby Jesus reaching out to touch the gift from one of the three kings, and riders on horseback in the background. Of all the Adoration of the Magi paintings, this is like no other.
Medici portraits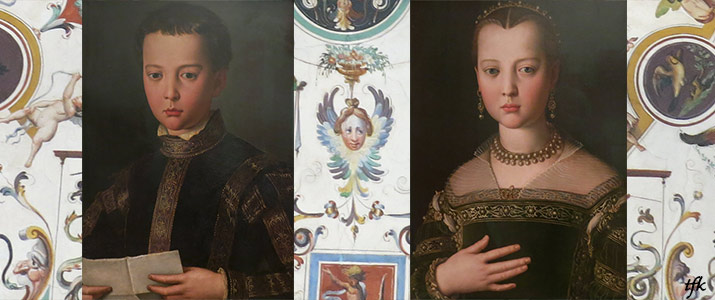 It's fun to see what kids from a wealthy dynasty looked like in the Renaissance. Medici children portraits were painted by court painter Bronzino – Francesco, Maria (shown above) Giovanni and Bia.
Also look for Grand Duchess Eleonora of Toledo, decked out in shining ropes of pearls and golden belt, her arm around Giovanni's shoulder, and Grand Duke Cosimo I wearing pointy armor.
Roman sarcophagus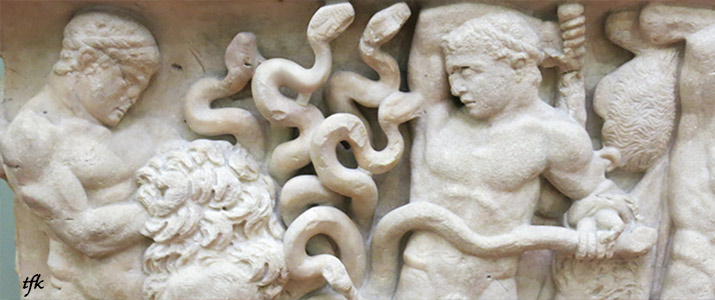 This ancient Roman sarcophagus shows six of the Labours of Hercules, defeating or capturing six mythical creatures.
Starting from left, shown here is Hercules slaying Nemean lion and wriggling multi-headed hydra. Four other labors on the sarcophagus are capturing a fearsome boar and elusive deer, defeating man-eating birds, and cleaning out Augean stables.
Caravaggio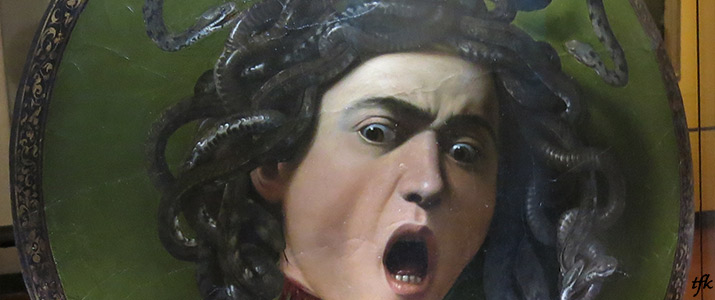 Teens should check out Caravaggio's Head of Medusa, and dramatic Sacrifice of Isaac, as well as Judith Slaying Holfernes (lady knew how hold a sword) by Artemisia Gentileschi.
Angels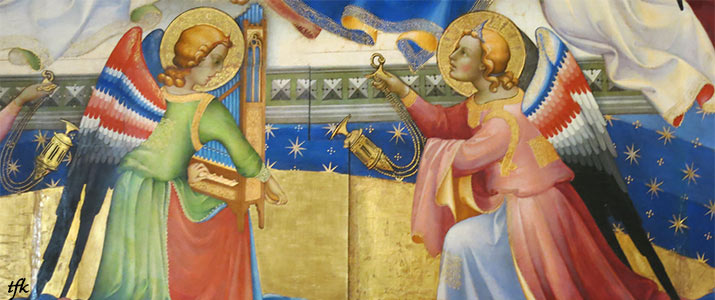 The Uffizi has so many paintings with angels – it's too many to count.
Some angels have bright multi-colored wings (Coronation of the Virgin, Saints and Angels by Lorenzo Monaco, above) or white feathers and flowers (Annunciation by Botticelli); other angels are adorable chubby cherubs with curly hair.
In the painting The Three Archangels and Tobias, the three Archangels are Michael, Raphael, Gabriel. Michael on left has a sword and armor and is ready to fight a demon. In the center, holding young Tobias by the hand is Raphael, on the right Gabriel holds a lily. The Archangels' wings are stellar, Gabriel has bright red wings. Raphael's wings look like peacock feathers, Michael's feathers match his armor.
Medici coat of arms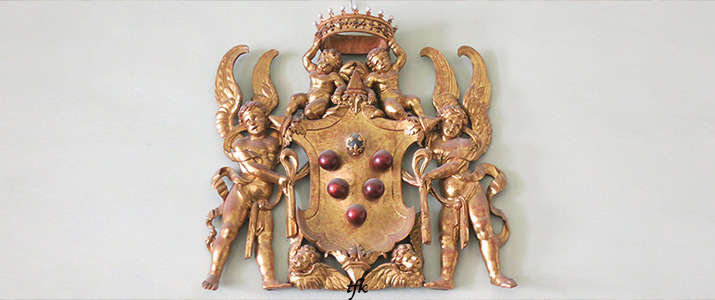 After Medici grand duke Cosimo I assumed control of Florence and moved into the Palazzo Vecchio, he ordered construction of the Uffizi next door, for government and guild offices.
His son Francesco turned the Uffizi into an art gallery, and later generations added more artworks to the Medici collections. In the 18th century, the last Medici bequeathed the museum to the people of Florence.
Look for the Medici coat of arms (red balls) throughout the Uffizi – on wooden doors, gilded decorations, painted ceilings. In addition, find Cosimo I emblems also – turtle and ram.
Tips for enjoying the Uffizi with kids
Reserve tickets well in advance –

You'll want a ticket with a timed entry, and make your reservation well in advance (more than a month before your visit).

Tip: If possible, reserve the first timed entry in the morning, when the museum is less crowded.

The least expensive online reservation is the Musei Firenze website – Uffizi Gallery.

Go about 15 min. to half an hour before your timed entry to redeem the printed confirmation with actual tickets at the Reservation Ticket Office, west side of the courtyard.

Another reservation option: Skip the Line: Uffizi Museum Tickets

Or, take a private family tour: The Uffizi for Families


Plan your visit –

Tip: When we visited, some artworks were in different rooms than listed in our guides, and some galleries may be closed.

Kids under 18 are free, but will need to pick up a ticket for them.

Ticket is good for one entry only – that is, you can't go in and out to take a break.

No food, bottles or cans in the museum. There is a cafe for snacks, cold drinks, lunch stuff, and stellar views of the Palazzo Vecchio across the way.

Photos are okay (no flash), but selfie sticks are not allowed. And please be considerate of others while taking snaps.

Strollers are permitted – there are wide corridors, but rooms do get crowded, especially with large tour groups gathered around a certain painting.

Ask directions – The museum attendants are accessible and speak English. Looking for a specific artist, just ask directions. In our experience, they were cheery and helpful.
Also on Travel for Kids, find more fun things to do with kids in Florence, and best Florence family hotels.