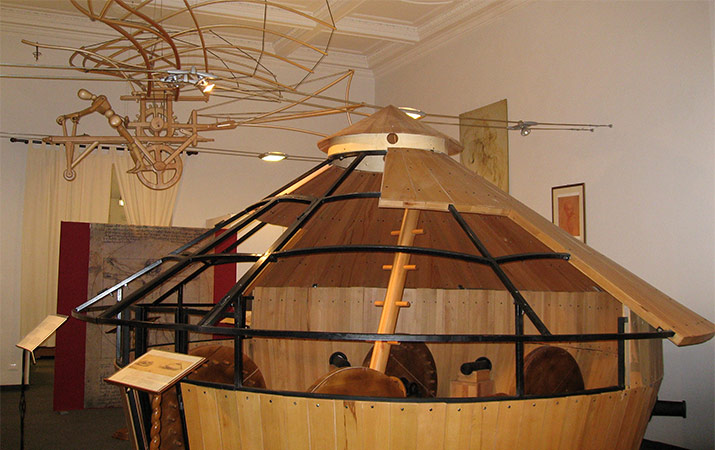 Leonardo da Vinci is famous for his paintings – Mona Lisa and Last Supper – but he was also a genius inventor.
Born in the village of Vinci, Leonardo moved to Florence as a teenager. After a decade, he set off for Milan to work for the duke of Milan, Ludovico Sforza. Leonardo spent fifteen years in Milan, returned to Florence, then back to Milan. In his old age, at the invitation of the king of France, da Vinci took up residence in the Loire Valley, where he died and was buried in Amboise.
Leonardo was fascinated by everything – how do birds fly, why does a waterfall dry up in the fall each year, only to start again in the spring, mathematics, astronomy, engineering, architecture. He kept detailed notebooks where he drew maps, observed nature, studied the human body, designed bridges, weapons, boats, flying machines.
In his notebooks are designs for inventions such as "air screw" like a modern helicopter, man wearing a life preserver or using floats to walk on water, boat for dredging canals, automated cart, water wheel, parachute, air cooling system, a submarine and underwater diving suit, clock mechanism, armored tank, gigantic crossbow, mortar cannon, steam-powered gun, mechanical man, lenses to see the planets.
Leonardo imagined inventions far ahead of his time. From his drawings and writings, exact models have been created, some life-size.
Air screw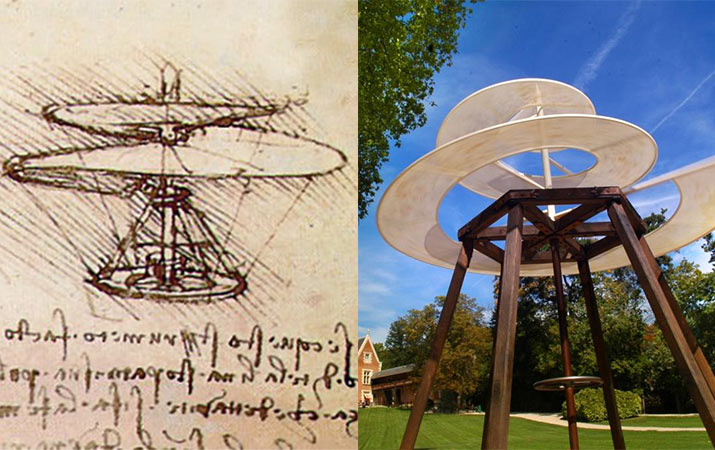 Mechanical man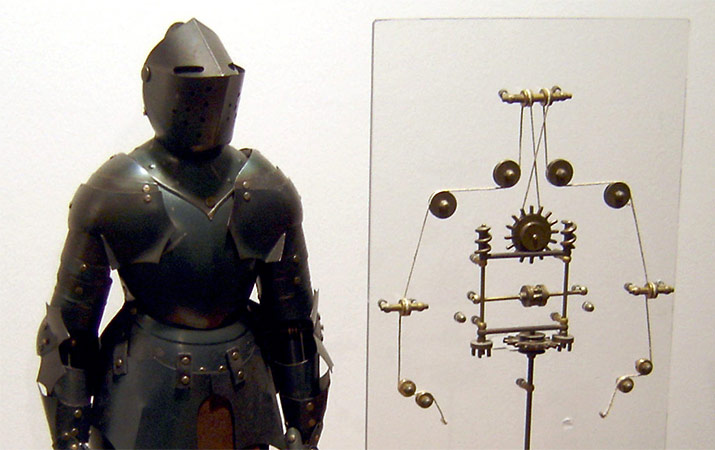 Pontoons to walk on water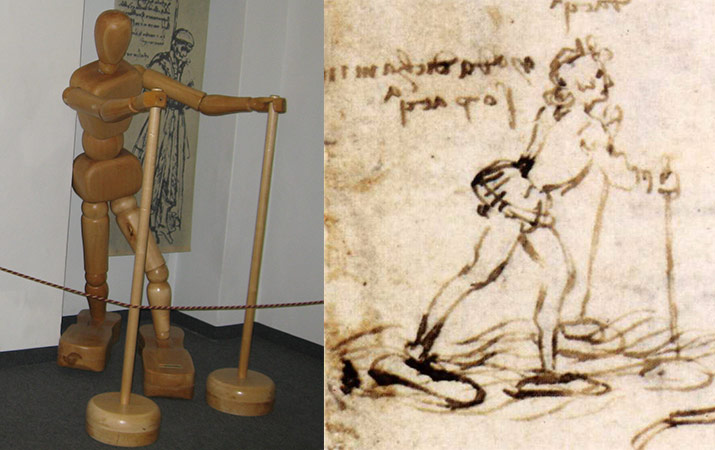 Paddle boat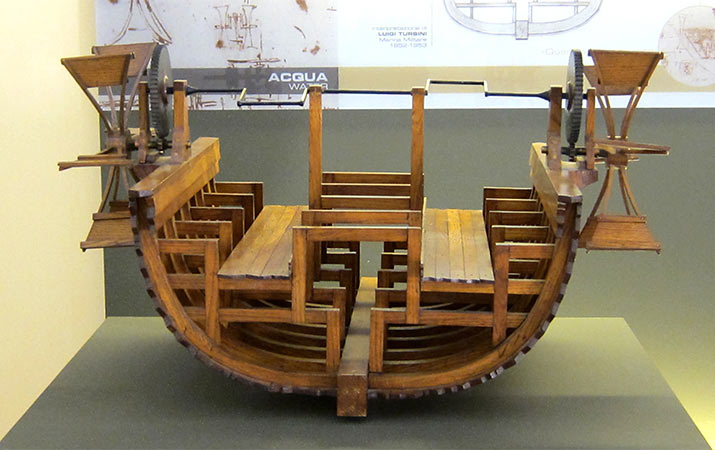 Visit these museums with kids, in Italy and France, to see permanent exhibitions of Leonardo da Vinci's inventions.
Florence – Leonardo da Vinci Museum
This is a hands-on museum where kids can touch life-size wooden models of Leonardo's machines. Turn the wheels, watch mechanisms and gears move for the machine gun, mortar cannon, revolving crane, printing machine, floats for walking on water, mortar cannon, tank and more, over 40 different models. Museum is open daily, located in the city center near the Duomo.
Vinci – Museo Leonardiano
Situated in a medieval castle in the town of Vinci where Leonardo was born, on display in the galleries are over 60 models of Leonardo's inventions and scientific studies, including hydraulic saw, automated cart, paddle boat, rotating crane, mechanical clocks, along with animated digital reconstructions.
After looking at the models, climb up to the top of Conti Guidi Castle, for a panoramic view. Imagine Leonardo wandering through the fields, observing how birds fly and water flows, sketching the landscape. Go for a walk on the trails around Vinci through the countryside.
Milan – National Museum of Science and Technology (Museo Nazionale della Scienza e della Technologia)
In the Leonardo Gallery are numerous models, including a paddle boat, air screw, pontoon bridge, hydraulic saw, printing press, flying machine, city with multi-story buildings. Models and descriptions are in English, accompanied by writings in Leonardo's own words from his notebooks.
Also in Milan, the Biblioteca Ambrosiana often has exhibitions of pages from Leonardo's notebooks. It's incredible to originals, with his drawings and left hand mirror writing.
Amboise France – Chateau du Clos Luce & Parc Leonardo da Vinci
Indoors in the museum are fifty different small models of bridges, three-rack machine gun, paddle boat, flying machine, excavator, and more. Outdoors in the shady park, check out the life-size tank (kids can go inside it), air screw, machine gun, water wheel, swing bridge, walk over a two level bridge, cruise the lake in a boat designed by Leonardo. Bring a picnic, the park has picnic tables, children's play area, restrooms.
Tip: Why is Mona Lisa in the Louvre? When da Vinci died at Clos Luce, he willed the painting to his assistant Salai, who sold it to the king of France, Francois I. The Mona Lisa was kept at Versailles, and later displayed in the Louvre.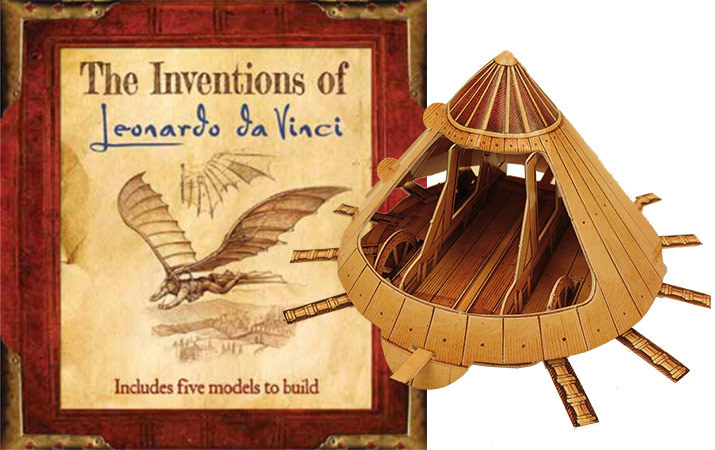 Here's our favorite Leonardo da Vinci children's books about design, making stuff, and imagining the future.