Monterey on the spectacular California coast is a year round destination. In December, plan your visit to include Christmas in the Adobes, a weekend living history event.
Explore 19th century Spanish style houses, kids can sample spiced cider, horchata, Mexican hot chocolate, gingerbread, shortbread, oatcakes, and Christmas cookies, watch flamenco dancers, listen to a Jalisco harpist, Scottish bagpiper, and Spanish guitar, dance Mexican California "fandango" dances in the Custom House.
In the early evening wander down the streets of Old Monterey, luminaria paper lanterns line the entrance of houses to visit. Some adobe houses are only opened once a year for this event. Volunteers are dressed in period clothing – colorful Spanish shawls and hoop skirts for women, ponchos and black suits decorated with silver for men.
Houses are trimmed with 19th century California decorations – red poinsettias (the "Christmas Flower" from Mexico), greenery from pine and cypress trees, fruits, red and white candles, tin stars and terra cotta figurines, Christmas trees ornamented with popcorn, crocheted stars, bright paper cones, old-fashioned baubles.
All the houses are within walking distance, buy tickets for Christmas in the Adobes at Pacific House Museum, Cooper-Molera Adobe, or online Monterey State Historic Park. Wear warm clothing, weather is variable in December.
Cooper – Molera Adobe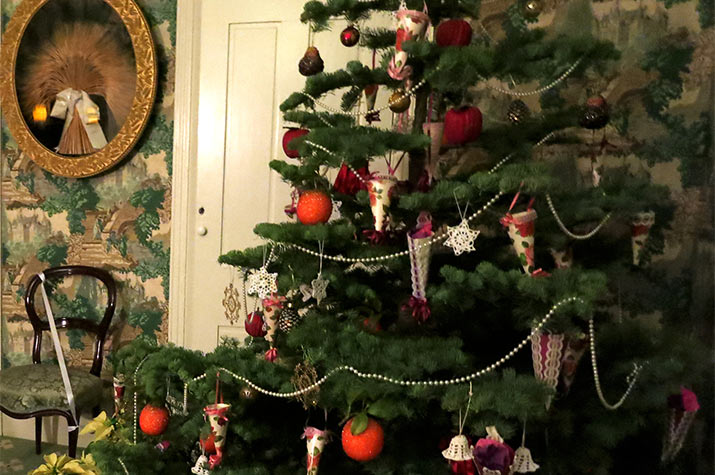 Home of sea captain and well-to-do entrepreneur John Cooper, the house was built in 1827, then expanded in 1851 to be a luxurious Victorian home. Walk through the parlors with a piano and thick carpets, past the bedroom with a big sleigh bed, dining room, spacious hallways, out to courtyard with a beehive oven where the cooking was done.
Colton Hall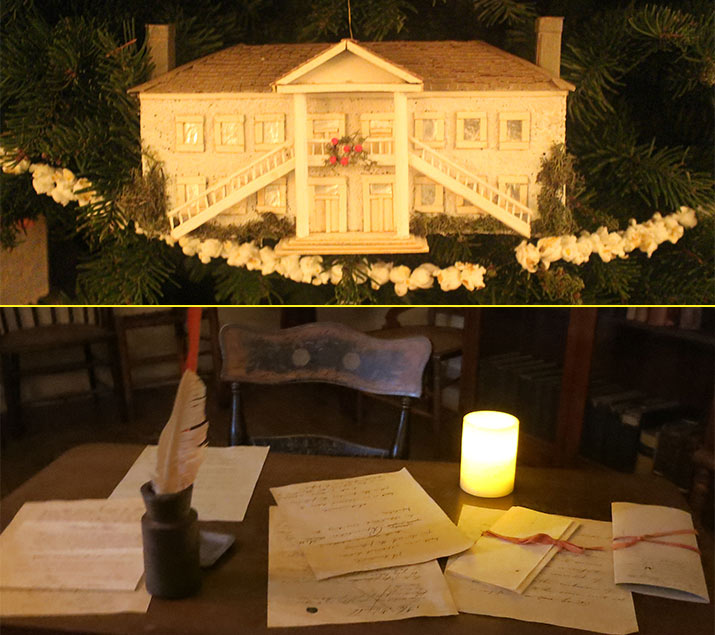 The first mayor of Monterey, Walter Colton, designed Colton Hall, with a public school on the first floor, on the second floor was the town meeting hall. It was here that in 1849, California representatives met in Colton Hall to write the First State Constitution, signed on Oct. 13, 1849.
Warm spiced cider and Christmas cookies were very tasty, and the Christmas tree was decorated with ornaments of different Monterey adobe houses, Presidio Chapel and Colton Hall itself.
Casa Gutierrez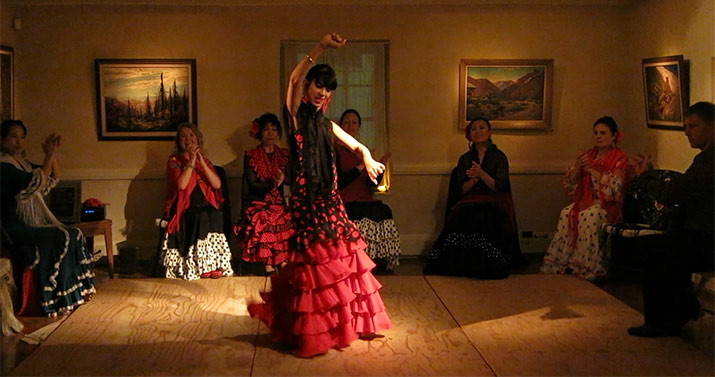 A special treat as Gutierrez House is not usually open to visitors, it was originally the home of a Custom House official, Joaquin Gutierrez. A convenient location, he could easily walk over to the Custom House Plaza. Kids will enjoy the colorful flamenco dance performance, especially women's costumes in black, red and white, polka dots and fringed Spanish style shawls.
Casa Serrano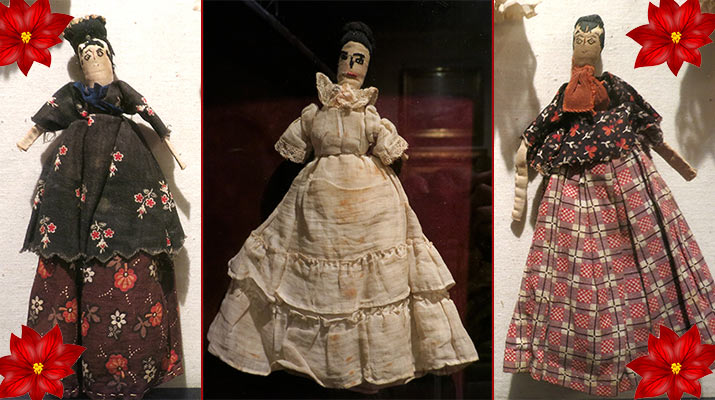 Casa Serrano was constructed in 1840, and purchased by Florencio Serrano in 1846 for his new wife, Rita. The adobe was home to generations of Serranos, and also used as a schoolhouse.
In the Casa Serrano is a collection of two hundred year old cloth dolls, made by Ysabel Cota de Pico for her daughter Maria Antonia. In 1818, a privateer Hippolyte Bouchard raided and burned down Monterey. The Pico family left their house to escape the raiders, but Maria Antonia went back to collect a precious family book for her mother, and met two of the pirates. Quite gentlemanly, they put her on her horse, and sent Maria Antonia on her way.
Casa Soberanes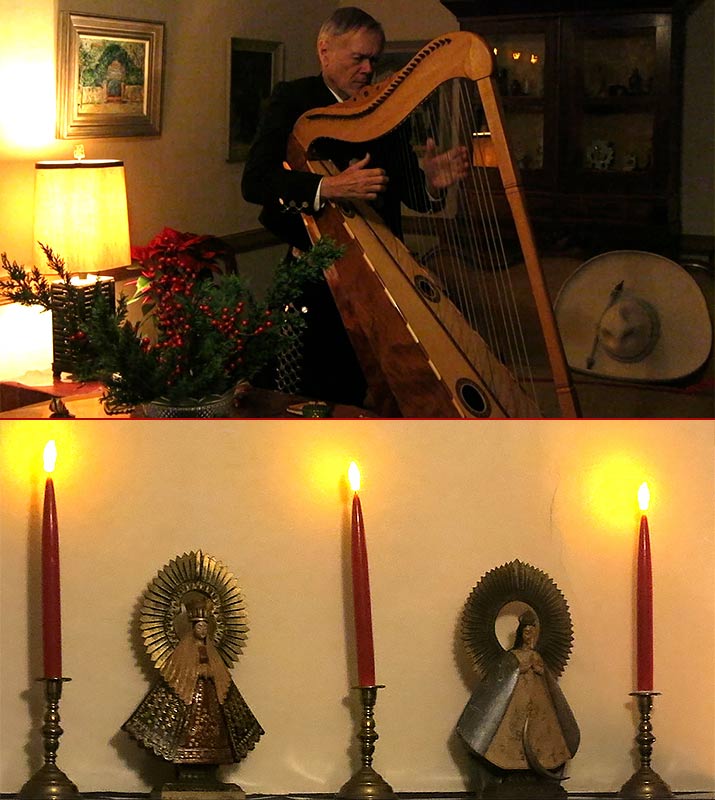 Nicknamed the "House of the Blue Gate," at the entrance walk through the bright blue gate, and up the steps lined with luminaria. The interior of the house has lovely Mexican folk art (tin figurines, animals and angels made from straw). We listened to a musician playing traditional tunes from Mexico on the Jalisco harp (strings were red and green, in keeping with the season), and tasted the delicious horchata, a cold drink made from rice, flavored with cinnamon.
Robert Louis Stevenson House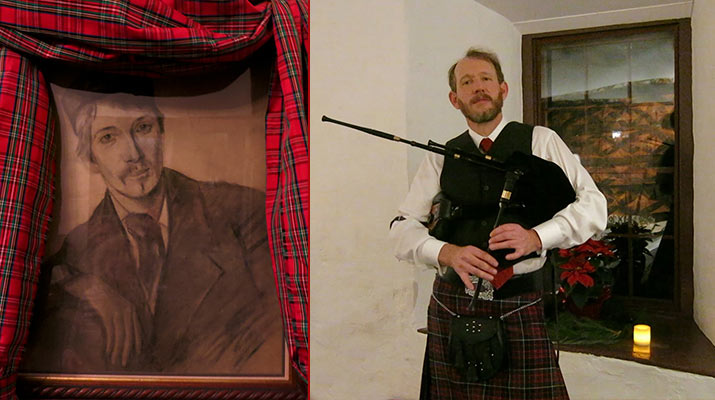 Robert Louis Stevenson, author of Treasure Island, came to stay in Monterey for three months – he rented a room on the second floor of this house. He wasn't famous, and hadn't written his most popular books yet. It's rumored that the house is haunted – ghosts of two children re-arrange toys in their nursery on the upper floor (not open to visitors). Also, legends of treasure buried on Point Lobos might be the inspiration for Treasure Island …
In honor of Stevenson's Scottish heritage, nip over to this house for excellent Scottish shortbreads and to listen to a Scottish bagpiping.
Monarch Butterfly Sanctuary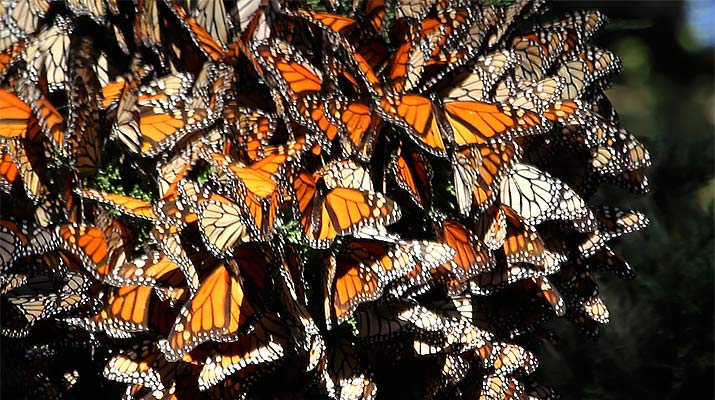 Before evening Christmas in the Adobes, we stopped at the Monarch Sanctuary in Pacific Grove. Monarch butterflies spend the winter at the butterfly sanctuary November to February. It's not a huge grove, but it's fun for kids to see thousands of orange and black butterflies hanging in clusters and gliding through the trees.
The best time to come is in the afternoon (butterflies are more active). On weekends, noon to 3pm docents have spotting scopes and will tell you all about the life cycle of the butterflies. Tip: Bring your binoculars, butterflies may be high in the trees.
Tip: Visiting Monterey you'll want a fun places to stay. Check out Travel for Kids list of Monterey family hotels and Monterey family vacation rentals.