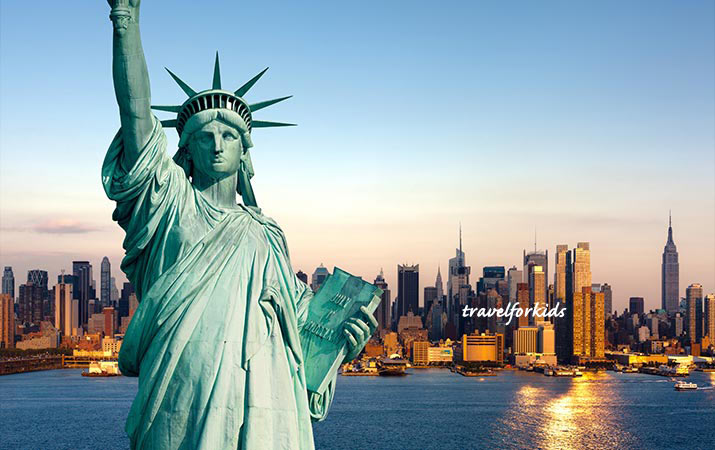 Yosemite, Grand Canyon, Great Smoky Mountains, Yellowstone National Parks are famous for the great outdoors.
Cities also have National Parks, Historical Parks, Monuments, Preserves and Recreation Areas – where families will discover museums, forts, historic ships, hiking trails, islands, swamps, ancient petroglyphs, saguaro cactus and magnificent coast redwoods.
Here's some of our favorite urban national parks.
Philadelphia, Pennsylvania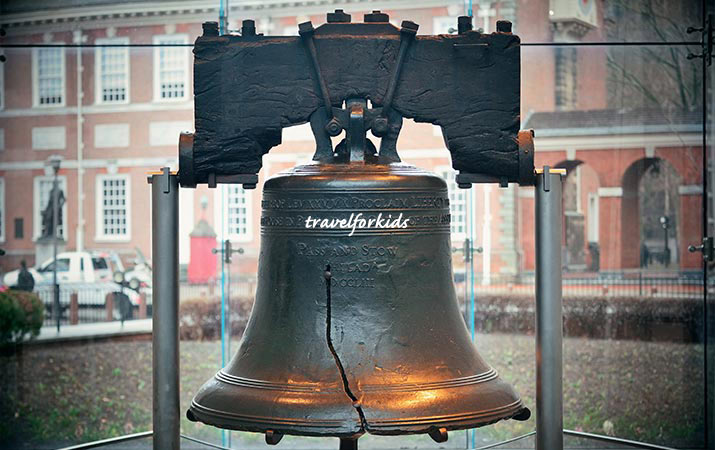 Independence National Historical Park
Liberty Bell Center – On July 8, 1776, this bell rang out to celebrate the Declaration of Independence. During the American Revolution, the bell was hidden from the Brtish, then became a symbol to fight the end of slavery in the United States, and liberty worldwide.
Independence Square Buildings – In Independence Hall, see where delegates created and approved the Declaration of Independence and Constitution. The Great Essentials Exhibit has an original copy of the Declaration of Independence and signing inkwells. Follow in George Washington's footsteps up the stairs in Congress Hall.
Benjamin Franklin Museum – Kids always have fun in this hands-on museum, with exhibits about this "American genius" – Ben Franklin's inventions, public service, printing, math puzzles and more.
National Constitution Museum – In the 360 degree theater, watch a live actor and multi-media production about the Constitution and formation of three branches of US government. Step into the Signer's Hall with life size statues of the founding fathers (George Washington is tall, Alexander Hamilton is short).
More details about this national park on Travel for Kids: Philadelphia
Boston, Massachusetts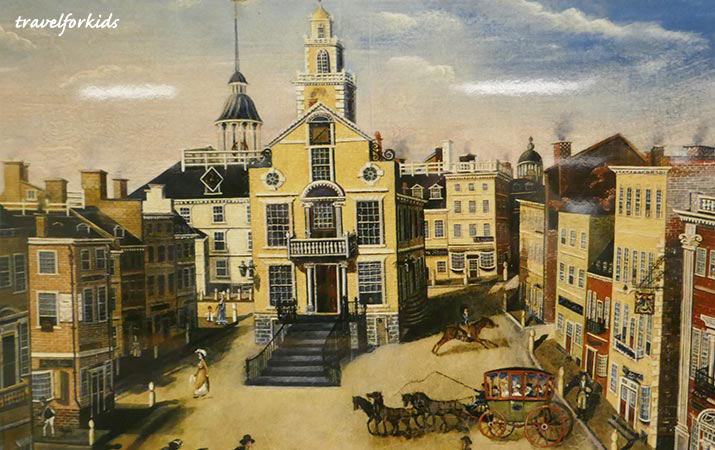 Boston National Historical Park – On the Freedom Trail, take a walk through Boston, stopping at historic sites in the American Revolution.
Old South Meeting House – Colonists gathered in this building on Dec. 16, 1773 to protest the tax on tea. After hearing the governor's response, patriots left to go to the wharf, and destroyed all the tea on the British ships in the harbor – the Boston Tea Party.
Old State House – Before going in, look up to the roof, there's lion and unicorn, symbol of Great Britain. The State House was the site of the Boston Massacre, and office of the British governor before the revolution.
Faneuil Hall – Here the Sons of Liberty met to discuss freedom from Great Britain – out in front is a statue of Sam Adams.
Paul Revere House – Paul Revere is most famous for his "midnight ride" to warn the militias in Lexington and Concord, but he was also a silversmith and parent of sixteen children. Take a self-guided tour of his house to see a typical kitchen, family room and bedrooms upstairs.
Old North Church – This is the oldest church in Boston. On April 18, 1775, two lanterns were lit as a signal that British soldiers were on the march to Lexington, to confiscate weapons hidden by the militas and arrest Sam Adams and John Hancock.
Charlestown Navy Yard – USS Constitution sailing ship, built in Boston in 1797, was one of the first ships in the new American Navy. Take a guided tour through the ship, loaded with big cannons, and also visit USS Cassin Young, a World War II destroyer.
Bunker Hill Monument – One of the first battles fought in the American Revolution, climb up the stairs of the monument for views of Boston, and visit the museum for dioramas that dramatize the historic battle.
Boston Harbor Islands National Recreation Area
Take the ferry (May to October) to different islands – kids can run around star-shaped Fort Warren on Georges Island, camping is available on smaller islands in summer.
More info about both national parks on Travel for Kids: Boston
New York City, New York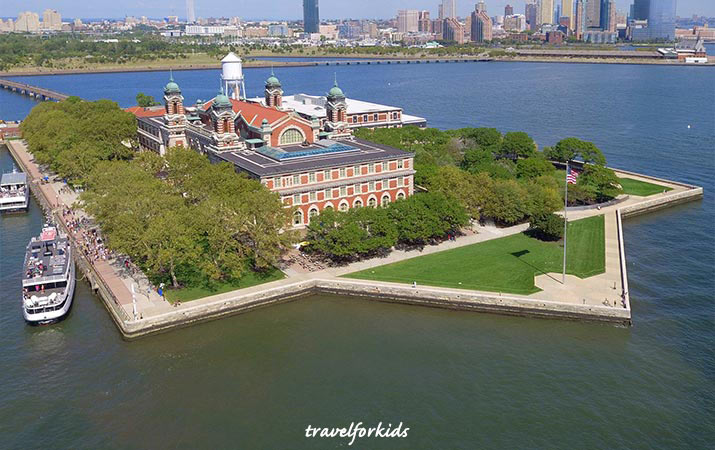 Statue of Liberty National Monument
Ellis Island – For millions of immigrants to the United States, Ellis Island was the first stop. In the museum, kids can learn about the immigrant experience – for some it was an "Island of Hope," for others an "Island of Tears" for those sent back to their homeland.
Statue of Liberty – This statue is the most famous symbol of the United States. Take the ferry to Liberty Island to see the Lady Liberty up close, and museum exhibits. To go inside the statue, be sure to reserve tickets well in advance.
Lower East Side Tenement Museum National Historic Site
Take a guided tour for a first hand experience of crowded living and working conditions of immigrants in New York City, good for older kids.
More details about this national park on Travel for Kids: New York City

Baltimore, Maryland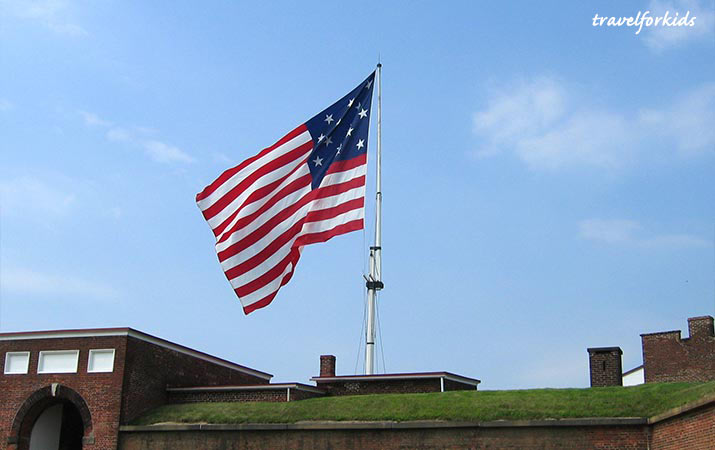 Fort McHenry
Fort McHenry played an important role in the War of 1812. British warships attacked the fort for an entire day. The next morning, seeing a large American flag still flying over the fort, Francis Scott Key wrote a poem that became the "Star Spangled Banner," United States national anthem.
Charleston, South Carolina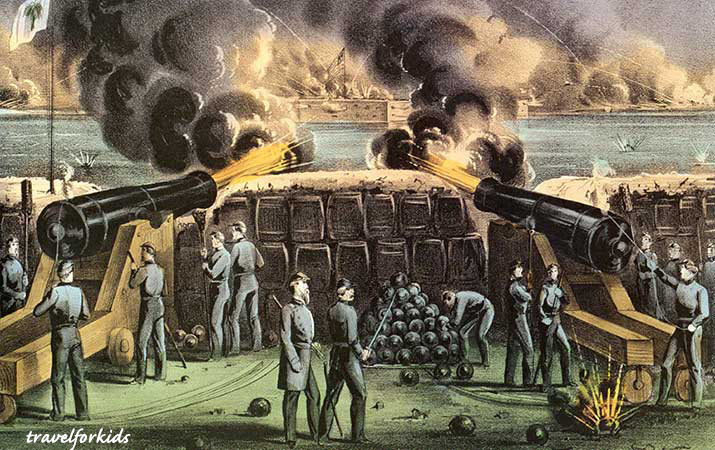 Fort Sumter National Monument
April 12, 1861, Confederate soldiers fired cannons on Fort Sumter, launching the first battle of the American Civil War. Take the ferry to the fort for excellent tours led by rangers, and views of Charleston Harbor.
Atlanta, Georgia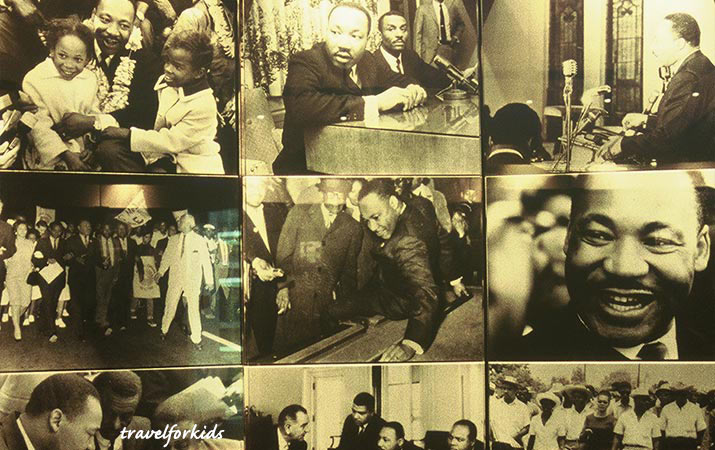 Martin Luther King, Jr. National Historical Park
Civil Rights leader Martin Luther King Jr. was born in Atlanta, lived, worked, and is buried here. In the Visitor Center are exhibits and videos about the movement to achieve equal rights for African-Americans. Also take a guided tour of King's home.
Chattahoochee River National Recreation Area
Grab a picnic, go rafting, fishing, hiking on trails through leafy green forests in greater Atlanta.
Saint Louis, Missouri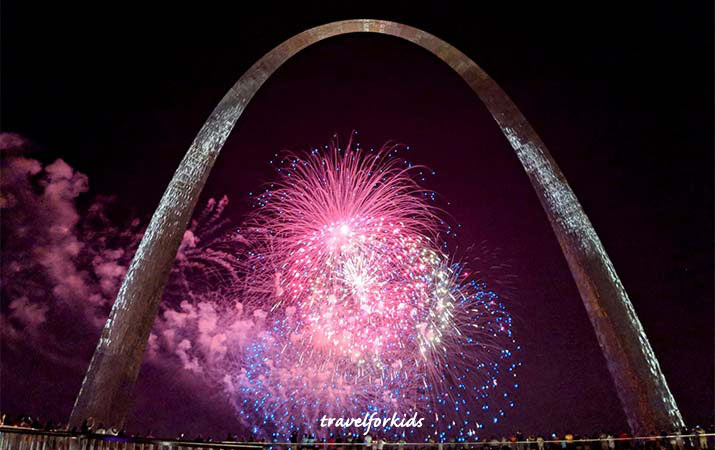 Gateway Arch National Park
Take a tram ride to the top of the Gateway Arch, tallest man-made monument in the US. In the museum, are galleries about pioneer journeys heading west across America.
New Orleans, Louisiana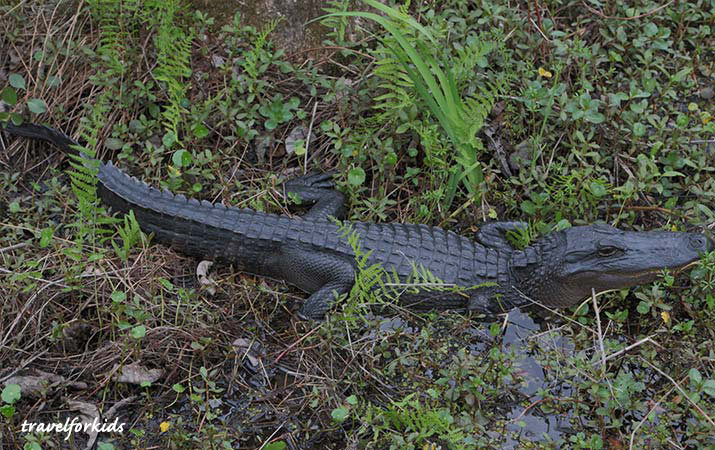 Jean Lafitte National Historical Park and Preserve
South of New Orleans are swamps, filled with wildlife, and legends of the pirate Jean Lafitte. Take a walk led by rangers through Barataria Preserve – look for alligators along the way.
Albuquerque New Mexico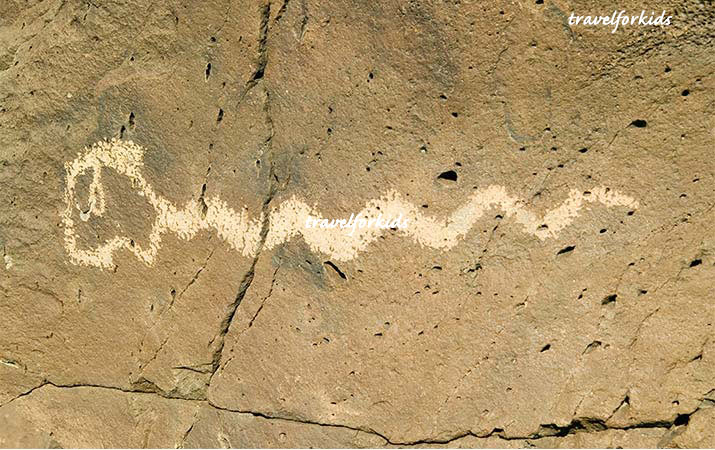 Petroglyph National Monument
On the West Mesa, 700 to 400 years ago, Native Americans created thousands of petroglyphs on the lava rocks. Follow three different trails in Boca Negra Canyon to see petroglyphs in shapes of hands, feet, birds, snakes, spirals, geometric patterns, stars.
Tucson Arizona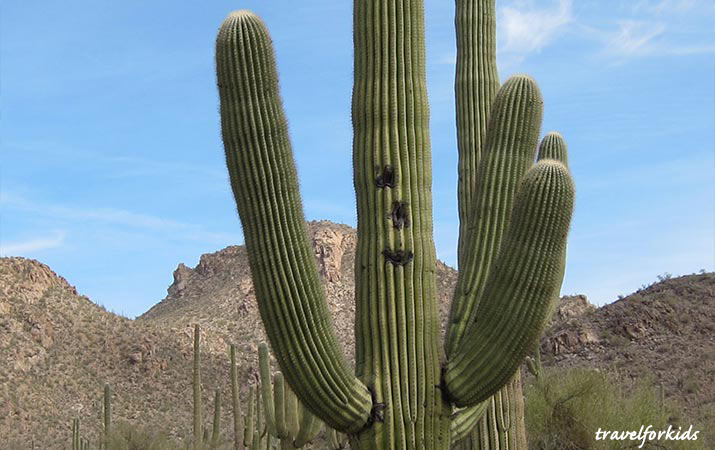 Saguaro National Park
Saguaro cactus are an amazing desert adaptation – it survives in the hottest, driest environment and can live up to 200 years. The park is divided into east and west areas, in both are easy hiking trails, the west section also has Hohokam petroglyphs at Signal Hill.
More details about this national park on Travel for Kids: Tucson
San Francisco California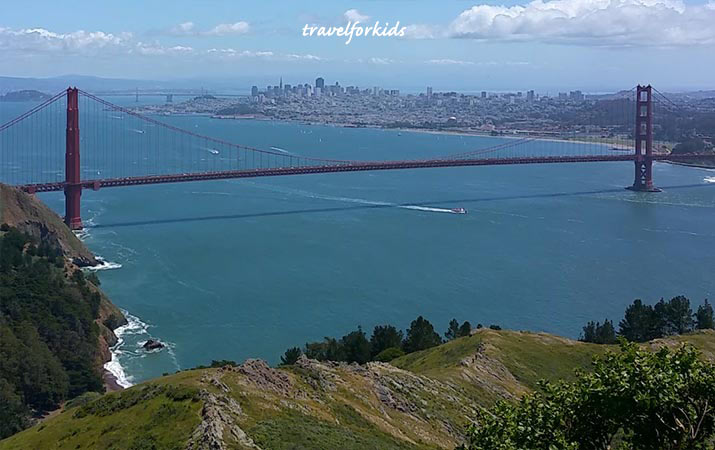 Golden Gate National Recreation Area
Some of the most spectacular scenery on the California coast is here in San Francisco. On the Marin Headlands are miles of hiking trails, views of the Golden Gate Bridge, and Point Bonita Lighthouse, perched on a pinnacle of rock above the waves. Also, at the end of Golden Gate Park, take the Coastal Trail from Cliff House around Lands End.
San Francisco Maritime National Historical Park
Ships and the sea are an essential part of the history of San Francisco. On Fisherman's Wharf, at Hyde Street Pier kids can run around a sailing ships, a car ferry, ocean going tug, and in the visitor center walk through a re-creation of the waterfront.
Alcatraz Island
Take a boat ride out to "The Rock," site of infamous Alcatraz prison and home of gangsters such as Al Capone.
Muir Woods National Monument
Just across the Golden Gate Bridge, visit the Muir Woods to see amazing old-growth coast redwoods. Self-guided nature trails, but advance reservations required for parking and shuttle to the park.
More info about these national parks on Travel for Kids: San Francisco

Honolulu Hawaii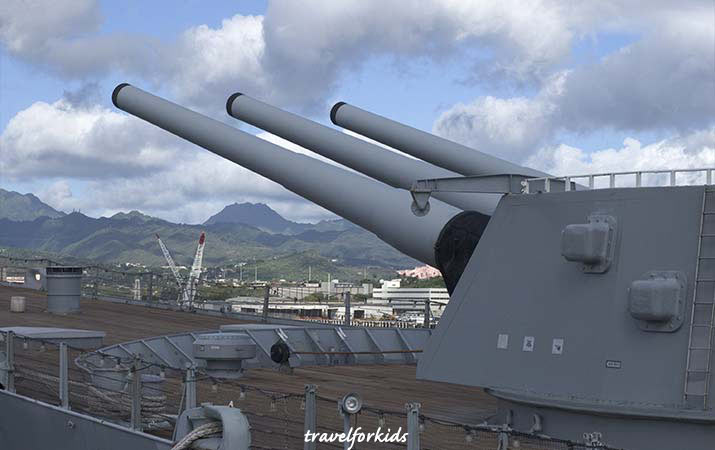 World War II Valor in the Pacific National Monument
Pearl Harbor is the beginning and end of World War II. Dec. 7, 1941, the Japanese the Japanese attacked, sinking battleships in the harbor. Today, take a boat ride to the USS Arizona Memorial, to see the sunken battleship under the waves. Go aboard the USS Missouri, where the Japanese delegation signed their surrender, ending World War II.
Planning family summer trips, on Travel for Kids find out more about visiting US national parks – Yosemite, Denali, Olympic, Crater Lake, Glacier, Yellowstone, Grand Teton, Death Valley, Joshua Tree, Sequoia, Zion, Arches, Grand Canyon, and more.