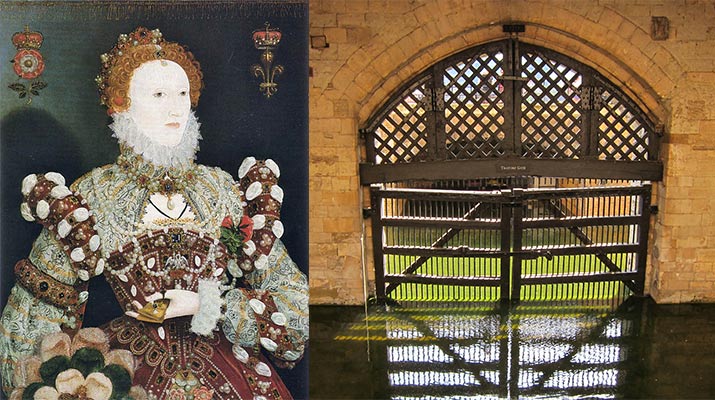 London during the reign of Queen Elizabeth I was a great city, one of largest capitals in Europe. It was also the home of the monarch of England, palaces and pageantry, plagues and poverty, religious conflict, center of trade and new world explorations.
The city is much changed since the Age of Elizabeth, but in London today it's fun to visit sites that recall the life and times of this extraordinary queen.
On March 17, 1554, Elizabeth was imprisoned by Queen Mary, and transported by barge to the Tower of London. She docked at Traitor's Gate, the same gate through which Elizabeth's mother Anne Boleyn was brought to the Tower, and her death.
It was raining, but when Elizabeth arrived at the stone steps going into the Tower, she sat down and wouldn't move. "Better sit here than in a worse place, for God knows where you will bring me," she said.
Elizabeth was captive in the Bell Tower for two months. Not a pleasant time, her prison was located right above the Tower Green, where Anne Boleyn was beheaded. Elizabeth's court ladies provided tapestries for the walls and wood for the fireplace (cold English winter), her own people cooked food so she wouldn't be poisoned. For exercise, Elizabeth walked on the ramparts wall walk.
On May 19, the day Anne Boleyn was beheaded, Elizabeth, wrote "This night I think to die." Instead of a rendezvous with the executioner on the Tower Green, Elizabeth was released and put under house arrest at a run-down manor some distance from London.
Elizabeth returned to the Tower of London in 1559, for her coronation as Queen of England. She rode in a glittering procession from the Tower of London to Westminster Abbey.
Viewing the Crown Jewels collection, look for the Imperial State Crown which has Queen Elizabeth Pearls (those long baroque pearls are quite distinctive). St. Edward's Crown, the oldest crown in the collection, is modeled on the earlier crown for Elizabeth I. The Coronation Spoon was used to anoint Elizabeth I during the coronation ceremony.
Tip: At the Tower of London, visit Traitor's Gate, Tower Green, Crown Jewels. Bell Tower is not on the tourist itinerary.
Here Queen Elizabeth I began, and ended her reign as Queen of England.
Coronation Chair –
Elizabeth I was crowned in Westminster Abbey on Jan. 15, 1559. She sat down in the Coronation Chair, proclamations were read, and she was anointed with holy oil. Elizabeth was crowned with two crowns, St. Edward's Crown, and the Imperial Crown (weighed seven pounds).
Her coronation apparel was magnificent – she wore a red cape embroidered with Tudor roses and trimmed with white ermine fur, a heavy pearl necklace, her long hair streamed over her shoulders.
Lady Chapel (north aisle) –
The tomb of Elizabeth I, enclosed with roses on the railing and the letters ER (Elizabeth Regina), has a full-size marble effigy of the queen. She holds a regal orb and scepter, around her neck is a large pearl pendant, and a crown on her head.
In the chapel, close to Elizabeth I's tomb are two of her not-exactly favorite people, Bloody Mary and Mary Queen of Scots. Elizabeth I is buried above the coffin of Mary Tudor (unmarked), but there is an inscription in Latin, "Partners in throne and grave, here we sleep, Elizabeth and Mary, sisters in hope of the resurrection."
After Elizabeth I died, the heir James I, son of Mary Queen of Scots, re-buried his mother and put up tomb effigies to both queens in this chapel. Mary Queen of Scots' is bigger, she wears a plain gown and ruff, her hands folded in prayer.
National Portrait Gallery –
In the museum, look for these sparkling portraits of Queen Elizabeth I. (Also a must-see for anyone in the family who likes fashion and jewels.)
Coronation Portrait of Elizabeth I – Commemorative painting of Elizabeth I's coronation in 1559. She wears a golden cloak (covered with roses, symbol of the Tudors) and trimmed with white ermine fur, Elizabeth's hair is long and flowing, in the style of a bride. She holds the symbols of power, a scepter and orb, in her hands.
Darnley Portrait – Painted in 1575, Elizabeth I holds an ostrich feather fan, and wears a very sedate dress in gold and orange, double rope of pearls, starchy white ruff, and small tiara. Elizabeth's clothing is more restrained other portraits, but her unflinching expression makes it clear who's in charge.
Armada Portrait – It's 1588, and Elizabeth I is at the top of her game. Her gown is covered with bows, multiple ropes of pearls, lacy ruffs and cuffs. England has just won the Armada, and she's holding a globe (the whole world in her hand). In the background are wrecked Spanish ships.
Ditchley Portrait – Elizabeth is almost 60 years old when this portrait is painted in1592. Her stiff white gown trimmed with jewels seems stand on it's own, the gown much bigger than the queen who wears it. However, her pointy white slippers stand firmly on a globe of the world, with England highlighted in the center.
Also in the National Portrait Gallery, check out portraits of Queen Elizabeth I's contemporaries: Mary Queen of Scots, Mary Tudor, good-looking Robert Dudley Earl of Leicester (favorite of Elizabeth I).
If you see a performance or tour the Old Globe, kids can think of William Shakespeare in December 1599. He had two weeks to write a play, to be presented on Jan. 6 before Queen Elizabeth I and her court. Shakespeare came up with the classic Twelfth Night.
Elizabeth I loved to see plays and supported the playwrights of her day. Shakespeare's company, the Lord Chamberlain's Men, often performed in her palaces at Whitehall, Hampton Court, and Windsor (however, there's no record of her attending a public play at the Old Globe).
Boat trips on the Thames –
During Elizabethan Age, the Thames was a busy "highway" of boats, carrying local passengers and cargos from around the world. Elizabeth I had a royal barge, which she often used to go between her palaces located along the Thames. On the morning of her coronation, Elizabeth I was transported by royal barge from Whitehall Palace to the Tower of London.
The tradition of the royal barge continues. In 2012, Queen Elizabeth II and her family sailed on the royal barge in the Thames Diamond Jubilee Pageant.
During your visit to London, riding the speedy Thames Clippers boats between Westminster Pier and the Tower of London, or going further down the river to the Thames Barrier at Greenwich, or up to Hampton Court Palace, it won't be quite the same as rowed in a royal barge. But you'll see some of the same landmarks from Elizabeth I's day – London Bridge (though no heads on pikes), Tower of London, Globe Theater, St. Paul's Cathedral, Westminster Abbey.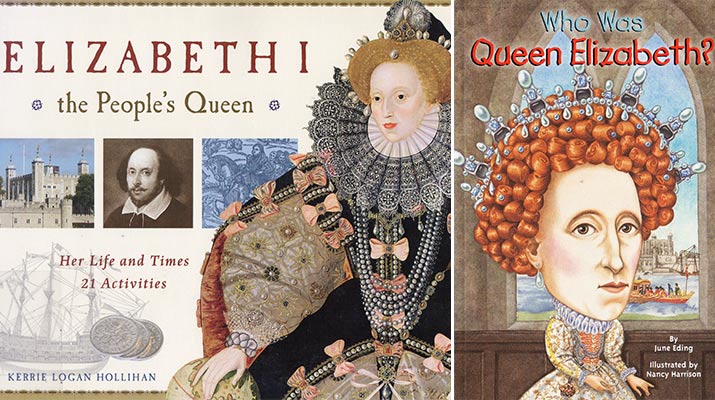 And books to read about Queen Elizabeth I:
Who Was Queen Elizabeth? by June Eding and Nancy Harrison. Illustrated biography of her long life – daughter of Henry VIII, tumultuous teen years, queen of England at 25, near death by smallpox, fashion and entertainment at her court, leading England to victory against the Spanish, and ruling the country for 45 years. (Chapter book)
Good Queen Bess by Diane Stanley and Peter Vennema. Timeless story of Elizabeth I – her education by university scholars, refusal to marry, love of plays and music, decisive leadership and unfolding of the Elizabethan Age. (Picture book)
Beware Princess Elizabeth by Carolyn Meyer. Novel of teenage Elizabeth, before she became queen, facing the threat of a one-way trip to the Tower of London. When Queen Mary jails Elizabeth in the Tower, Elizabeth spends weeks wondering if she will be beheaded like her mother. (Chapter book)
Elizabeth I the People's Queen by Kerrie Logan Hollihan. Step into Elizabeth I's life and times. Comprehensive biography of Queen Elizabeth I, history, plots and politics, religious conflicts, culture and exploration, illustrated with portraits, costumes, maps, drawings, photos of landmarks. Plus 21 different activities, how to make a cloak and ruff, try Elizabethan embroidery, design a coat of arms, make marzipan sweets and scented pomander. Good for older kids. (Activity book)