Thomas Jefferson was third president of the United States and primary author of the Declaration of Independence, but Monticello, his home, was his life. After his presidency, Jefferson lived here, enjoying his grandchildren, constantly improving the plantation, growing vegetables and gardening, making scientific observations, writing thousands of letters, playing music, reading books in multiple languages and entertaining visitors.
Jefferson wrote the famous words "all men are created equal," however, he was also a slave owner, and over a hundred slaves did all the work to maintain Monticello.
Monticello has been remarkably preserved over the centuries, and it's well worth a visit with kids (and is a fun day trip from Washington DC).
Visitor Center – The large Visitor Center has a theater, museum, cafe, gift shop, and Griffin Discovery Room.
Stop into the theater for a 15 min. movie, good introduction to Jefferson and Monticello.
The museum, Robert H. and Clarice Smith Gallery, has all sorts of interesting artifacts, such as a plow Jefferson designed, automatic French door opener, pocketknife that looks like a Swiss army knife, ivory tags he used to record weather readings, and scale models of Monticello.
In the Griffin Discovery Room, kids will enjoy hands-on activities, such as decode messages with Jefferson's wheel cipher, copy letters with a model polygraph, try on 18th century children's clothes, learn to weave, hop into a replica of Jefferson's bed, and more.
The cafe has snacks, cold drinks, and full meals. Ask about seasonable vegetables served in the cafe, grown in the Monticello garden. At lunchtime we had just-picked kale that was delicious, along with our sandwiches with bibb lettuces.
Tip: Explore the house and gardens first, then come back to visit the museum and do the activities in Griffin Discovery Room.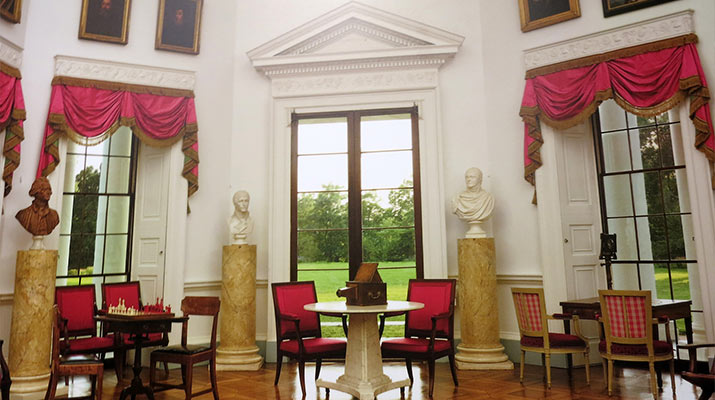 House tour – Seeing the inside of the house is by guided tour only, and you'll need to book in advance online. There is a children's tour (in summer), but the regular tour is also okay for kids. Click here to make your reservation.
The first room of the tour, the Hall, is amazing. It's filled with Jefferson's collection of Native American shields, weapons, artifacts brought back by Lewis and Clark, moose and elk antlers, mastodon jaws and teeth, plus a two-sided clock Jefferson invented.
Also impressive is Jefferson's bedroom and study. On the table in his study is the polygraph machine to copy letters he wrote and a revolving book stand.
In the parlor, after dinner the family would gather, and his grandchildren would play music, games (e.g. chess), and read books.
The dining room might look typical of the time, but the food prepared was not ordinary Virginia fare. Many fresh vegetables from his garden were served, dishes were prepared in a state-of-the-art kitchen (Jefferson brought back cooking pots from France and a pasta maker from Italy), and ice cream was a favorite for dessert.
Jefferson entertained many visitors, especially James and Dolley Madison, and they stayed in octagonal bedroom. The beds look so short, but then again, Madison was not very tall.

After the house tour, go down under the main house to explore the storage cellar, North Terrace Wing and South Terrace Wing.
North Terrace Wing – In the north wing is the carriage house and stables, and ice house. Don't miss the north privy. No running water, but this indoor bathroom was a luxury in winter.
Storage Cellar – Kids will have fun with hand's on activities, such as picking up a heavy iron (used to iron house irons) or unlocking a cellar door with big key. Parents, take a look at Jefferson's wine cellar.
South Terrace Wing – In this wing are the kitchen, cook's room, smokehouse, slaves rooms and dairy. Outside is a well.
The kitchen is stocked with copper pots (Jefferson learned a lot about French cooking), and check out the big stove, fitted with multiple burners and special racks for charcoal. Other cookware included in ice cream maker!
The cook's room, with typical blue and white hand woven striped blanket on the bed, was not just for one person – the enslaved cook, her husband and children stayed here.
Smokehouse – In a self-sufficient plantation such as Monticello, large quantities of bacon, ham, cured, pickled and smoked cuts of meat were produced in the smokehouse during cooler months.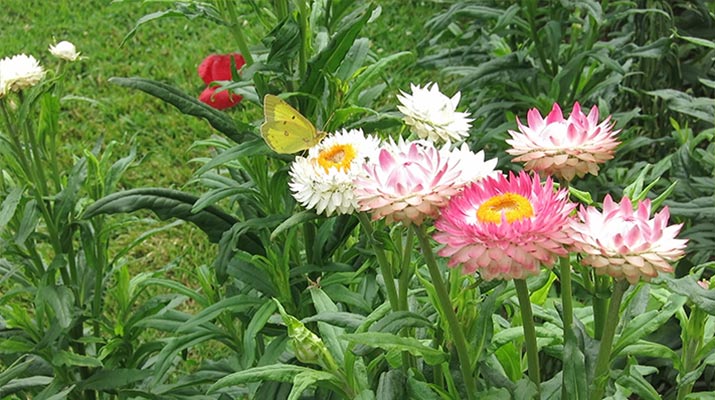 Flower garden – Go outside to the colorful flower garden, where Jefferson laid out the design, and grew flowers from seeds. When we visited in summer, flowers were in full bloom, buzzing with bees and butterflies. On the south side of the lawn is a fish pond, where fish from rivers were kept until ready to eat.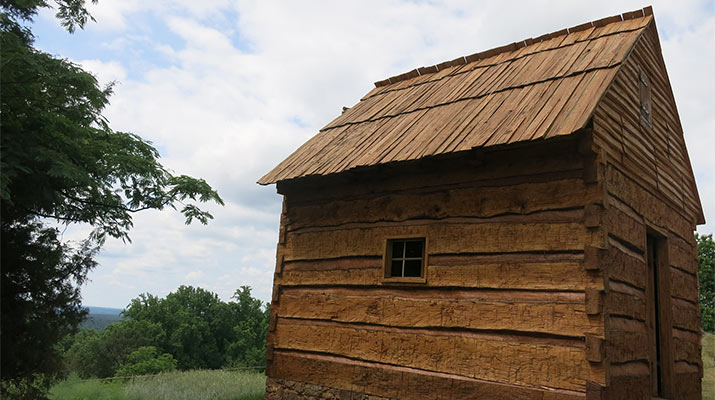 Mulberry Row – On Mulberry Row were log cabin living quarters for slave families, and textile, carpentry, woodworking and blacksmithing workshops. Unlike Jefferson's house (made of brick), buildings on Mulberry Row did not last and have been reconstructed.
Slave cabin – Go inside the reconstructed Hemmings cabin, a log house with packed earth floor, simple furnishings, fireplace with cooking pots, a few precious belongings hidden under the floor.
Forge – Further down Mulberry Row is a recreated forge, with tools, bellows for fanning the fire, and instructions "how to make a tin cup."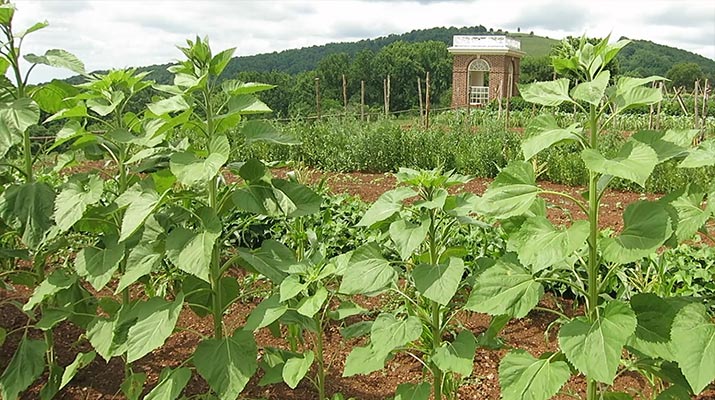 Vegetable garden – Jefferson was an avid gardener, and 70 different vegetables were cultivated from seeds, including fresh peas, spinach, tomatoes, lettuce, asparagus, sea kale, cucumbers. Tip: Vegetables growing in the garden are served in the cafe at the Visitor Center. When we visited, the cafe offered kale and bibb lettuces in salads and sandwiches.
From the garden, it's a short walk down the hill, where you'll pass by Thomas Jefferson's grave, the pointy obelisk with his epitaph – he died July 4, 1826, 50 years after the Declaration of Independence.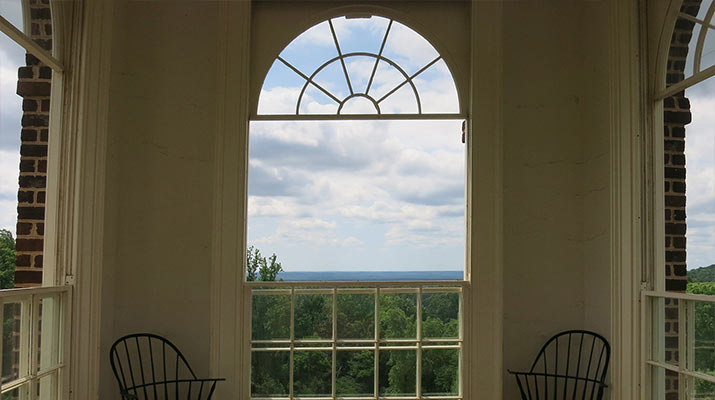 Before leaving the vegetable garden to walk down the hill and return to the Visitor Center, sit down in the garden pavilion, where Jefferson came to read, and look out over an "ocean of trees."
It looks very much the same as it did in Thomas Jefferson's time.
Children's books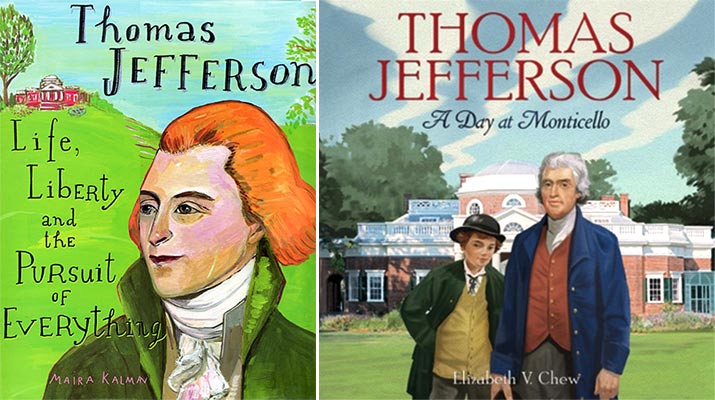 Here's our favorite children's books about Thomas Jefferson to read before, and after visiting Monticello.
Thomas Jefferson traveled around Italy, and brought back recipes and a pasta maker. After reading the book above with Jefferson's own recipe for macaroni and cheese, we had to make it at home – it's delicious.
Thomas Jefferson Macaroni and Cheese
2 cups dried elbow pasta
1 tbsp salt
2 cups half-and-half
2 tbsp butter
2 tbsp flour
1/4 tsp Tabasco sauce
1/2 tsp salt
Fresh ground pepper
1/2 cup grated Swiss cheese
1 1/2 cups grated sharp cheddar cheese.
1/2 cup grated cheddar cheese, for topping
Heat oven to 350 degrees.
Bring large pot of water to boil. Add 1 tbsp salt, then pour macaroni into the boiling water. Cook following the directions, until pasta is al dente. Drain in a colander, then put pasta in a large bowl.
Warm half-and-half in the microwave. In a saucepan, melt butter, whisk in flour, and whisk for about a minute. Add half-and-half, and stir until sauce thickens. Add Tabasco, salt and pepper. Remove saucepan from the heat.
Stir in Swiss cheese until it melts into the sauce. Stir in 1 1/2 cups grated cheddar cheese. Sauce should be smooth and thick.
Add sauce to the pasta, mix well, pour into buttered 9 x 10 inch pan. Sprinkle the remaining cheddar cheese on top.
Bake in the oven for 30 minutes. Let cool slightly, then serve.