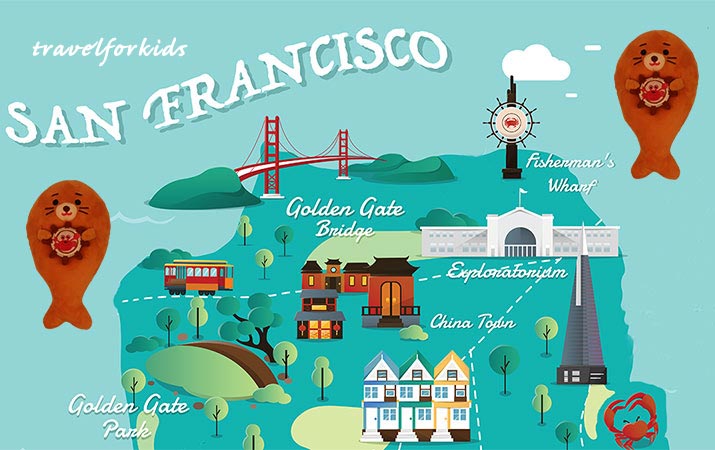 Tips for visiting San Francisco with kids, how to get around with the Clipper card, summer weather, enjoy bounty of farmers markets, relax in neighborhood parks, where to stay.
Getting Around
San Francisco has a public transportation system that includes, BART (subway) and Muni (light rail, historic streetcars, buses, cable cars), and ferries on the bay.
All-in-one Clipper card is used on BART, Muni, and Golden Gate Ferry.
Buy Clipper cards at any self-service machine in a BART or Muni station, retailers such as Walgreens, and Bay Crossing shop in the Ferry Building. Also, download BART app on your phone.
Tickets are required for kids 4 and up. More info: Clipper
BART is best (and fastest) way to get from San Francisco International Airport into the city center.
A fun way to get to Fisherman's Wharf is the ride the historic F line trams that go down Market St., and around the Embarcadero.
Use the Clipper card to ride the cable cars also.
To get to Golden Gate Park, California Academy of Science etc., ride N Ocean Beach from Market St. and get off at Irving St. and 6th street, walk north into Golden Gate Park.
Least expensive cruise on San Francisco Bay, take the Golden Gate Ferry from Ferry Building to Sausalito – fabulous views Alcatraz and the Golden Gate Bridge.
Uber and Lyft are available throughout the city, but check price of the ride.
Private hotel parking in San Francisco is expensive, typically $60 and over a night. (Keep this in mind if you plan to have a rental car).
San Francisco is also a great walking city. E.g. From Union Square, walk through Chinatown to North Beach. Kids ready to keep going, stroll up to Coit Tower for panoramic views.
Summer Weather
Fog, and cool breezy weather in summer is a San Francisco landmark. Unlike southern California summer, you'll need more than shorts and t-shirts.
Summers the fog can roll in, may roll out by noon, but if not, have something warm warm to wear. Crissy Field, Tunnel Tops Park, Golden Gate Bridge can be chilly, also if you take a boat cruise out on the water.
Farmers Markets
Sample the abundance of California at Farmers Markets throughout the city.
Find locally grown and organic boysenberries, raspberries, blackberries, strawberries, avocados, dried fruit, nuts, honey, melons, grapes, apples. Pick up local cheese, breads, muffins, scones, pastries, brownies, pies, chocolates, cookies, desserts, granola, trail mix, fruit juices, applesauce. Have a picnic!
Farmers markets also have food vendors, tacos, sandwiches, dumplings, dim sum, paella, Mediterranean and Middle Eastern dishes, and more.
Saturday at Ferry Plaza and Sunday Marin Farmers Market are the largest markets, open year round.
Ferry Plaza Farmers Markets (Ferry Building SF)
Tuesday 10:00am – 2:00pm
Thursday 10:00am – 2:00pm
Saturday 8:00am – 2:00pm
Fort Mason Farmers Market
Sunday 9:30am – 1:30pm
North Beach Farmers Market
Saturday 9:00am – 1:00pm Columbus Ave. and Greenwich St., next to Joe DiMaggio Playground.
If you're staying in Marin County, across from San Francisco, try these two farmers markets:
Marin Country Mart (Larkspur)
Saturday 9:00am – 2:00pm
Marin Farmers Market (San Raphael)
Sunday 8:00am – 1:00pm
Neighborhood Parks
Golden Gate Park the largest, and most famous park in San Francisco, but there are also excellent smaller parks with fun playgrounds, tucked away in different neighborhoods, the perfect place to relax with small children.
Tip: Some parks also have restrooms, a plus.
South of Market St.
Yerba Buena Gardens
Children's Garden (restrooms)
Salesforce Park
Children's Play Area (restrooms)
Chinatown
Portsmouth Square
Washington St. and Walter Lum Place
Mission District
Mission Dolores Park (restrooms)
19th and Dolores Street
Embarcadero
Sue Bierman Park (across from Ferry Building, with restrooms)
Washington St. and Drumm St.
Fisherman's Wharf
East Park (next to Aquarium of the Bay)
North Beach
JoDimaggio Playground
651 Lombard St.
Washington Square Playground (restrooms)
Filbert and Stockton Sts.
Golden Gate Park
Koret Children's Quarter and Carousel (restrooms)
Martin Luther King Jr. Drive and Bowling Green Drive
Where to stay
Travel for Kids has so many fun things to do with kids in San Francisco, whether it's riding the cable cars, visiting Exploratorium science and creativity museum, exploring streets of Chinatown, exploring ships at Fisherman's Wharf, flying kites at the marina, walking over the Golden Gate Bridge, eating ice cream all over the city, but you'll need a fun place to stay.
Our hand-picked list of family friendly hotels in San Francisco is all styles and price ranges, in neighborhoods convenient to fun things to do with kids.
Hotels are selected for their amenities for families, such as suites that sleep 6, rooms with mini-fridge or fully-equipped kitchen, swimming pools, babysitting services, coin-operated laundry, and more. Hotel policies can change, however, so be sure to check with the hotel at the time you make your reservation to be sure your desired family amenities are still available.
Tip: Across the bay north of San Francisco, Mill Valley and San Raphael in Marin County are a good location for vacation rental, convenient to downtown San Francisco.
Marin County Family Vacation Rentals
And find lots of fun things to do with kids in San Francisco on Travel for Kids.