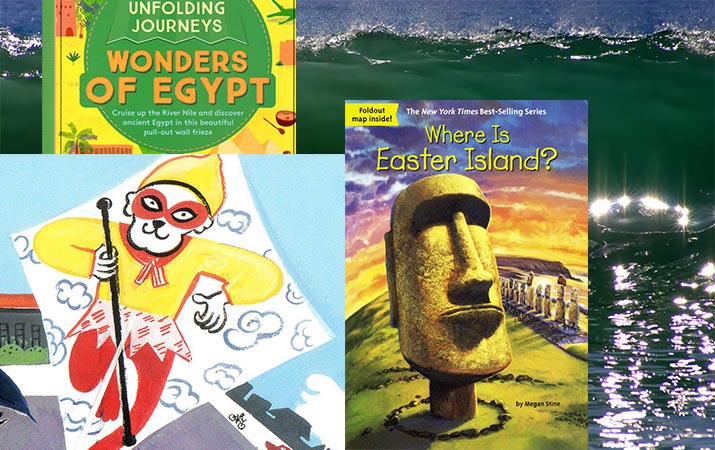 Summer is winding down, but travel to adventurous and far destinations with new children's books.
Kids can stay as long as they like!
Read books about Egypt, Guatemala, China, Australia and Easter Island.
Egypt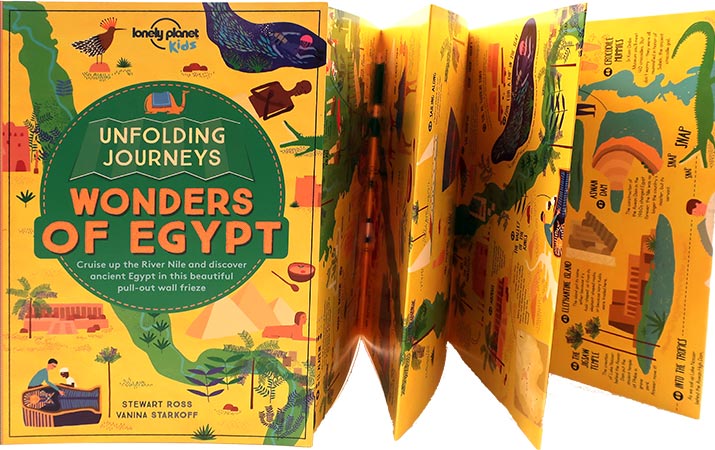 Wonders of Egypt by Lonely Planet Kids, Stewart Ross, Vanina Starkoff
Unfold Egypt, and take a trip from Abu Qir Bay, to Cairo, Valley of the Kings, Aswan Dam, passing by oases, crocodiles, camel markets, plus fun facts about each stop along the way. Cultural, historical and ancient wonders of Egypt in one fun book. (Picture book, fold-out pages).
More in this series: Following the Great Wall, Amazon Adventure, Rocky Mountain Explorer.
Guatemala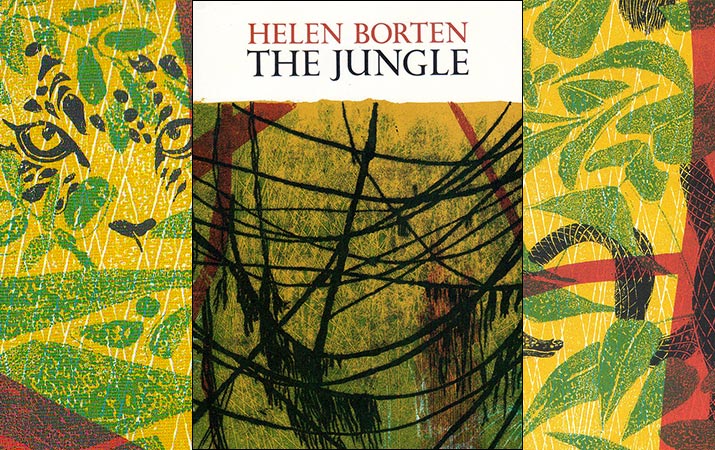 The Jungle by Helen Borten
Go in the heart of the Guatemala jungle –
A piece of bark falls …
and becomes a lizard.
A vine uncoils …
and becomes a snake.
A spot of sunlight blinks …
and becomes a jaguar's eye.
Gorgeous woodcut illustrations capture the wonder of plants and animals in the rain forest. (Picture book)
China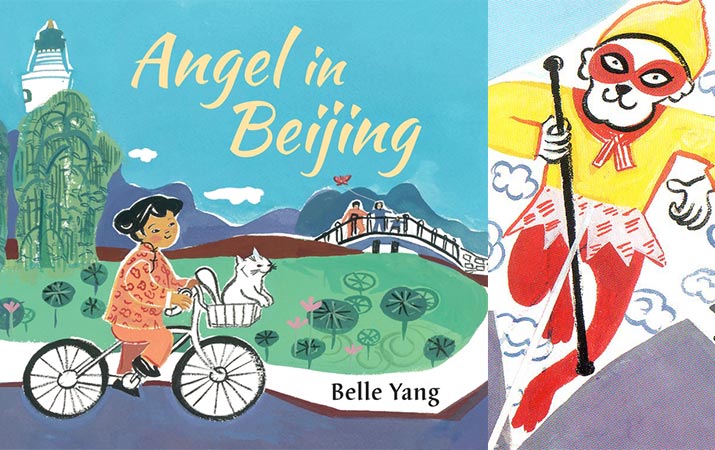 Angel in Beijing by Belle Yang
Go on a bike trip around Beijing to Beihi Park where people play music and munch on candied fruits, enormous kites fly in Tiananmen Square for the Dragon Boat Festival, climb up Jingsan to look down at the Forbidden City, stand in the Temple of Heaven. Where has kitty gone? Charming illustrations! (Picture book)
Australia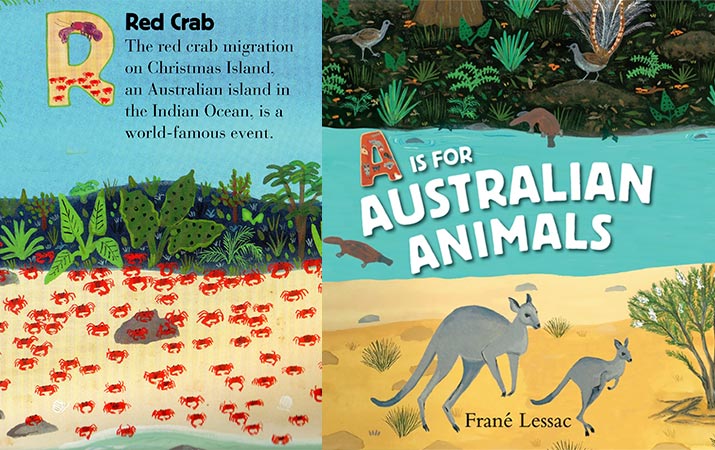 A is for Australian Animals by Frane Lessac
Discover more than 30 weird and wonderful creatures from Australia – lizards with blue tongues, lyrebirds that mimic the sound of barking dogs and car alarms, jumping spiders have silk safety ropes, quokkas can go for months without drinking fresh water, 50 million red crabs live on Christmas Island. Fascinating facts about all the animals, fabulous illustrations by Frane Lessac, who lives in Australia. (Picture book)
Chile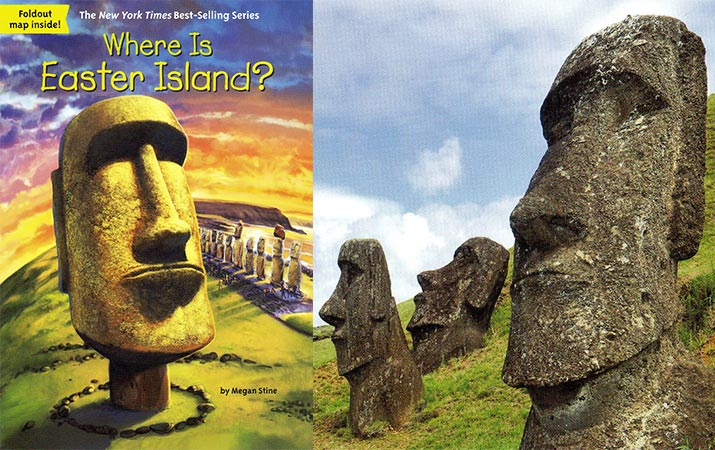 Where is Easter Island? by Megan Stine
Illustrated history of one of the most remote islands in the world, inhabited by Polynesians who carved enormous statues, moai, from volcanic stone. Very interesting is how the giant moai were carved in place, and then moved across the island miles away. How did the stones "walk"? (Illustrated chapter book)
Worldwide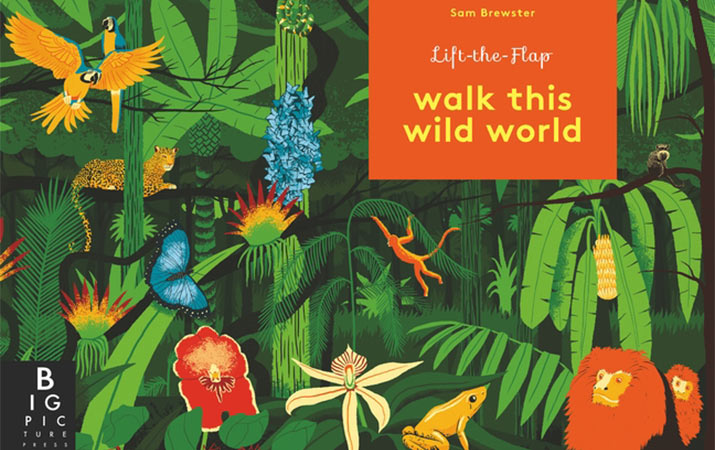 Walk this Wild World by Sam Brewster
Journey around the world to see wild animals of the Arctic tundra, Sonoran Desert, Amazon rain forest, Serengeti grasslands, Congo jungle, Spanish wetlands, coast of Scotland, Russian steppe, Himalaya mountains, Borneo swamp, and Australian desert sands.
It's fun to lift the flap to discover animals, insects, plants of each habitat, e.g. find out where is the largest honeybee in the world, what do peccaries eat, why do elephants spray themselves with mud, what do pangolins do when attacked, where is the most endangered wildcat. (Lift the flap picture book)
Tip: Find more children's books for over 45 countries around the world on Travel for Kids website, and in-depth information to plan family trips.