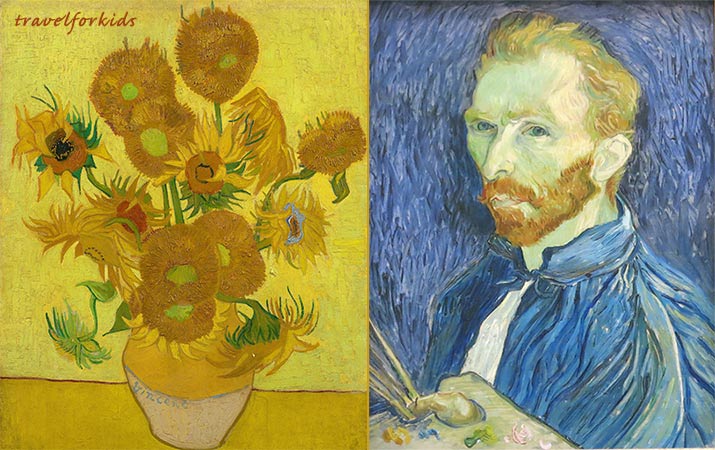 In fall, we see sunflowers everywhere. So did the artist Vincent van Gogh.
He was so taken with sunflowers, Van Gogh filled his canvases with glowing sunflowers. About one of his paintings, Van Gogh wrote, "Twelve flowers that are light on light."
Find out where kids can see Van Gogh sunflower paintings in art museums, and read children's books about the artist.
How did a Dutch artist discover sunflowers? When Van Gogh was living in Paris, he saw sunflowers blooming in the city at the end of the summer.
The following February, Van Gogh packed his bags, and moved to the south of France to Arles. After arriving in Arles, Van Gogh said, "Sunshine, a light which, for want of a better word, I can only call yellow – pale sulfur yellow, pale lemon, gold. How beautiful yellow is!"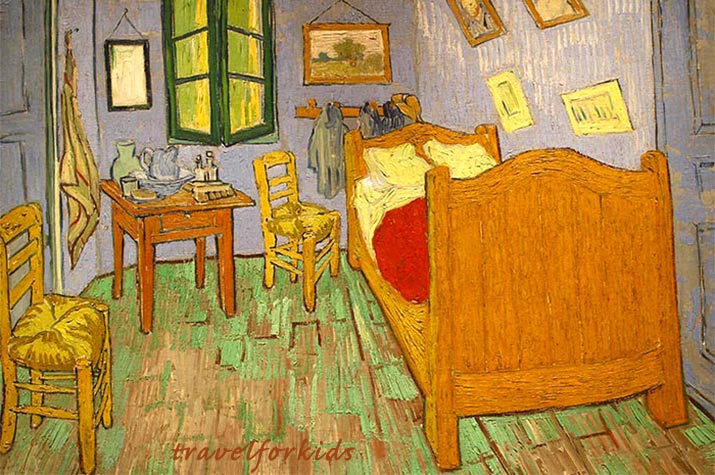 Van Gogh lived in a yellow house in Arles, worked constantly, and he painted sunflowers.
Tip: Today in Arles, visit 10 sites around the city where you can see where Van Gogh painted his paintings.
Visit these museums where kids see Van Gogh's glorious sunflower paintings in person:
Van Gogh Museum, Amsterdam
National Gallery of Art, London
Neue Pinakothek, Munich
Philadelphia Museum of Art, Philadelphia
Also, our favorite portrait of Van Gogh (shown above):
National Gallery of Art, Washington DC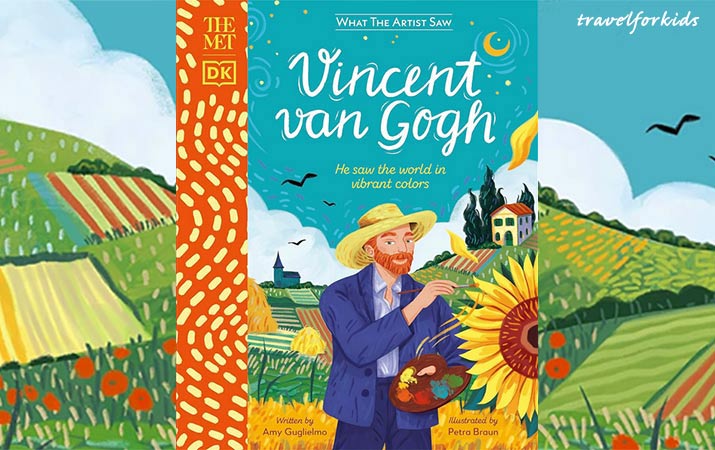 Read our favorite children's books about Van Gogh:
Vincent Van Gogh: He Saw the World in Vibrant Colors y Amy Guglielmo, Petra Braun.
llustrated biography of Vincent van Gogh, one of the most popular artists today, but he sold only one painting in his lifetime. What did van Gogh see when he walked in the Dutch countryside as a boy, looked at paintings in art museums, practiced drawing people in fields, lived in a yellow house and painted sunflowers in France? Plus activities to try yourself, good for older kids. (Picture book)

Vincent's Colors by Vincent Van Gogh, Metropolitan Museum of Art.
Vincent van Gogh's own words are paired with his paintings – violet irises, pink sky, green shutter, blue and white vase, "a yellow sky with yellow sun" – it truly makes the paintings come alive. (Picture book)

Van Gogh and the Sunflowers by Laurence Anholt.
"Where Camille lived, the sunflowers grew so high the looked like real suns…" One day, Vincent, a painter, comes to live in Arles, and Camille, the postman's daughter, becomes his friend. Based on real people and events from Van Gogh's time in Arles. (Picture book)

Vincent Van Gogh: Sunflowers and Swirly Stars by Brad Bucks, Joan Holub.
Read about the life of the artist – growing up in Holland, learning to paint, how he worked, and his paintings of swirly stars, his house, friends, and sunflowers. (Picture book)