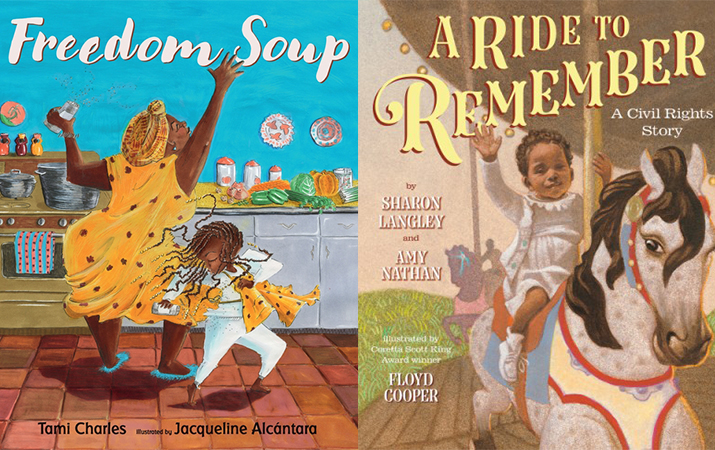 Fabulous new (and favorite) children's books about the African American experience – inspiring stories of dedication, creativity, dreams, to become a female astronaut, school principal, best bandleader, successful businesswoman, famous athletes and artists, protests against segregation and discrimination, survival and finally freedom from slavery.
Freedom Soup by Tami Charles, Jacqueline Alcantara
On New Year's Day, Belle and her grandmother dance and chop vegetables, while Ti Gran tells the story of slaves fighting for freedom in Haiti.
Captivating illustrations, delicious recipe for freedom soup, put on some music and cook to the beat! (Picture book)
A Ride to Remember: A Civil Rights Story by Sharon Langley and Amy Nathan, Floyd Cooper
Summer of 1963. A big bright amusement park in Baltimore has rides, games, a carousel. And rules about who can come into the park – no African Americans allowed.
On July 5, black and white people protested the segregated amusement park and were arrested, but the protests worked. Author Sharon Langley and her family were the first African Americans to walk into Gwynn Oak Amusement Park, and she rode the carousel. (Picture book)
Tip: The carousel from the amusement park was relocated, and is now on the National Mall in Washington DC.
Brown Girl Dreaming by Jacqueline Woodson
I am born not long from the time
or far from the place
where
my great-grandparents
worked the deep rich land
unfree
…
I am born in Ohio but
the stories of South Carolina run
like rivers
through my veins
Jacqueline Woodson grew up between the South and North, segregation and Civil Rights, rural South Carolina and urban New York City.
Exceptional storytelling of her childhood, filled with fireflies, lemon-chiffon ice cream, fresh picked melons in summer with her grandparents, merengue dancing and soul music, elementary school that takes up a whole city block, and dreams of becoming a writer. And what a writer (and poet) she is! (Chapter book)
When I sit beneath
the shade of my block's oak tree
the world disappears
Mae Among the Stars by Roda Ahmed, Stasia Burrington
Inspiring story of Mae Jemison, who is the first African American woman in space.
Asked in school what she wanted to be when she grew up, Mae said, "I want to go to space. I want to be an astronaut." And she did, waving to her parents from space. (Picture book)
Tip: Mae also went to Stanford, then medical school for an MD, and worked with the Peace Corps in Africa, before joining NASA.
Beautiful Shades of Brown: The Art of Laura Wheeler Waring by Nancy Churnin, Felicia Marshall
Growing up, Laura loved the color brown and loved to paint. Laura dreamed of going to museums where she would see portraits of people with brown skin, like her.
After attending a famous art school in the US and painting in Paris, in 1944 Laura was commissioned to paint portraits of famous African Americans, including the famous singer Marian Anderson. (Picture book)
In the National Portrait Gallery, Washington DC, look for Laura Wheeling Waring paintings of Marian Anderson and civil rights activist W.E.B. Du Bois.
The 5 O'Clock Band by Troy "Trombone Shorty" Andrews, Brian Collier
In New Orleans, Shorty and his friends are the 5 O'Clock Band, they get together to play music every afternoon downtown. After missing a performance with the band, Shorty wonders what it takes to be a great bandleader.
Walking through the French Quarter, he meets Tuba Treme and Queen Lola, and learns about playing with love, dedication and tradition. Vibrant two page illustrations, music and New Orleans come alive. (Picture book)
Sweet Dreams, Sarah by Vivian Kirkfield, Chris Ewald
Born as a slave, after the Civil War Sarah Goode migrated to Chicago. She set up her own furniture business, but discovered her customers lived in tiny apartments, and needed furniture that didn't take up space. Sarah started to work creating a bed that would fold-up.
Sarah E Goode was the first African American woman to receive a patent for an invention in 1885! (Picture book)
Finding Langston by Lesa Cline-Ransome
It's 1946, eleven year old Langston and his dad move from rural Alabama to Chicago. Amidst big city noise and loneliness, Langston takes refuge in the Chicago public library, open to everyone, and discovers his namesake, the famous black poet Langston Hughes. (Chapter book)
I pick up my life
And take it with me
And I put it down in
Chicago, Detroit,
Buffalo, Scranton.
Maritcha: A Nineteenth-Century American Girl by Tonya Bolden
Maritcha Lyons was born free in 1848, attended school and lived with her middle class African American family (who helped slaves escape on the Underground Railroad) in New York City.
To attend a high school not open to African Americans, 16 year old Maritcha spoke in front of the Rhode Island state legislature, and took a grueling examination, which she passed. She went on to fifty years in education, as a teacher and school principal. (Picture book)
Tip: Book includes essay she wrote and read at her graduation from high school, May 1869.
Exquisite: The Poetry and Life of Gwendolyn Brooks by Suzanne Slade, Cozbi A. Cabrera
Story of Gwendolyn Brooks, first African American to win the Pulitzer Prize for Poetry.
She grew up with books, and started writing poetry as a child. Even when times were hard, she always kept writing. She was inspired by what she saw and heard in the street, and she wrote powerful poems about life in South Side Chicago. Fabulous illustrations capture the imagination and commitment of this remarkable woman. (Picture book)
What Was the March on Washington? by Kathleen Krull
Read about this historic 1963 March, in support of equal rights for black Americans.
More than 250,000 people gathered between the Washington Monument and Lincoln Memorial, to hear from speakers, including Martin Luther King Dr., who gave his speech for the ages "I Have a Dream." (Illustrated chapter book)
The Undefeated by Kwame Alexander and Kadir Nelson
This is for the unforgettable
The swift and sweet ones
Who hurdled history
and opened a world
of possible.
Winner of 2020 Caldecott Medal, The Undefeated is a poem to black America, to everyday people, dreamers, the greatest artists, athletes, musicians, Civil Rights activists, to those who survived, and those who didn't, and to the endurance and spirit of past and present. (Picture book)