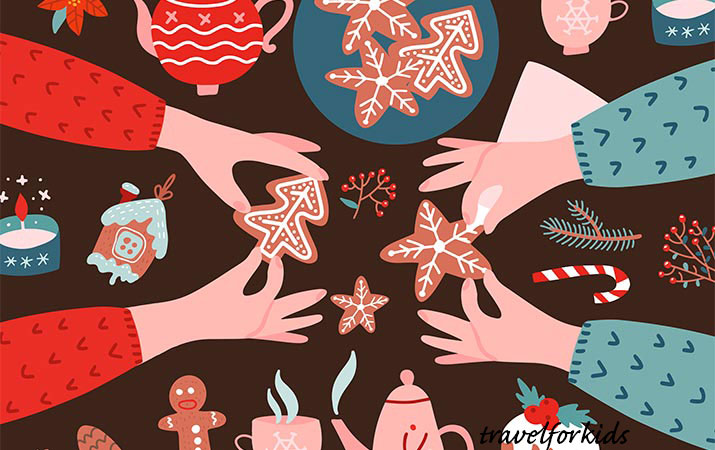 Cooking with kids in December is especially fun – so many treats and sweets from around the world.
This week, we will feature piparkakut from Finland, Mexican hot chocolate, latkes for Hanukkah, lussekatter saffron buns, and spice cookies our family decorates on Christmas Eve.
Piparkakut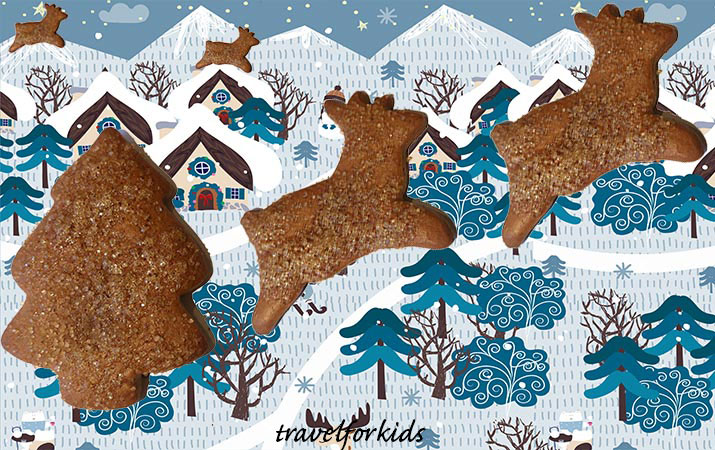 In Finland, a much-loved sweet at Christmas is piparkakut (also called piparkakku), gingerbread cookies.
In our recipe, these crispy cookies are covered with sparkling sugar, like tiny snow crystals in a winter landscape.
Scallops and star shapes are traditional for piparkakut, but reindeer is our favorite cookie cutter. (Reindeer live in Finland and thrive in cold winters.) Use whatever cookie cutter shapes you have on hand, Christmas pigs are appropriate too.
9 tbsp unsalted butter
½ cup plus 2 tbsp sugar
¼ plus 2 tbsp molasses
½ tsp ground cinnamon
½ tsp ground cloves
¾ tsp ground cardamon
1 ½ tsp ground ginger
1/8 tsp ground pepper
1 tsp grated orange zest
1 egg
1/8 tsp salt
1 tsp baking soda
2 ¾ cups flour
Neutral oil to grease cookie sheets
1 egg white, plus ¼ cup water
Raw sugar for sprinkling
Heat the butter, sugar, molasses, spices and orange zest over medium heat, stirring until the sugar dissolves. Pour into a large bowl for stand mixer, let rest until cool (about 10 minutes).
In mixer, on slow speed add egg, salt and baking soda, mix until incorporated. While on low speed, add the flour, and beat until combined. The dough should stick together, but look not too wet in the mixer. If it is, add a bit more flour.
Form into a large ball, split dough into two pieces. Wrap in plastic wrap and refrigerate for 4 hours, or overnight.
Heat oven to 350 degrees.
Place dough on floured surface (we use Roll'Pat silicone pastry mat). Roll out dough ¼ inch thickness with floured rolling pin. Cut shapes with cookie cutters (reindeer, tree, star, etc.). Brush egg white on the cookies, sprinkle with raw sugar.
Grease baking sheets with neutral oil. Bake 8 – 10 minutes, until cookies begin to darken at edges. Take out of oven, let cool little bit before transferring to rack to cool.
Store in air tight container. Cookies can also be made in advance and frozen.
Adapted from "Piparkakut," New York Times.
Mexican Hot Chocolate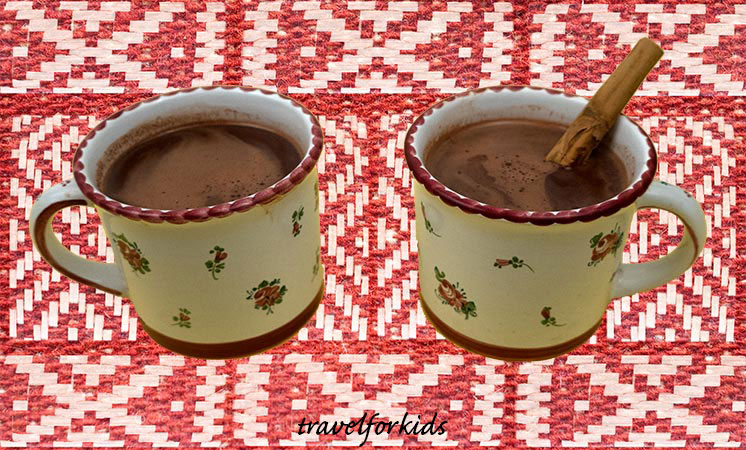 Chocolate comes from seeds of the cacao tree, which is native to South America. Before the Spanish arrived in Mexico, Maya and Aztec people cultivated cacao, and made hot and cold chocolate drinks, flavored with chili, vanilla, and other local plants.
It's simple and quick to make Mexican hot chocolate from scratch.
Recipe is for 4 mugs of hot chocolate (for smaller amount, cut in half).
4 cups whole milk
4 tbsp unsweetened cocoa powder
4 tbsp sugar
1 tsp ground cinnamon
½ tsp vanilla
¼ tsp chili powder
2 oz bittersweet chocolate (chop finely)
Marshmallows for topping, cinnamon stick for stirring
Tip: If you'd like a richer version, add more bittersweet chocolate; for a spicier version, add some cayenne.
In a medium saucepan, over medium high heat, add milk cocoa powder, sugar, cinnamon, vanilla, chili powder. Whisk together, add bittersweet chocolate and heat until chocolate has melted completely, and mixture is hot (but not boiling).
Divide into four mugs, top with marshmallows or stir with a cinnamon stick.
Recipe from Isabel Eats.
Latkes (Hanukkah)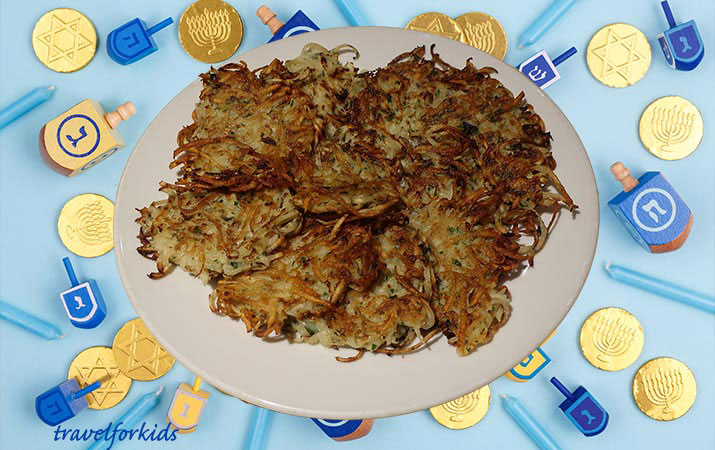 Latkes, crispy potato pancakes fried in oil, are a popular food at Jewish holiday Hanukkah.
Hanukkah is celebrated for eight days and nights, lighting candles each day, and commemorates the miracle in Second Temple in Jerusalem, where a single oil lamp burned for eight days.
There are lots of different versions of latke recipes, some with dairy. A friend sent us her recipe, one year we enjoyed latkes and played dreidel with their family.
2 – 3 russet potatoes about 1 ½ pounds
1 medium onion (8 oz)
3 tbsp flour
2 eggs beaten
1 tsp salt
¼ tsp flour
1 tsp lemon juice
1/3 cup chopped parsley
Neutral oil for frying
Prepare a baking sheet with rack covered with paper towels (to drain the latkes after they are cooked).
Peel potatoes and grate potatoes and onion in a food processor (or grate by hand with a box grater).
Wrap grated onions and potatoes in cheesecloth, and squeeze out all the liquid (mixture needs to be dry so pancakes will be crispy).
In a bowl, mix the potatoes, onions, flour, eggs, salt and pepper, lemon juice and parsley.
Scoop out about ¼ cup, and form mixture into flat patties.
In a heavy frying pan, pour in oil so covers the bottom of the pan, about ¼ inch. Heat the oil on medium high heat.
Cook patty about 4.5 minutes, until brown, then flip over, cook the other side until crisp. Drain the patties on the towel lined rack, keep warm in the oven, or serve immediately.
Top with applesauce, sour cream, or Greek yogurt.
And, play the Hanukkah dreidel game: How to Play Dreidel.
Tip: Two children's books to read about the holiday: The Story of Hanukkah and Celebrate Hanukkah.
Lussekatter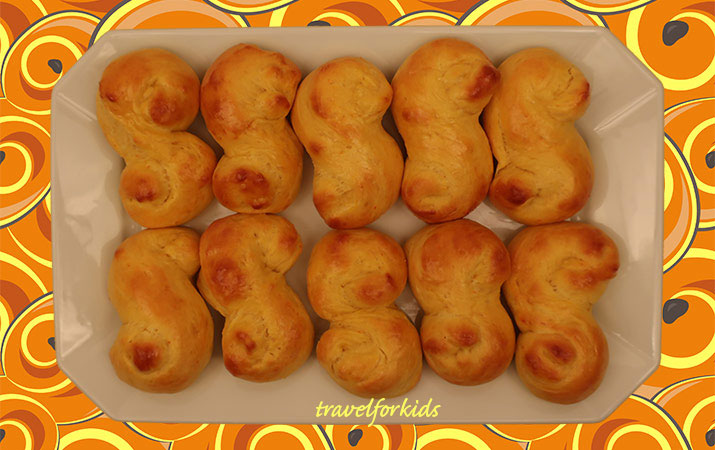 Swedish saffron buns (lussekatter) are baked for St. Lucia's Day, but fun to eat any time in December.
These soft buns are sunshine in your kitchen, glowing in the darkness of winter.
This recipe uses a stand mixer with a dough hook, makes 16 buns.
½ tsp saffron
½ tsp salt
1 ½ tsp water in small dish
36 raisins
1 ¼ cups milk
1 large egg, lightly beaten
4+ cups flour
7 tbsp sugar
1 ½ tsp "fast-acting" instant yeast, 1 packet
6 tbsp unsalted butter, softened and cut into small cubes
Place saffron and salt in a mortar and pestle, grind until evenly mixed. Pour saffron and salt over water in the small dish, let sit for at least 30 minutes.
Place raisins in a bowl, pour hot water over them.
Heat the milk in microwave until warm (95 – 105 degrees).
Sift 4 cups of flour into mixer bowl. Stir in the sugar.
Add the yeast and mix with a spoon.
Using the dough hook on the mixer, turn on to minimum speed, and slowly add the milk, saffron mixture, and half the beaten egg (save other half to glaze buns later).
Increase the speed to 2 or 3, and slowly add the softened butter cubes, one cube at a time. Do this very slowly, it should take about 3 minutes to incorporate all the butter. If the mixture looks too wet, add couple tbsp flour.
Continue to knead for 2 or 3 minutes more, adding any additional flour, tablespoon at a time. Idea is to add as little flour as possible for a nice soft dough.
Tip the dough onto lightly floured surface and shape into a ball. Return dough to a wide bowl, cover with plastic wrap or a cloth, and leave in a warm place for about an hour, until the dough has doubled in size.
Tip the dough onto floured surface, and punch down a bit. Divide dough into 16 equal size pieces (about 60 grams, if weighing).
Using your fingers, roll out each piece so it is about 12 inches long, and curl into a tight S shape.

On baking sheets, line with parchment paper. Place each bun, about 2 inches apart on the baking sheet, cover loosely and leave for about 30 minutes until doubled in size.
Preheat oven to 425 degrees.
Brush the buns with beaten egg, add a raisin in the center of each of the two coils. Bake for 8 – 10 minutes until golden brown.
Transfer to wire rack, cover and leave to cool.
Buns are best eaten fresh out of the oven, but reheated okay too (we use our toaster oven with Roll reheat option).
Tip: If using "active dry yeast" make this change at "Heat the milk" step.
Divide the milk into 1 cup, and ¼ cup glass measuring cups to heat in microwave.
Heat the ¼ cup to 100 degrees, pour in 1 packet of active dry yeast (2 ¼ tsp) and pinch of sugar. Wait a minute or two to be sure the yeast is foaming.
Heat 1 cup measure of milk to 100 degrees. Add both yeast-milk and milk slowly to the flour in stand mixer bowl. With the active dry yeast, rise time for the dough may be longer than an hour, e.g. hour and a half.
Recipes for lussekatter from Swedish Food.
Christmas Eve Spice Cookies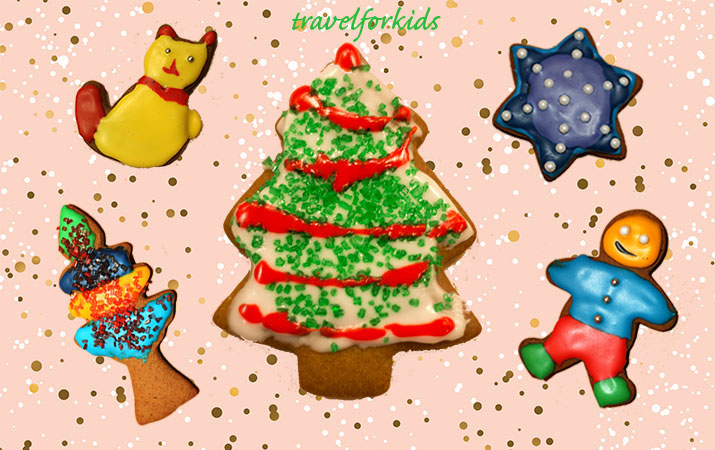 On Christmas Eve, in the late afternoon our family decorates spice cookies; we've been doing this every year since boys were toddlers, and now they're grown (that's a lot of cookies).
This recipe is based on a spice cookie called speculaas, popular in the Netherlands, Belgium and Germany. Spices are cinnamon, ginger, cloves, additionally mace, cardamom, allspice, anise, in different recipes.
Though not traditional, our spice cookies have frosting – so much fun for everyone in the family to decorate!
1/2 cup brown sugar, packed
1/2 cup butter
1/2 cup molasses
3 cups flour (additional 1/4 cup may be needed)
1 tsp allspice
1 tsp ground ginger
1 tsp ground cinnamon
1/2 tsp ground cloves
1/2 tsp baking soda
1/4 tsp salt
1 egg lightly beaten
Combine brown sugar, butter and molasses in small sauce pan and heat to boiling point, stirring constantly. Remove from heat and pour into stand mixer bowl. Allow to cool.
In medium bowl, combine flour, allspice, ginger, cinnamon, cloves, soda and salt.
Add egg to sugar-molasses-butter mixture, and beat with mixer until well blended. Gradually add flour mixture until a stiff dough forms.
Shape dough into two thick, flat rounds and refrigerate four hours, or overnight. (Dough may be prepared and refrigerated up to one week ahead).
Roll dough to 1/4 inch thickness. Cut out shapes in stars, trees, cats, pigs, rocking horse, angels, etc.
Transfer to baking sheets, lined with parchment paper.
Bake at 350 degrees 8 – 10 minutes, depending on the size of the cookies. Cookies will be firm, but not dark. Cool on wire rack.
When you're ready to decorate the cookies, make the frosting. To decorate the cookies, lay out out frosting in different cups, paint brushes, and lots of different sugar sprinkles.
Lay out wax paper for the finished cookies, so everyone can admire all the original designs. Store cookies in air tight container.
Frosting
3 egg whites
1 lb powdered sugar, sifted
Juice of 1/2 lemon
Food coloring (we use Americolor gel food coloring)
Water (to thin frosting if needed)
Beat egg whites until foamy. Add sugar and lemon juice. Beat until very smooth and consistency of heavy cream.
Divide the frosting into 6 – 8 small glass cups, add different color food coloring to each cup. Have paint brushes for each color.