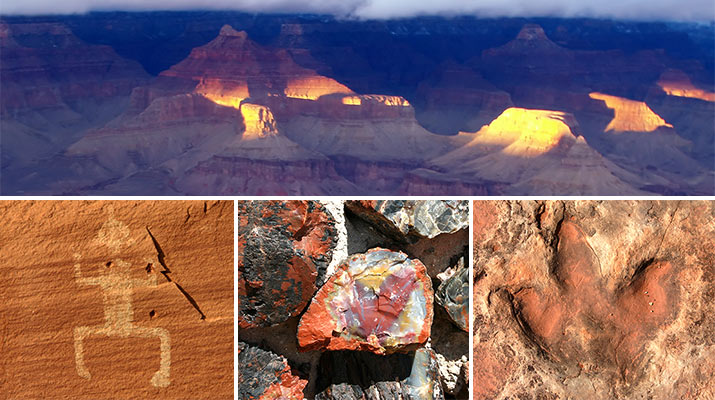 One year we took a drive trip to the Grand Canyon and northern Arizona for our spring break family vacation. Along with the Grand Canyon, there were sites in northeastern Arizona to explore: Canyon de Chelly, Petrified Forest and Meteor Crater.
Going across Arizona on Interstate 40, the town of Williams is the jumping off point to take Highway 64 north. In Williams, Goldie's Route 66 Diner was a tasty spot for lunch (usual burgers, sandwiches, salads, with a kids' menu).
Along Route 64, the guys are in our family are airplane buffs, so we definitely had to stop at the Planes of Fame Air Museum in Valle. In the collection are a float plane, British De Haviland Vampire, Russian MIGs, WWII German plane BF109 (photo), stunt bi-plane (one that can land upside down), plus old cars.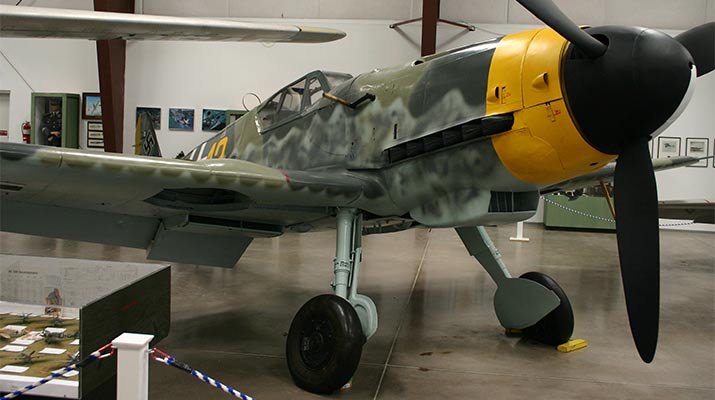 We spent a whole day on South Rim in the Grand Canyon Village area, hiking down Bright Angel Trail, and going out on the West Rim Trail to Hopi Point. Even if you've seen the Grand Canyon before, walking the Rim Trail, there's a different view at every turn.
Having decided to do this trip on the spur of the moment, hotels in Grand Canyon Village weren't available, but Tusayan hotels, right outside the national park south entrance, are very convenient.
The next day we continued east, taking Highway 64 along the South Rim toward Desert View. On this drive, the Colorado River is very visible as it snakes through the canyon.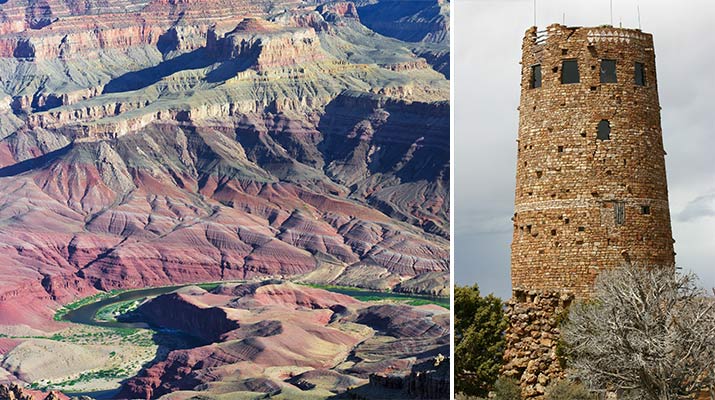 There are plenty of overlooks on this drive, but here's our two favorites:
Lipan Point: From Lipan Point, the Colorado River is visible, flowing through colorful layers rust red rocks in the Unkar Delta.
Desert View Watchtower – Climb up the tower to the fourth floor, where you can look through telescopes to see views of the canyon and river below. Inside the tower are also replicas of Native American petroglyphs and pictographs, and a sand painting in the Hopi Room.
Highway 64 ends at Cameron, where we spent the night at the Cameron Trading Post. Cameron is situated in the Painted Desert, a glorious landscape of colored sandstones like vanilla, chocolate and strawberry ice cream melting in the sun.
Cameron Trading Post has a delightful restaurant where kids can try local specialties such as Navajo tacos – fry bread topped with ground beef and cheese, and deep-fried sopapillas with honey or powdered sugar.
For something different, we took a drive up Highway 89, turned off on Highway 160, and drove for 4 miles to Dinosaur Tracks. In the Triassic period, dinosaurs roamed this region, leaving their footprints to be turned into stone.
There's a self-guided path, but it's best to have a Navajo guide who will point out the fossils (not that easy to spot in the desert ground). Kids will get a kick out of seeing tracks, which are described as a small T-Rex, raptor claw marks, dinosaur eggs, and domes of dinosaur poop (some question about the accuracy of these descriptions), but the fossils are real.
At the corner of northeastern Arizona, Canyon de Chelly National Monument is an extraordinary site, and accessible with kids.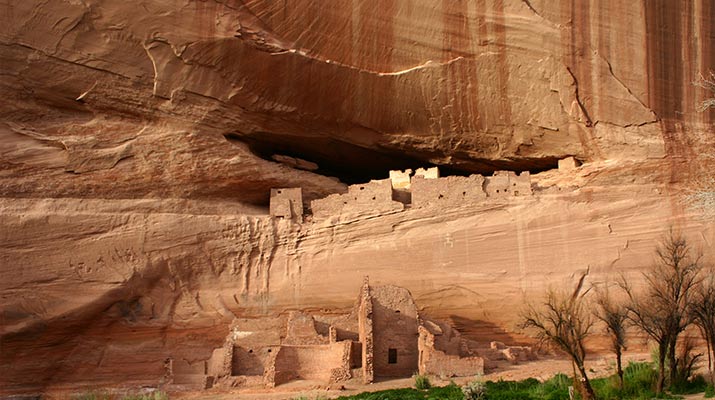 More than a thousand years ago, the ancient Anasazi people planted fields near the river and built stone houses in the cliffs. Even today when you visit, kids will see Navajo hogans and sheep grazing (respect their privacy, this is where they live).
We hiked down the White House Trail to see a prehistoric cliff dwelling. The White House ruins are in a spectacular location, sandwiched under an immense overhanging red sandstone rock face. The trail, 2 1/2 miles round trip, is not difficult for kids, and it's a unique experience to be at the bottom of the canyon, looking up at swirls of red rock. (More photos of our hike into the canyon.)
If you have time, it's worth a drive out to Spider Rock, a spectacular rock spire poking 800 ft up from the canyon floor. According to Navajo belief, Spider Woman (a deity) lives here at Spider Rock. She taught people how to weave, but when children misbehave, Spider Woman might eat them!
From Canyon de Chelly, we took Highway 191 south to I-40, then drove west to Petrified Forest National Park.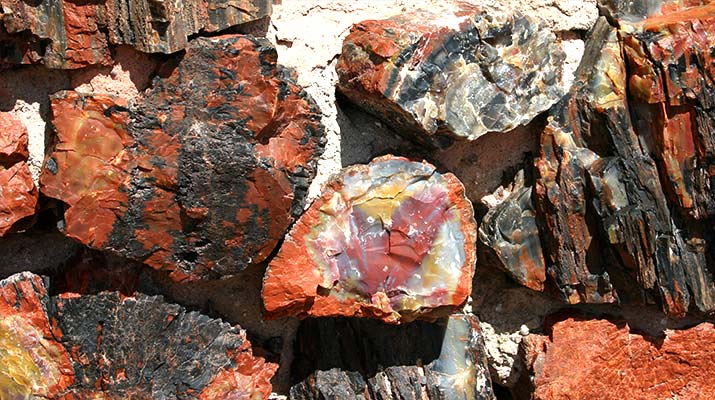 Standing in the middle of the desert, kids will have to imagine that over 200 million years ago, this was a mushy swamp with trees and dinosaurs. Then the trees were buried, the wood turned to stone, millions of years later, petrified trees were exposed. And what beautiful colors!
The best introduction to these fabulous tree-rocks is to stop at the Rainbow Forest Museum, then go out to the Giant Logs Trail, where kids will see short chunks of petrified logs with bright colors of yellow, magenta, blue, red and black. We also took the Long Log Trail to the Agate House, where the longest logs in the park are all piled up.
From the Petrified Forest, it's a short distance west on I-40 to the exit for Meteor Crater Road South (exit 233), then 5 miles to Meteor Crater, you can't miss it. Where do you think the Apollo astronauts trained for their moon landings? Meteor Crater.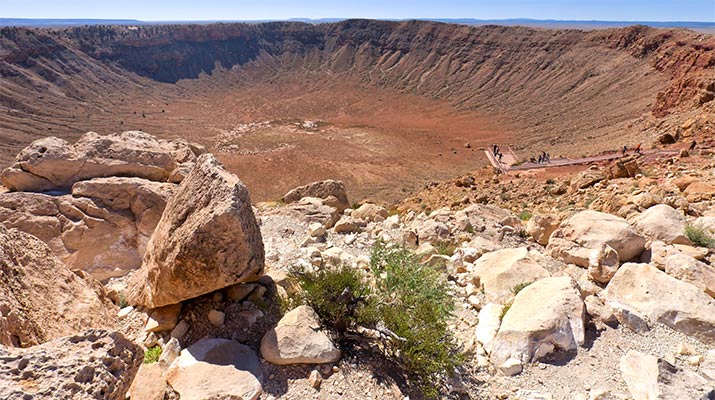 50,000 years ago, a giant meteor crashed to earth, leaving a huge crater 4,000 ft across, 2.4 miles in circumference and 550 ft deep. Standing on the rim of Meteor Crater, it makes an impression!
Our spring break was winding down, and it was time go west across Arizona on I-40, back to California. At Seligman, the kids enjoyed leaving the interstate freeway, and taking a detour on the famous two lane highway, Route 66.
In the 1930's, Route 66 was the highway from Chicago to Los Angeles. Today, Seligman feels like time has slowed down, as we had lunch in a family run restaurant with bar-b-que and plates of fried potatoes.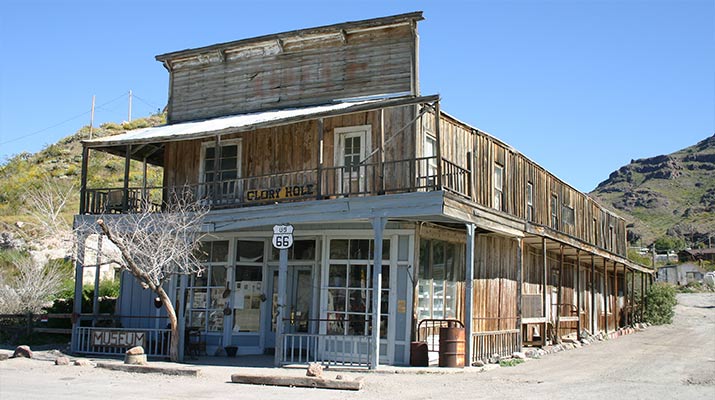 Following Route 66 through Kingman, we stopped in Oatman a dusty ghost town with lots of atmosphere, and wild burros. In the early 20th century, Oatman was a wild west town and mines in the area produced 36 million in gold ore.
About a mile east of town, we ran into a herd of wild burros. The wild burros are descendents of burros used by gold miners to haul ore and supplies. In town, we also saw a few baby burros wandering through the streets in town. Tip: Wild burros look very cute, but don't get too close, they can bite and kick.
Leaving behind rocky mountains, smells of sagebrush and spring wildflowers, we remembered Triassic dinosaur tracks, the petrified forest, the Anasazi cliff house, fry bread and sopapillas, that wonder of the natural world, the Grand Canyon, and endless blue skies of northern Arizona.
For more info about these destinations, read Travel for Kids Northwest Arizona and Northeast Arizona.
Tip: Late March or April is a good time to visit the Grand Canyon and northeast Arizona, as it's clear and not too hot, much nicer for hiking. However, it can be cold, even snow on the ground at higher altitudes, so check the weather.