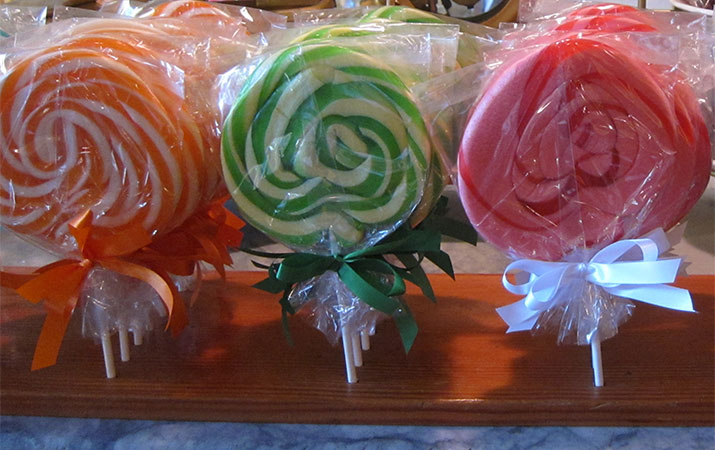 Strike it rich at candy shops and ice cream parlors as you travel California Highway 49 with kids. There's nothing like sitting down at a marble-topped counter on a hot day to slurp down ice cream sundaes topped with hot fudge or fresh berries. Or maybe kids will want to step back in time with a "sarsaparilla" soda. On the move? Grab some treats from dazzling displays of old fashioned sweets like giant rainbow lollipops, black licorice, pink peppermint sticks, homemade fudge and chewy salt water taffy.
Highway 49 runs like a gold vein through the Sierra foothills. Back in the 19th century, every little town had general store stocked with candies and ice cream parlours. The historic towns of the Gold Country never lost this great tradition.
Candy shops sparkle with sweets galore, and names like "licorice starlights," "butterscotch buttons," "chocolate pecan turtles," "watermelon taffy," "chocolate rocks."
Be prepared – you might want to skip a meal to make room for specialties like the "Pig Trough" (five scoops of ice cream with three toppings of chocolate, butterscotch or marshmallow creme, nuts, sprinkles and candy toppings, three cherries).
There's also "frosty" shops along Highway 49, soft ice cream cones in swirly flavors and dipped in chocolate. Or have milkshakes so thick your straw stands straight up, creamy root beer floats (the "float" is ice cream), or banana splits.
Whether you're en route to Lake Tahoe or San Francisco, or exploring California Gold Country, you'll be glad you made time for these sweet treats along the way.
Northern Gold County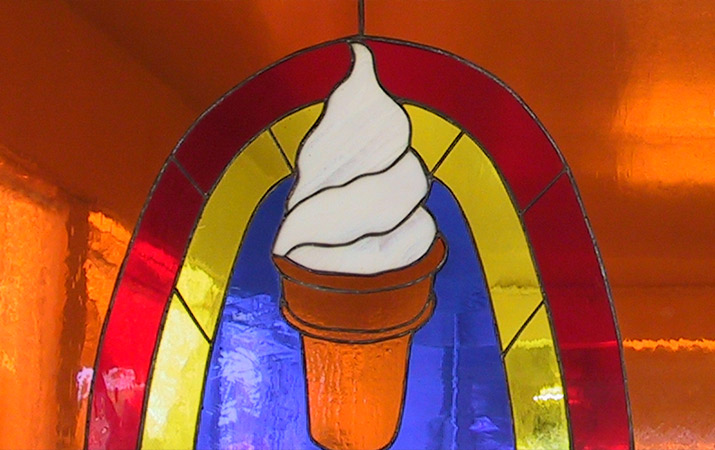 Nevada City –
Nevada City Chocolate Shoppe (236 Broad St.) – Step into chocolate heaven, all shapes and sizes. 1lb Nevada Gold looks like the Motherlode.
Grass Valley –
Big A Rootbeer Drive In (810 E. Main St.) – Root beer floats and soft ice cream.
Lazy Dog Chocolateria & Ice Cream Parlour (111 Mill St.) – Ice cream parlour and candy store, with unusual chocolates such as sea salt and pecan turtles, Jelly Belly jelly beans, red white and blue ice cream.
Auburn –
Aunt Flo's Chocolates – Serendipity (675 High St.) – Chocolate dipped cheesecake, chocolate dipped rice krispies, chocolate dipped oreos, smoothies.
Coloma –
Argonaut Cafe (8928 Highway 490) – Fresh lemonade, ice cream sodas, gelato, candies, sarsaparilla.
Placerville –
The Original Mel's Diner (232 Main St.) – Milkshakes, malts, sodas, sundaes.
Southern Gold Country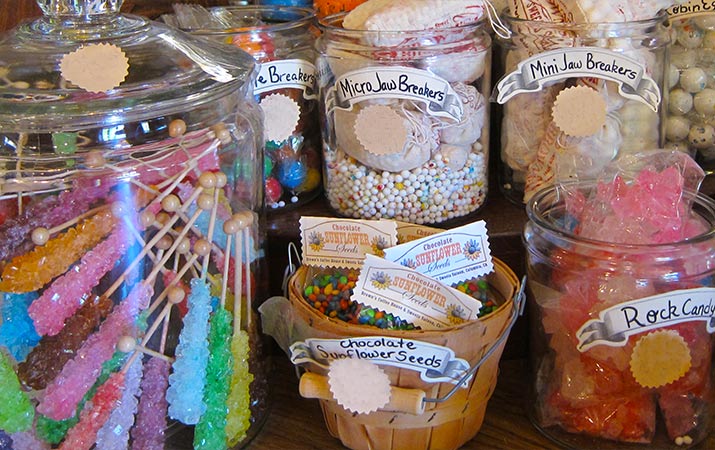 Sutter Creek –
Sutter Creek Ice Cream Emporium (51 Main St.) – Ice cream sundaes, jelly beans, jawbreakers.
Jackson –
Train Town Candies and Ice Cream Parlor (139 Main St.) – Thick milkshakes, big sundaes, ice cream cones, toffee, old-fashioned caramels, rock candy, jelly beans, fudge, and more.
Mel and Faye's Diner (204 N. Highway 49) – Sundaes, milkshakes, floats, banana splits.
Murphys –
Nelson's Candy Kitchen (380 Main St.) – Chocolates, fudge, handmade lollipops, gum drops, fresh fruit jellies, homemade marshmallow bars.
JoMa's Artisan Ice Cream (386 Main St.) – Locally made ice cream with flavors such as Apple Pie, Cookies and Cream, Chocolate Fudge Chip, Caramel Crunch.
Columbia –
Nelson's Columbia Candy Kitchen (22726 Main St.) – Handmade lollipops, vanilla creams, peppermint chews, licorice, orange drops, chocolates galore, rock crystal candy.
Mariposa –
Yosemite Treats (5040 Highway 140) – Ice cream with lots of toppings, milkshakes, frozen yogurt, smoothies.
Tip: So many fun things to do in the Gold Country with kids, but you'll need a fun place to stay. Check out Travel for Kids list of Gold Country family hotels.