California Gold Country is covered with rolling hills and green oak trees, but under the ground are natural caverns, filled with sparkling stalactites and stalagmites.
Take a tour of three different caverns or explore a gold mine. It's the perfect thing to do on a hot day.
Last weekend we took a trip to Moaning Caverns in Vallecito, followed by lunch in town of Murphys.
Moaning Caverns
Moaning Caverns are so named because sounds coming out of the cave entrance sounded like moans, and the name stuck. What causes the eerie sounds – it's not wind. Water dripping into certain cave formations produce the resonant sounds.
On the tour, you'll pass by original opening to the cave, which goes straight down! Miners found the cave in the 19th century, but lacking gold, it was forgotten. In 1920 for first tours of the caverns, visitors were lowered down and hoisted back up in a bucket.
On the 45 min. tour, step down on a ladder through a narrow crevice, then descend round and round on a spiral staircase. At the bottom, 165 feet down, is a high chamber, taller than the Statue of Liberty, and also much wider than it looks.
The cavern is lined with stalactites and stalagmites, including "chocolate" and "vanilla" waterfalls, the largest stalactite is called "the pendulum."
Some formations look like faces – see how many different faces you can see, and imagine what kind of creatures they are.
At one point during the tour, the lights are turned off. Illumination is from only two candles, then the candles are blown out, leaving you in absolute darkness (for a short time).
Tip: This cave walking tour isn't suited to toddlers or infants. It's a long distance up and down the stairs, and no baby backpacks are allowed. Temperature inside the cave is comfortable year round (low 60ties), wear close-toed shoes, not flip flops.
Cold drinks available in the gift shop, and there are shaded picnic tables.
Reserve tickets in advance online.
Moaning Caverns is located at 5350 Moaning Cave Rd, Vallecito.
Murphys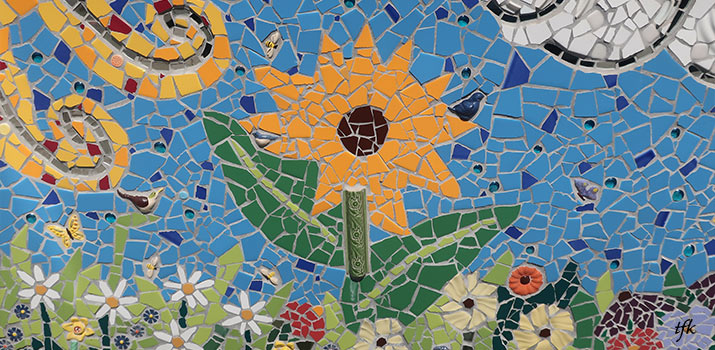 After the tour, we headed up the road to Murphys for lunch. In the 1850s, Murphys was a busy Gold Rush town, and the local mines produced millions in gold.
Today Main Street is lined with hotels, shops, restaurants – lots of lunch options for pizza, tacos, hamburgers etc. We took our takeout lunch to delightful Murphys Community Park.
This shady park has plenty of picnic tables, restrooms, and a large playground. Bonus for kids, take off your shoes and wade in a sparkling stream flowing through the park.
After lunch, it was time for dessert – JoMa's ice cream and Nelson's Gold Rush Candies.
JoMa's ice cream has flavors such as Cha-Cha Chocolate, Sweet as Spring strawberry, Salty River of Gold caramel, and also vegan flavors,
In Nelson's Gold Rush Candies, it's hard to choose from wide selection of delicious chocolates, jelly beans, and old fashioned candies, such as black licorice, cinnamon bears, and rock pebbles.
More Caverns and a Gold Mine
Here's two more caverns to explore, and self-guided tour through a gold mine.
Mercer Caverns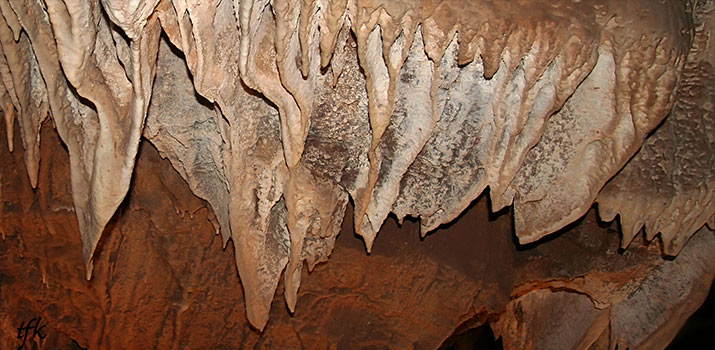 Go on a 45 minute walking tour through Mercer Caverns, a steep stairway 161 ft. down, with multiple rooms.
Each of the seven rooms has its own charm, especially the Gothic Hall and "angel's wings" in the Cathedral Room. Striped orange and brown formations look like draperies hanging from the ceiling, others look like lasagna folded around.
You can bring kids under 5, but the stairs are very narrow, and tour may be loo long.
Open year round, no reservations, in summer go early in day.
Mercer Caverns is located at 1665 Sheep Ranch Rd, Murphys.
Black Chasm Cavern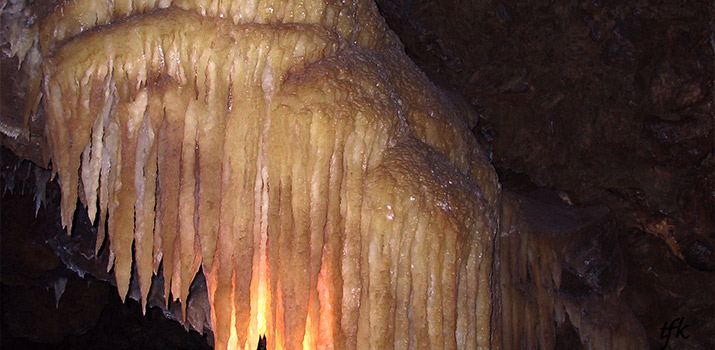 On the 50 minute cave tour, descend through a narrow opening in the rock, walking down steep stairways to explore three different rooms.
Along the way you'll see formations such as "carrot patch," "cave bacon," and "Rapunzel's hair." One room has a deep blue lake visible from the viewing platform. The unique feature of this cavern is helictites, calcium-rich formations that look like Silly String sprayed over the cave walls.
Stairs aren't that long, but kids can't be carried and no babies in backpacks.
No reservations required, but only 20 people allowed at a time. Go early in the day to avoid waiting for a tour.
Black Chasm Cavern is located at 15701 Pioneer Volcano Rd, Volcano. (Volcano is near Jackson.)
Gold Bug Mine
Gold Bug Mine in Placerville is not a natural cavern. Here miners dug miles of tunnels searching for gold ore.
Put on a hard hat (hard hats come in kid's sizes) and walk through the mine entrance down into the mine tunnel. On a self-paced audio tour, listen to colorful story of the Gold Rush.
The tunnel is level, easy walking, fine for small kids and cool inside on a hot day.
After visiting the mine, go gem panning, walk up hill to the stamp mill, also trails to hike around the hills.
Gold Bug Park is located at 2635 Gold Bug Lane, Placerville.
On Travel for Kids, find more fun things to do in Gold Country, and also best family hotels.
And don't miss our blog post: California Gold Country Sweet Delights – favorite ice cream shops and candy stores, including Old Sacramento and towns along Highway 49.