On a family vacation in San Francisco, plan to spend a fun morning in Chinatown.
Wander through side streets looking for dragon and lion murals on store walls, watch fortune cookies being made, visit one of oldest Chinese temples in United States, take out lunch, then eat outdoors at four parks with kids' play areas.
How to get there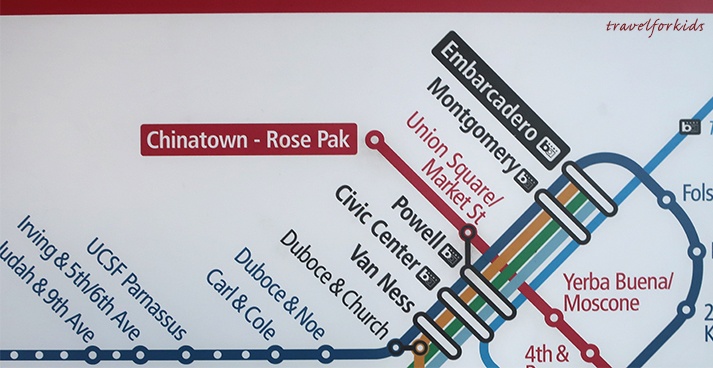 Muni Metro Central subway is the best way to get to Chinatown.
Take the T line from Powell St. BART, or entrance at Union Square, corner of Stockton St. and Geary St.
Take the T Northbound, ride one stop to Chinatown – Rose Pak station.
Before the exit, at ground level take a look at the beautiful tile mural. See you many dragons kids can spot.
Station is located in the center of Chinatown, at the corner of Stockton and Washington St.
Tip: The station is multi-level, from the exit, walk down Stockton St. go up the stairs. There's an outdoor pavilion with large red awning, and seating – great place for a snack or cold drink.
Look for dragons, lions and lucky fish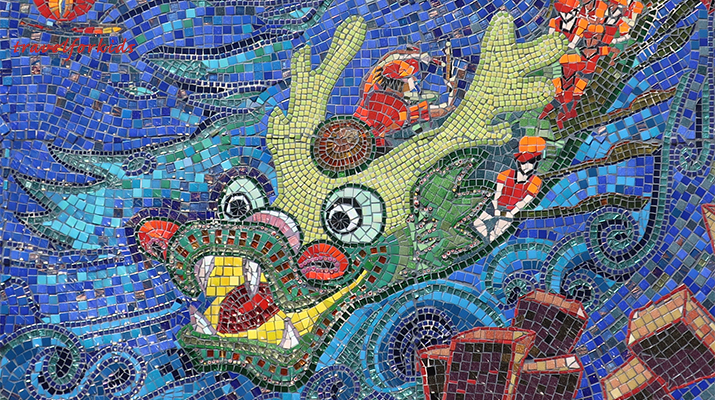 The overall area of Chinatown is a rectangle, between Stockton and Kearny Streets, Bush St. to Broadway Streets.
When you get off the subway, just start exploring, especially side streets, such as Waverly Place and Ross Alley.
Stores are decorated with variety of painted murals and mosaics with colorful dragons, lions, terra cotta warriors, Chinese gardens and landscapes, lucky fish, and happy cats.
One of our favorite mosaic murals – "Dragon Boats Chasing the Moonlight" – is on corner of Wentworth and Washingtonton St. – photo above.
Under your feet, look down on the sidewalk for lucky fish and flowers.
Sidewalks on Stockton St. are lined with bakeries, shops and markets displaying different foods, fruits and vegetables, such as colorful pink dragon fruit, Chinese red dates, green winter melons, pale yellow durians.
Grant Ave. is primary souvenir shopping street. Stop into Chinatown Kite Shop, buy kites. Best places to fly kites are Tunnel Tops Park and Crissy Field at the Presidio.
Take out lunch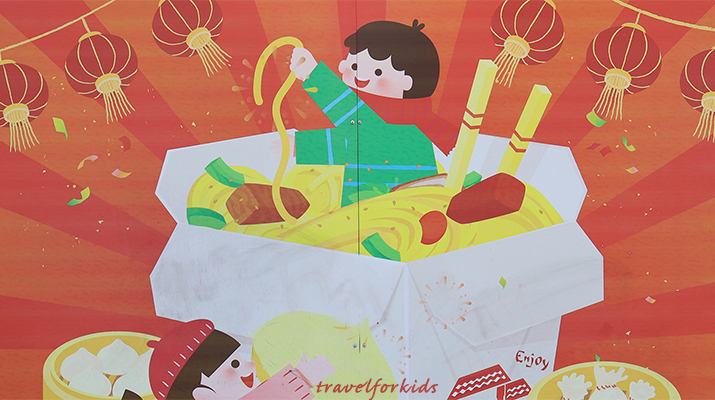 On good weather days, buy a take-out lunch, and go to four parks listed below.
Everyone in the family can pick favorite food and drinks, kids can run around, play areas for little ones.

For classic Chinese food – shrimp dumplings, steamed buns, noodles etc., try Good Mong Hok Bakery (Stockton St.). Line outside goes pretty quickly, check menu online, so you know what to order.
Bakeries have fun food for kids, such as hot dog buns (hot dog encased in fluffy bun), toasted cheese milk bread, and steamed pork buns (bao). Two bakeries with a good selection of buns are Wheat Field Fancy Bakery and Little Swan Bakery on Stockton St.
Takeout sushi is also available – Zhu's Tea (Waverly Place) and Sushi Boat Restaurant (Grant St.).
For dessert, a Chinese classic is egg custard tarts. Golden Gate Bakery (Grant St.) has delicious tarts, but they are often unexpectedly closed, lines are long. Good Hong Mok and Wheat Field both have egg custard tarts.
Also in bakeries, look for cookies in shapes of zodiac animals, and lucky fish.
On Ross Alley, at the Golde Gate Fortune Cookie Company, watch fortune cookies being made and buy a bag of delicious cookies.
A wide variety of Asian cold drinks are available in Chinatown. Kids can have fun trying new things, such as fresh fruit teas with mango, passion fruit, pineapple, star fruit, strawberry milk, or winter melon lemonade.
Chinatown parks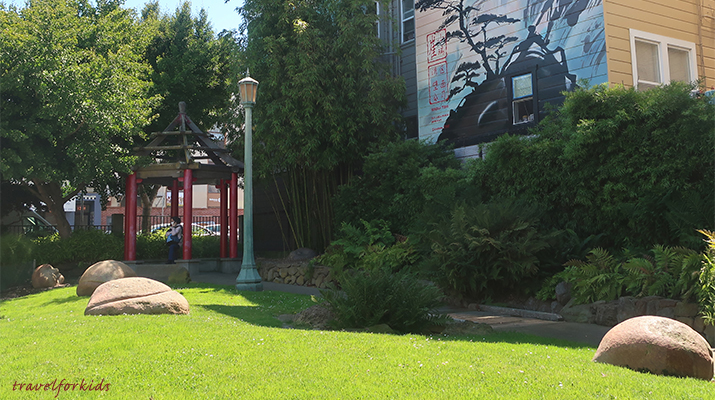 Parks in Chinatown aren't huge, but they have amenities – play areas for little kids and restrooms.
There are benches to sit down and eat takeout lunch, then kids can run around. Parks are usually are not crowded and a respite from sightseeing.


Woh Hei Yuen Playground (922 Jackson St.)
This beautifully landscaped garden has several picnic tables, lots of benches, children's play area.


Willie "Woo Woo Wong" Playground (830 Sacramento St.)
The charm of this playground is large red dragon and mythical bird to play on, climbing structures and big slide, and restrooms. There are benches to sit down to eat lunch.


Portsmouth Square (745 Kearny St.)
Playground with swings and slides for kids, sand play area, benches for picnic lunch, restrooms.


St. Mary's Square (651 California St.)
A hidden gem, this is the largest park, with lots of benches, we've never seen it crowded. Children's play area, and single restroom.
On Travel for Kids, find more details about Chinatown, and best San Francisco family hotels.