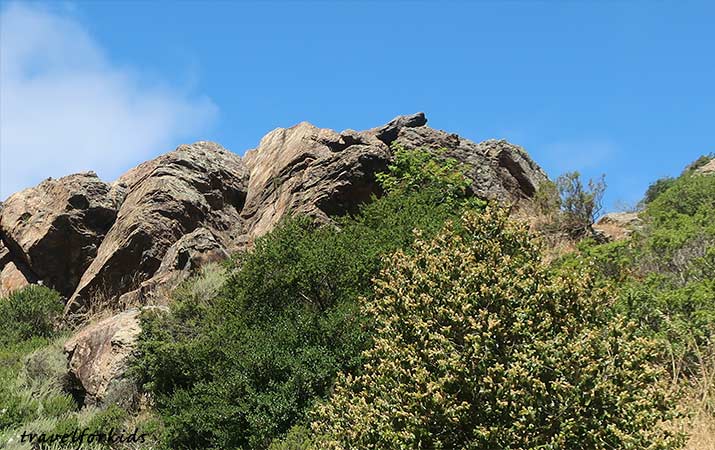 A week ago, we took a hike through Glen Canyon Park in central San Francisco.
Glen Canyon Park is a section of the Crosstown Trail, where urban neighborhoods are connected by trails through natural landscapes.
In Glen Canyon, Islais Creek flows through a steep-ish canyon with grass covered hillsides and rocky outcroppings.
Flowers, trees and wildlife abound – spring wildflowers, California poppies and orange monkey flowers in summer, butterflies and damselflies, hummingbirds and hawks. In one towering eucalyptus tree, each year owls return, and make a nest for fluffy white chicks.
Glen Canyon is right in the middle of San Francisco, but in the canyon, city noises disappear, replaced with sounds of wind in the trees and willows along the creek. Three moms who lived in Glen park, the Gum Tree Girls, saved Glen Canyon from urban development, preserving this native landscape.
Here's directions for a hike, easy for kids of all ages.
Tip: Older kids and teens can explore additional trails on the hillside, or continue on the Crosstown Trail.
This hike starts at the Glen Park BART station.
From Glen Park BART station, walk north on Diamond St., turn left on Kern St.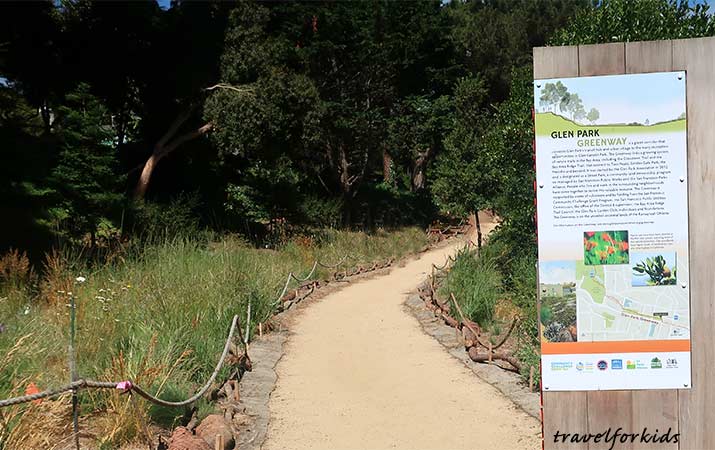 At the sign for Glen Park Greenway, take the dirt nature trail.
Walk three blocks through the Greenway.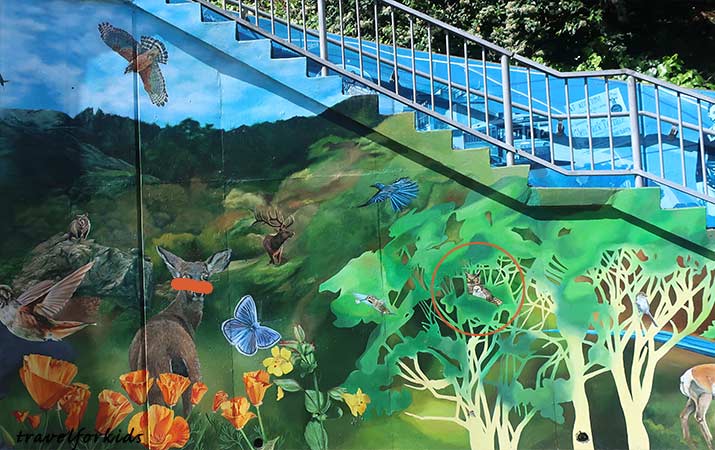 At end of the trail at Burnside St. is a mural of Glen Canyon. In the mural, look for a great horned owl and white chick in the eucalyptus trees.
Turn right at Burnside Ave., then left on Paradise Ave. Walk up Paradise Ave.,
Street ends at Glen Park Recreation Center, you'll see large grassy baseball fields.
Turn right on Elk Ave., on left side of the street is entrance to Glen Canyon Park.
Glen Park Recreation Center has restrooms, picnic tables, and playground.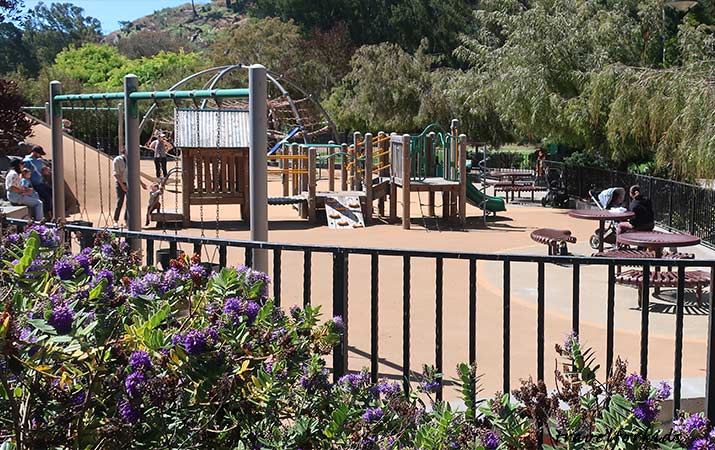 Continue on paved path around left side of Recreation Center Building, by the picnic tables.
When paved path ends, bear left on narrow dirt trail, Islais Creek Trail.
Follow the trail along the creek.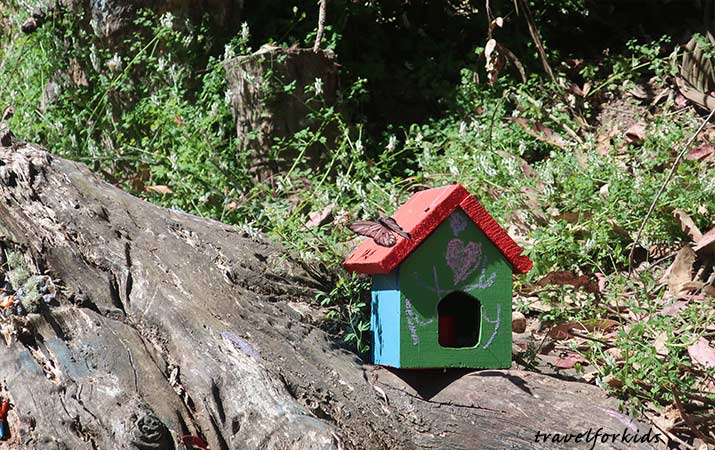 Before the preschool, on the left is a fallen log with fairy door decorations – ribbons, scarves, Lego figures, and little green house with red roof.
After passing the preschool, continue up dirt trail on west side of the willows-covered creek.
Tip: Up to this point, trail is okay for strollers; further up trail is too narrow. If you have a stroller, just after the preschool, turn right on wide flat bridge across the creek, and return on the big wide dirt road back to the Recreation Center and playground.
For our hike, we continued up the trail to a smaller bridge across the creek. Cross the bridge, you'll arrive at another trail on east side of the creek.
There's a sign "Portola Ave. .4 mile" and stairs. Take a detour to hike up the stairs for view of the canyon looking south.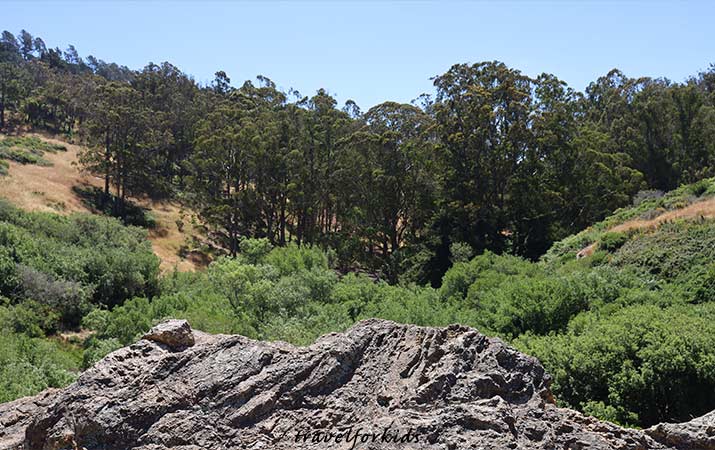 Back at bottom of stairs, go left to follow the trail back down the canyon, and return to BART.
Trail has a wooden boardwalk that goes over a meadow (damselflies and wildflowers in season), then turns into a wide dirt road.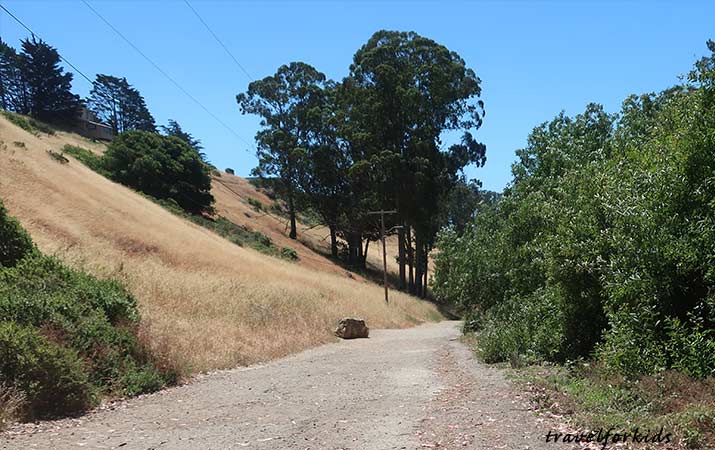 Continue on the dirt road until you see a fork, and a large eucalyptus tree. This is the tree where owls come to nest.
At the tree, take the dirt path to right, it curves around, you'll see Recreation Center and grassy fields. Retrace city streets and Greenway, back to Glen Park BART station.
Tip: Near the Glen Park BART stop are casual eateries for pizza and Mexican food. Cheese Boutique and Canyon Market have a selection of sandwiches, and other snack and lunch items.
Find lots more fun things to do with kids in San Francisco on Travel for Kids.