Did you know there are fairy doors in Golden Gate Park, San Francisco?
Fairy doors are miniature doors, set in an opening at base of a tree, or a fallen log. Hinged doors open up – inside are often flowers, or sometimes notes for fairies.
Doors are painted and decorated, with butterflies, flowers, ladybugs, birds, also messages such as "Welcome Fairies."
Fairy doors in woodland settings inspire the imagination – what's behind the door?
Golden Gate Park is a wonderful green oasis, miniature lakes, hills and green meadows, with thousands of trees, plants, flowers of many varieties. Each season the park is different, but always luxuriant and marvelous outdoor space.
If you were a fairy, would you want to spend time in the park – of course you would!
Here's three fairy doors we've located, plus maps, to make it easy to find them.
Music Concourse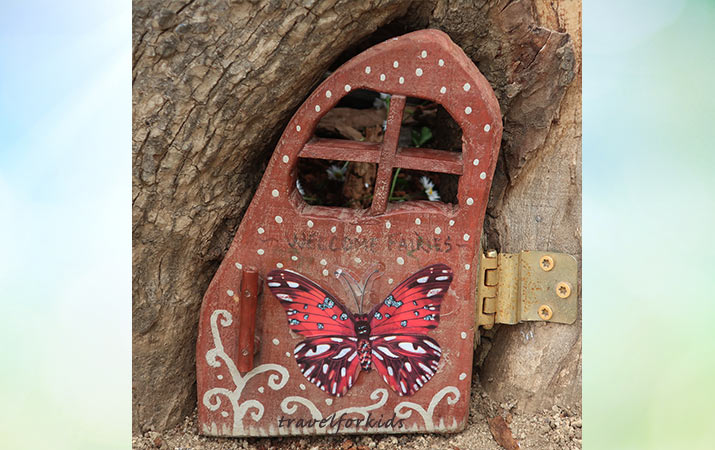 In between the California Academy of Science and de Young Museum of Art is the Music Concourse, with fountains, benches, and rows of trees. At the western end behind the band shell find restrooms, food trucks (including Twirl and Dip ice cream some days), surrey and bike rental.
This fairy door is decorated with a lovely pink butterfly and words "Welcome Fairies." When we opened the door, inside were scattered tiny white and yellow flowers, perfect size for fairies.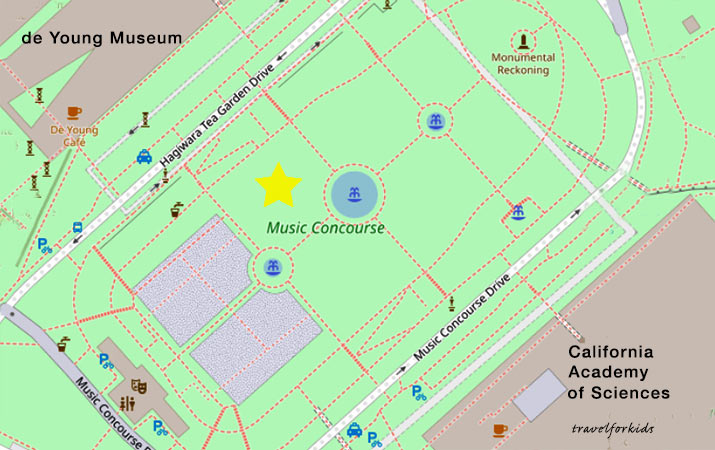 Elk Glen Lake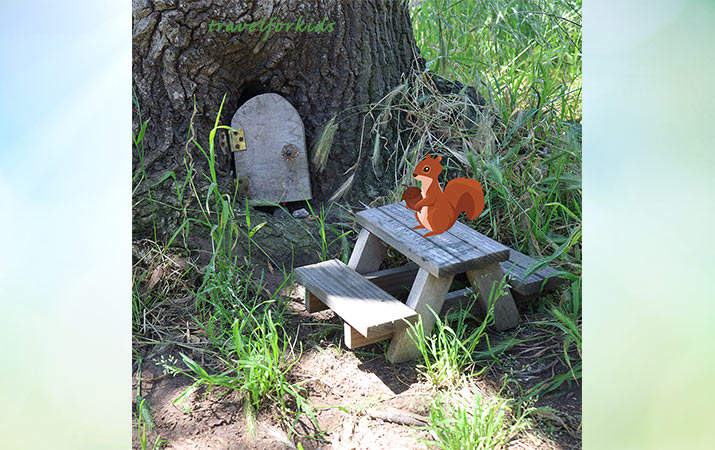 This fairy door has something special – in front of weathered wooden door is a miniature picnic table.
On top of the table are stenciled the words:
Parks & Rec
Squirrels & Fairies
Picnic Area
Squirrels might come for lunch with their plentiful supply of acorns in the park. What do you think fairies bring for their picnic?
Elk Glen Lake is west of Stow Lake, beyond Crossover Drive. With younger kids, you might want a car to drive to this area. Even on a holiday weekend, we found parking on Middle West Drive next to the lake.
Take a walk around the lake, there are benches and sandy beach, bring your own picnic.
North of Elk Glen Lake is Hellman Hollow, large grassy area with restrooms and lots of picnic tables.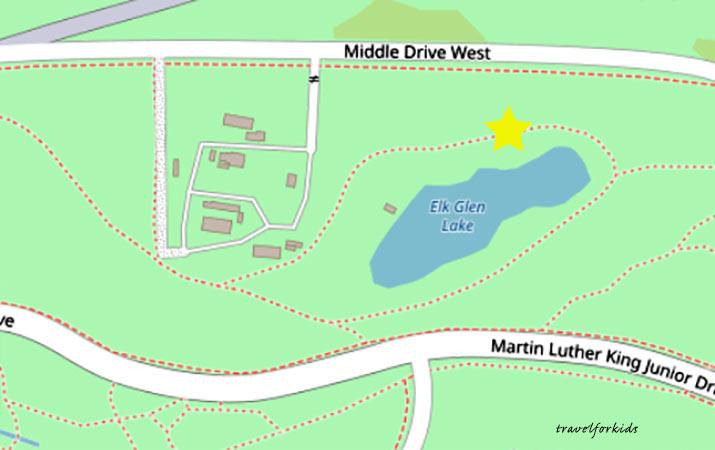 Near Japanese Tea Garden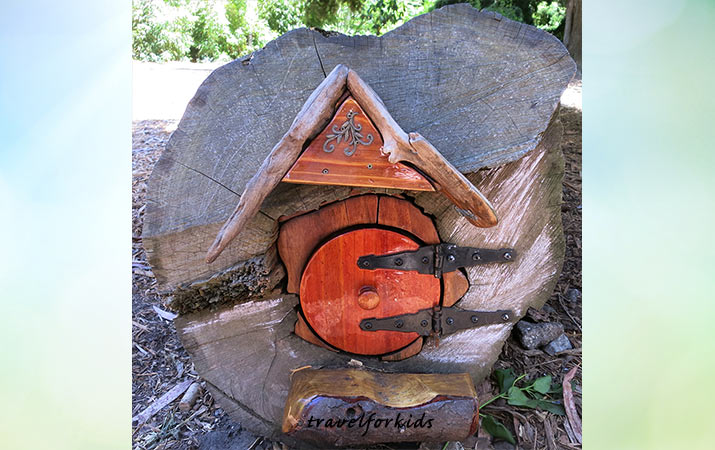 To find the fairy door, walk along sidewalk in front of the main entrance to the Japanese Tea Garden. When you get to Martin Luther King Jr. Dr., follow the paved path that goes north around outside of the Tea Garden.
Going up the paved path, a paved path branches off to the left, and up the stairs to Stow Lake. (Dont't take this path).
A short distance further, is a dirt path off to the left. You'll see two fallen logs end to end.
The fairy door is in the far end of the second log.
When we visited this fairy door recently, triangular piece above hinged door was missing, but on log were words "For you, with love" and painted pink hearts.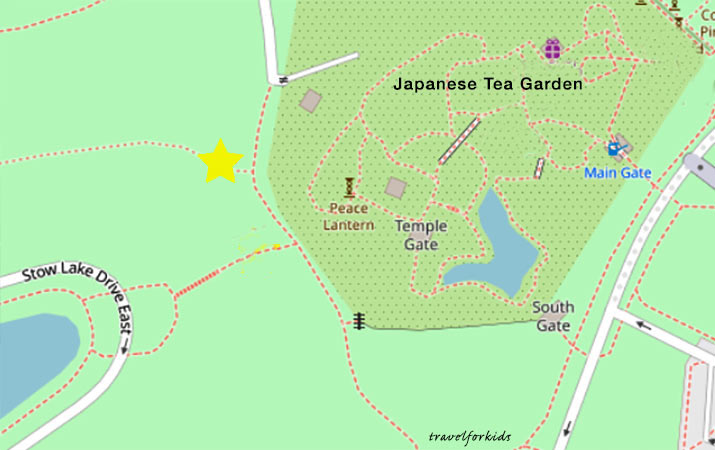 Tip: Find lots more fun things to do with kids in San Francisco, plus Travel for Kids best San Francisco family hotels.
Start Looking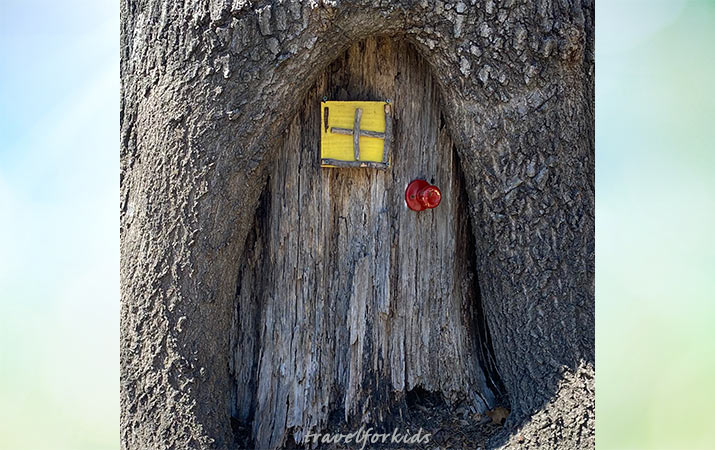 Fairy doors aren't only in Golden Gate Park. They're everywhere!
Going for a walk in your area, start looking.
This is a fairy door in Concord, Massachusetts, photo sent by a friend.