What flavor is that purple ice cream? Ube is a purple yam from Asia, perfect in ice cream.
Why is ice cream green? Some ingredients are matcha (green tea), avocado, mint, or pandan leaf.
Hmmm, why is this strawberry sorbetto is so red? Sorbetto has no cream or milk, so fruit color stands out.
Ice cream is a taste of the world. And so delicious it is.
Here's Travel for Kids list of favorite San Francisco ice cream shops, organized by neighborhood – have fun tasting favorite and international flavors of ice cream!

The origins of familiar ice cream flavors – chocolate, vanilla, strawberry – go back centuries.
Cacao beans, originally from a tree growing wild in South America, were used by ancient Maya and Aztec to make chocolate drinks. The Spanish imported vanilla and cacao beans to Europe in the late 1500's.
By early 17th century, Italians made iced frozen desserts, sorbettos, with strawberries and lemons. When they added sweetened custards with cream and eggs, this was now gelato, ice cream.
Italian and French chefs invented new ice cream desserts, with additional flavors such as pine nuts, pistachios, cinnamon, jasmine, peaches, candied fruits, grapes, and almonds.
The popularity of ice cream spread throughout the 18th century, arriving in the United States too. Thomas Jefferson wrote down his recipe for vanilla ice cream, and served ice cream in the White House. By 1799, eating ice cream on July 4, Independence Day, became a tradition.
Mission District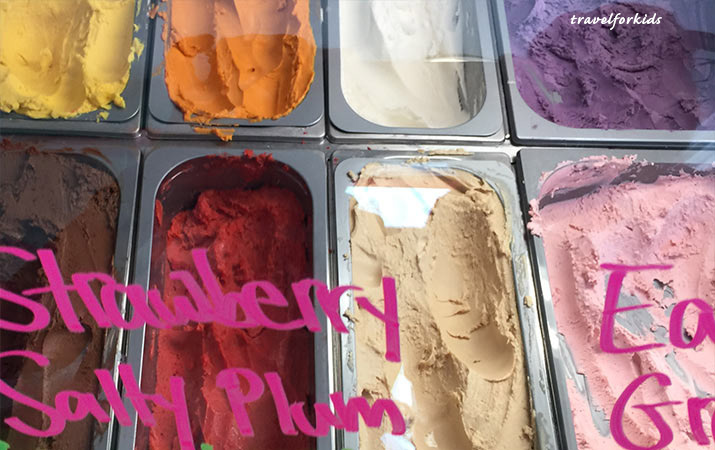 The Mission District has plenty of ice cream shops, and is easily accessible with public transportation, take the J Church tram.

Bi-Rite Creamery 3692 18th St.
The location of this ice cream shop is ideal, it's one block from Mission Dolores Park. Enjoy ice cream outdoors on the grass, no worry about dripping ice cream.
Look for year round flavors of Chocolate (with Guittard chocolate), Roasted Banana, Mint Chip, Salted Caramel ice cream, vegan flavors Chocolate Coconut, Black Berry Banana, Maple Oat Crunch, and seasonal flavors such as Birthday Cake, Blueberry Crisp, Peach Cobbler.
Along with scoops of ice cream, on the menu are sundaes, fruit flavor ice pops, chocolate covered ice cream bars, ice cream sandwiches, and a donut with soft-serve ice cream inside.

Garden Creamery 3566 20th St.
We sampled unusual new flavors – Ube Pandan (purple yam and Southeast Asian leaf vanilla), Salty Kaya (coconut milk and pale green pandan leaf), Strawberry Salty Plum (combination strawberries and plum), Matcha Gold (green tea and toffee).
More flavors we want to try – Mexanilla Mango (two kinds of mango), Kalo Cream (taro root and sweet cream), Orange Creamsicle (Mandarin orange and cream).
Garden Creamery offers ice cream, non-dairy sorbets made with coconut milk, ice pops covered with chocolate, and ice cream sandwiches. Tip: A restroom is available.

Mitchell's Ice Cream 688 San Jose Ave.
Mitchell's is a family-run business, at this location since 1953, and it's as popular as ever.
This ice cream shop offers a wide variety of tropical flavors – Lucuma (from Peru), Mango, Jackfruit (from the Philippines), Macapuno (sweet coconut), Avocado, Ube (purple yam), Tropical Four (banana, guava, mango, pineapple), and traditional flavors such as Mexican Chocolate, Dulce de Leche, Strawberries n' Cream, along with sundaes, sorbets, ice cream sandwiches.
Mitchell's is on the southern edge of the Mission District. Take the J Church tram, walk two blocks down 29th St. to San Jose Ave.
North Beach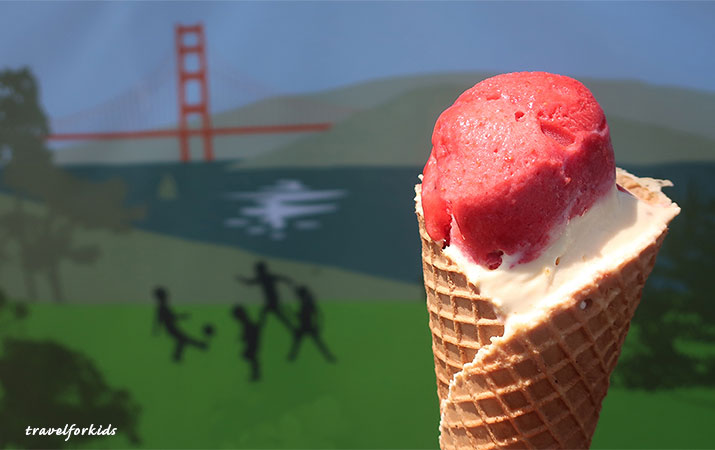 This neighborhood is also called "Little Italy." Starting in the Gold Rush, Italian immigrants came to San Francisco, bringing with them their food, and ice cream – gelato.
What makes gelato different from ice cream?
Gelato has more milk and less cream than ice cream, is typically less sweet, and softer than ice cream.
Sorbetto is non-dairy, typically made with luscious fresh fruits, such as strawberry, lemon, apricot, raspberry, orange.
Washington Square, San Francisco's oldest park, is close by, perfect place to enjoy your ice cream.

Lush Gelato 520 Columbus Ave
Lush Gelato offers ice cream made from scratch, with ingredients from local fruit and dairy farms, menu changes frequently.
When we visited, gelato flavors included Banana and Salted Caramel, Fresh Mint and Chocolate Chunks, Fromage Blanc and Chocolate Chip Cookie Dough, Ricotta with Lemon Zest, sorbettos in Strawberry and Chocolate Orange.
Japantown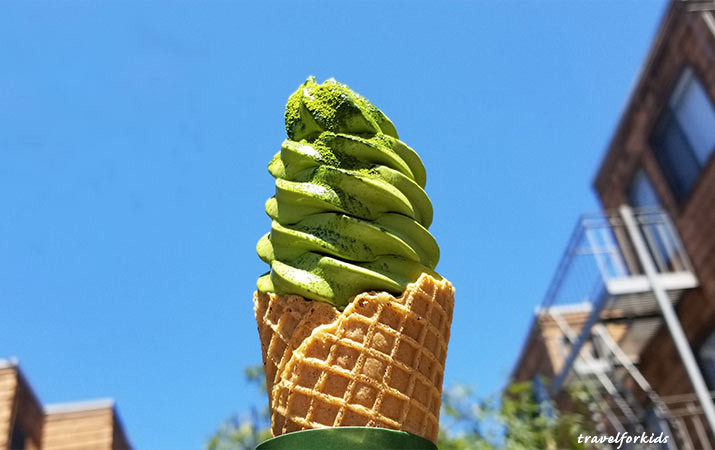 During the Gold Rush, Japanese immigrants came to San Francisco. They settled in the city, established their businesses, and re-built after the 1906 earthquake in the neighborhood that is now Japantown (Nihonmachi).
Visiting Japantown today, kids can try ice cream with Japanese ingredients and original flavors – matcha (powdered green tea), kinako (roasted soy bean), red bean, ginger, lychee (fruit), tofu.

Uji Time Dessert (East Mall)
Soft-serve ice cream with Tofu, Matcha (green tea), Sesame flavors, in a Taiyaki cone (shaped like a fish) or regular cone, toppings such as red bean or sprinkles.
Also, try ice cream balls wrapped in mochi (pounded rice), choose from flavors of green tea, lychee, sesame, red bean, chocolate, caramel, passion fruit, mandarin orange.

Matcha Cafe Maiko (Kinokuniya Building)
Soft-serve ice cream in fresh-made waffle cone – bright green Matcha (green tea), Vanilla and Kinako (roasted soybean), Maiko Special with ice cream, mochi balls, matcha cake, adzuki bean, corn flakes, Uji-Kintori ice cream with shaved ice, and green tea frappes.
Golden Gate Park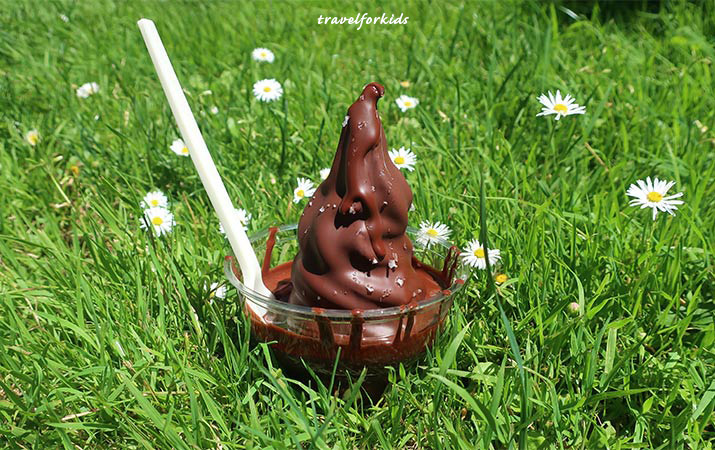 Twirl and Dip 335 Martin Luther King Jr. Dr.
Organic soft serve ice cream, with chocolate hot fudge "dip," more toppings with chocolate chips, rainbow sprinkles, honeycomb candy, waffle cones, ice cream soda floats, sundaes.
Also delicious ice pops ("ice lollies") in flavors of watermelon, raspberry, strawberry lemonade, banana, mango, coconut.
Tip: Twirl and Dip yellow truck is parked near Japanese Tea Garden and Cal Academy, open Wednesday – Sunday 1pm – 5:30pm

San Francisco's Hometown Creamery 1290 9th Ave..
Ice cream and mix-ins made from scratch – flavors such as Chocolate Sorbet, Honey Berry Breakfast, Banana Caramel, Fresh Mint Chip, Tamil Ruby, S'Mores with homemade marshmallows. Plus ice cream sandwiches, milkshakes, sundaes.
Shop is located one block from Golden Gate Park, on 9th Ave.
Classic San Francisco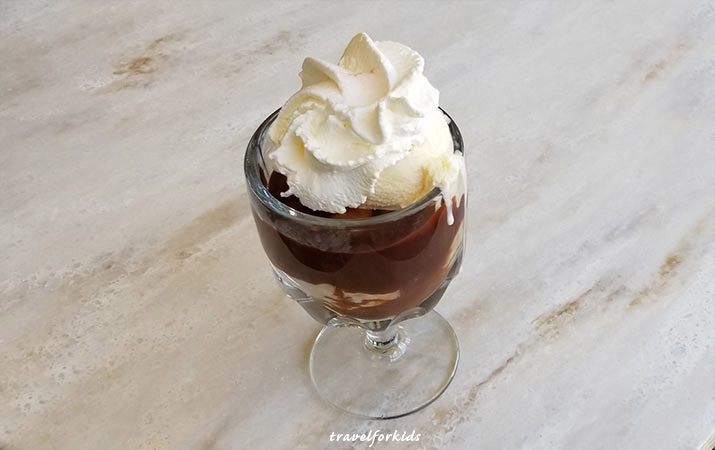 Ghirardelli Ice Cream and Chocolate Shop
Ghirardelli Square, Fisherman's Wharf
In 1849, Domenico Ghirardelli came from Italy, and set up a chocolate business and "confectionary" store in San Francisco. After making chocolates for decades, Ghirardelli opened up an ice cream shop, like the old- fashioned ice cream parlors in the Gold Country.
Try the classic hot-fudge sundae – vanilla ice cream with hot fudge, almonds, whipped cream, cherry on top.
More choices on the menu, banana splits, ice cream in chocolate dipped waffle cones, ice cream floats, and Quake Shakes – vanilla milkshake with chocolate squares.
Tip: Inside the ice cream shop, it's fun to watch machines mixing chocolate, going round and round.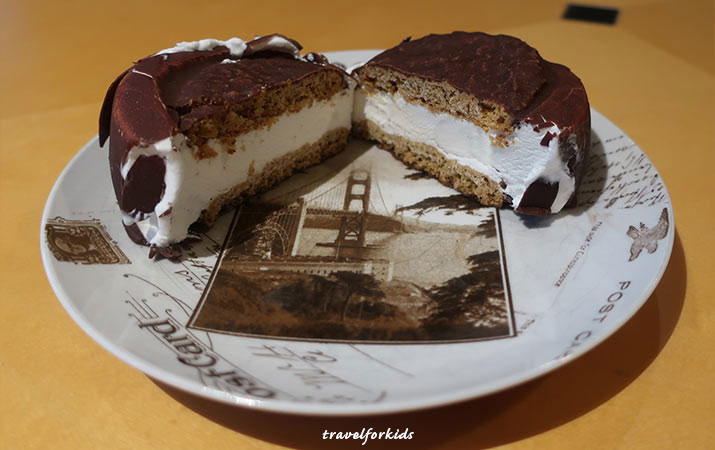 IT'S-IT ice cream sandwich
Playland at the Beach was a popular amusement park at Ocean Beach, on the western end of Golden Gate Park.
In 1928, an ice cream stand offered a new treat – ice cream sandwich, with two oatmeal cookies dipped in chocolate, scoop of vanilla ice cream in the middle. It was so delicious, people said "This is IT."
The amusement park has closed, but IT'S-IT ice cream sandwiches are still made in the Bay Area, and enjoyed by generations of kids, parents and grandparents.
There's no specific ice cream shop, but in downtown San Francisco, find IT'S-IT ice cream sandwiches in the freezer section of Target stores and Safeway supermarkets.
Target at the Metreon (789 Mission St) is right next to Yerba Buena Gardens, perfect spot to take your ice cream sandwiches.
Safeway supermarkets are located at 145 Jackson St. (Embarcadero), 350 Bay St. (Fisherman's Wharf), and 15 Marina Blvd (Marina).
Tip: Find out more fun things to do with kids in San Francisco on Travel for Kids, and check out our list of fun places to stay: San Francisco family hotels.