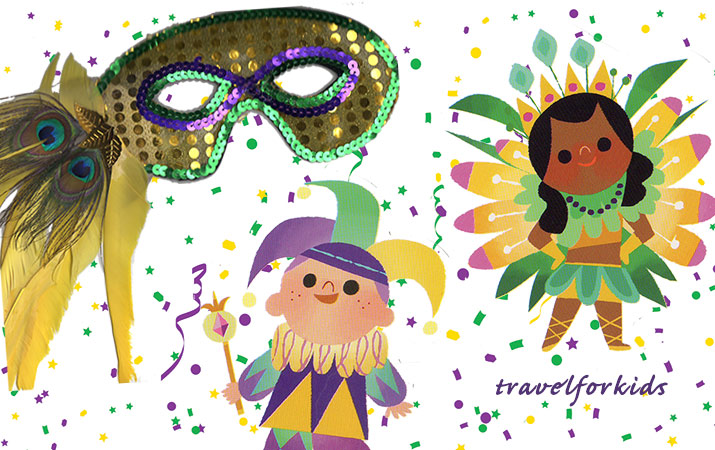 New Orleans Mardi Gras is famous for colorful parades, but there's also world-wide celebrations of Carnival (Carnaval, Carnevale), such as the yearly samba festival in Rio de Janeiro and costumed party-goers in Venice.
Mardi Gras is the French word for "Fat Tuesday" (also called Shrove Tuesday), the last day before Lent, in the seventh week before Easter. As Easter is not the same date each year, Mardi Gras and Carnival are celebrated some time between February and March. These festivals often last for more than one day, with food, music, dancing, parades and costumes.
New Orleans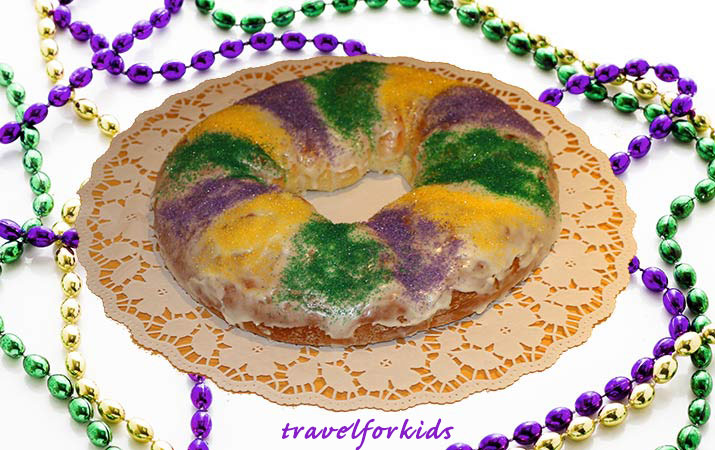 In New Orleans at Mardi Gras, King Cake is the local treat. It's a lovely raised-dough cake, decorated with white frosting, and purple, green, yellow sprinkles. Inside the cake is often a figurine of baby Jesus. People eat the cake from Jan. 6 (Epiphany) until Fat Tuesday, after that, it's traditional to give up things like sweets until Easter.
We baked a King Cake (without a figurine inside), and it was delicious.
For a quick, easy to make King Cake, check out the recipe and delightful story The King Cake Baby below, or similar recipes online.
Also, another fun alternative is Mardi Gras King Cupcakes.
Rio de Janeiro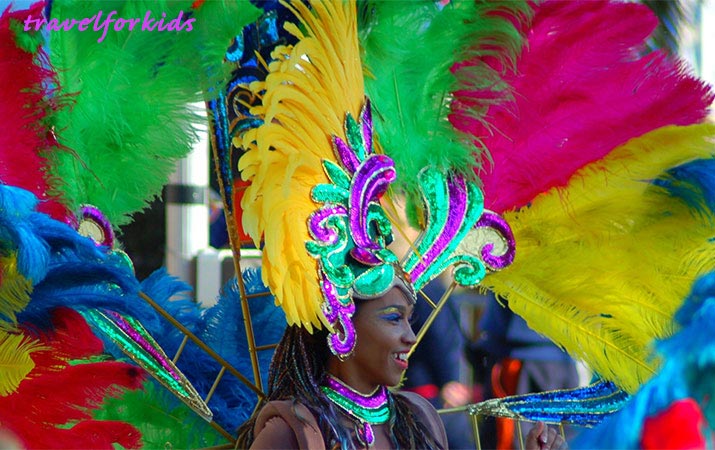 Carnival in Rio de Janeiro is a giant celebration, and the heart of it is samba. Samba is African-Brazilian dance and music, with a variety of drums, shakers, trumpets, trombones, guitars. Samba schools from different neighborhoods in Rio practice months ahead for Carnival parades. Thousands of performers, gorgeously costumed and accompanied by colorful floats, dance with live music through the Sambadrome parade route – it's one big party.
Bring home the fun and excitement of Carnival in Rio by listening to samba music.
Venice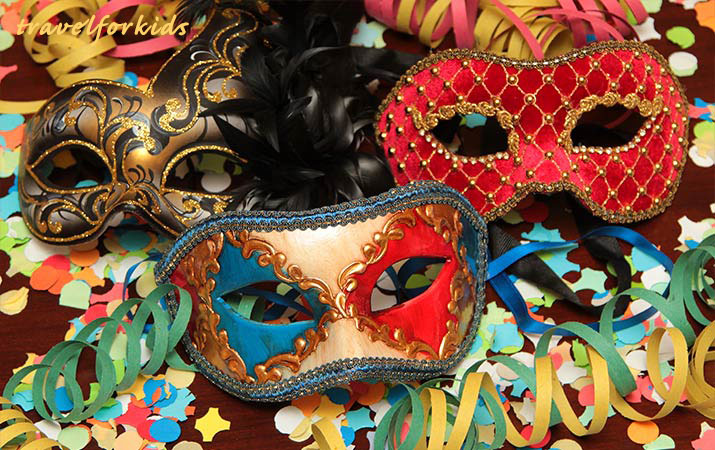 Venice is famous for opulent Carnival masks and costumes. Celebrated in Venice since the 12th century, people go all out for their Carnival apparel. Women wear long gowns in velvets, silks and brocades, men dress like Louis XIV with ruffled shirts and plumed hats. There's also swirling black cloaks and white masks (most notable, the white plague doctor mask). Children dress up in miniature versions of adult clothing. Here's photos of masks and costumes at Carnival.
Celebrate Carnival in Venice by making your own masks, half masks or full face. Paint masks white or gold, or cover with foil. Decorate with glitter, sequins, feathers, or lace.
Children's books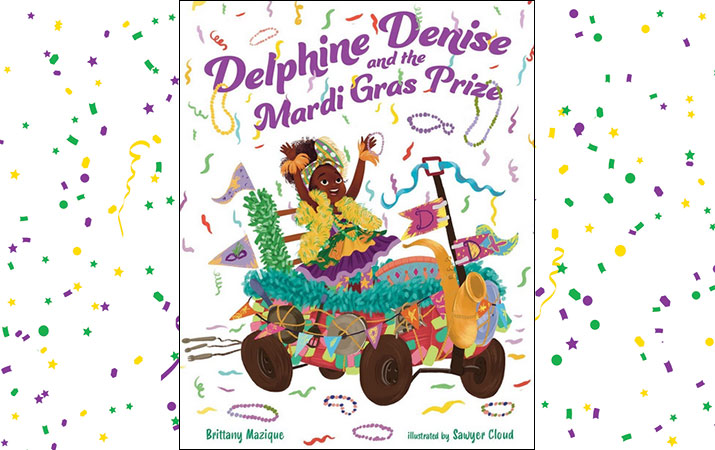 Delphine Denise and the Mardi Gras Prize by Brittany Mazique, Sawyer Cloud.
Delphine Denise lives in New Orleans, she and her friends love getting ready for Mardi Gras – decorating masks and colorful costumes, baking a king cake. They usually ride bikes in the parade, but this year, there's a prize for the best float. Enjoy sights, sounds and foods of Mardi Gras celebrations. (Picture book)
The King Cake Baby by Keila V. Dawson, Vernon Smith.
In New Orleans, a Creole woman bakes a delicious King Cake, topped with purple, green and gold sprinkles, but little king cake baby figure runs away. The King Cake Baby escapes from the old Creole couple in the French Quarter, the praline Lady in Jackson Square, the waiter at Cafe du Monde, but no one can catch the King Cake Baby, until … (Picture book)
Steve Goes to Carnival by Joshua Button, Robyn Wells.
Steve, a gorilla, escapes from the Rio de Janeiro zoo, rides the yellow tram into the city, and joins the carnival celebrations. Steve stays up all night, listening to music and dancing too. Gorgeous illustrations capture the color, excitement and spirit of Rio. Feliz Carnaval! (Picture book)
Carnival by Candlelight by Mary Pope Osborne.
Jack and Annie are whirled back to Venice 250 years ago, right in the middle Carnival. They've got to find the Grand Lady of the Lagoon, a painter named Tiepolo, a clock with the right time, and the winged lion, before a flood destroys Venice. (Easy reader)