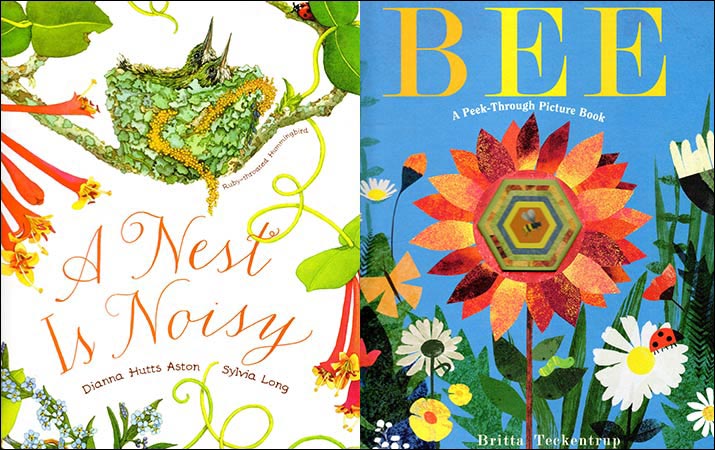 We live in northern California, and spring this year is spectacular, drought years with brown hills are gone, replaced with emerald green wherever we look.
In our yard, a seasonal creek is bubbling along (rain storm coming again tomorrow), dark green moss wraps our oak trees, every morning birds sing like a musical production, flowering trees and vines bloom in glorious shades of pink and purple, ladybugs land our shirts, only to fly away again.
A trip to various favorite bookstores, we returned with a bag full of new children's books for spring.
Wake Up! by Helen Frost, Rick Lieder.
"Come out and explore – New life is exploding outside your door!"
Poems and gorgeous photographs, baby robins hungrily open their beaks, furry woodchucks come out into the sunlight, twin lambs snuggle together, a spotted fawn hides in the forest, newly hatched spiders walk on a blade of grass, dandelion seeds float away on the breeze. (Picture book)

A Nest is Noisy by Dianna Hutts Aston, Sylvia Long.
We had no idea nests are so fascinating, or inventive, and not only birds' nests, but also reptile, fish and insect nests, from all over the world.
Nests can be enormous or very tiny, made from pebbles, leaves, mud, spider silk, or saliva, some nests are hidden, others dangle in air on tree branches, some nests are "bubbly," nests made in watery environments. Beautifully-detailed painted illustration of amazing natural creations. (Picture book)
Also, more in this fabulous series: An Egg Is Quiet (and suddenly noisy) and A Seed is Sleepy.

When Green Becomes Tomatoes by Julie Fogliano, Julie Morstad.
"there are things that are yellow
and new
and popping up everywhere
and there are red rubber boots"
Spring is here! Celebrate the seasons with poems and sparkling illustrations that capture frogs hopping quickly in spring rain, eating berries in summer, tasting the sunshine, leaves floating, twirling down in autumn, and the first snow that comes on tiptoes overnight. (Picture book)

Bee: A Peek-Through Picture Book by Britta Teckentrup.
Bee flies through meadows, orchards and forests, humming as she visits flowers here and there. As she gathers nectar for the hive, pollen also sticks to her legs, transporting pollen from flower to flower, and fertilizing flowers as she goes. Lovely poems and two page collage illustrations, filled with plants and animals, capture this wonder of nature. (Picture book)

The Ladybug by Bernadette Gervais.
Discover fascinating facts about the tiny, but mighty ladybug. It has six legs and walks upside down on leaves. During the winter ladybugs hibernate together, and in spring, they lays eggs on a leaf, with plenty of aphid food nearby. To fly, a ladybug opens its two red and black wing-covers to reveal wings, they can fly, very high over a mile. (Lift the flap book)

The Butterfly Garden by Laura Weston.
In spring, watch the metamorphosis of a monarch butterfly – from egg into caterpillar, chrysalis, emerging as a beautiful orange and black butterfly. Monarch butterflies fly away, migrate, hibernate in autumn … and next spring, a new egg. Lift the flap to reveal bright monarchs in the cycle of life. (Board book)

Spring Walk by Virginia Brimhall Snow.
A grandmother takes her grandchildren out for a walk in spring, looking for tiny buds and bright blossoms, purple crocus, yellow daffodils, bright orange poppies, pink and white on bushes and trees, bees buzzing (blossoms need bees), and fun facts about twenty four different flowers. (Picture book)

The Egg by Britta Teckentrup.
Discover the amazing egg, not only bird's eggs, but also insect eggs, fish eggs, reptile eggs.
The egg has a perfect shape that is breakable, but also strong, comes in endless colors (some are for camouflage), and sizes from the largest eggs (from a now extinct Elephant bird) to the smallest eggs of the hummingbird. Plus mythology and traditions of eggs – egg hunts, egg dancing, decorated eggs in springtime. (Picture book)

All in a Day by Cynthia Rylant, Nikki McClure.
"A day is a perfect piece of time
to live a life,
to plant a seed,
to watch the sun go by."
Cut-paper illustrations capture the magic of the day – climbing a tree, working in the garden, tending new green shoots, blowing dandelions in the breeze, child sleeping in a hammock under the trees, playing in the rain, "every living thing loves the promise in a day." (Picture book, board book)

The Secret Garden by Frances Hodgson Burnett.
And in our list, not new, but we have to include this classic, family favorite.
Sent to live in a gloomy manor on the Yorkshire moors in England, Mary, her friends Dickon and Colin, bring a neglected garden back to life. The locked garden is surrounded by high walls, but a robin shows Mary a key to open the door. Soon snowdrops, daffydowndillys, poppies, roses are blooming, as spring arrives in the secret garden. (Chapter book)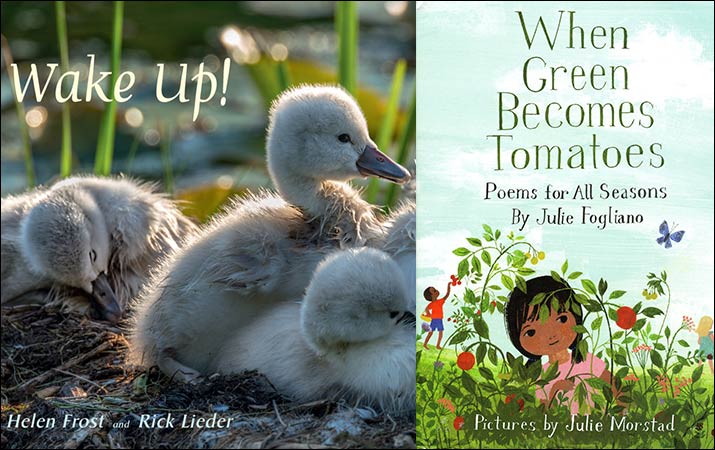 "New life is everywhere – open your eyes."