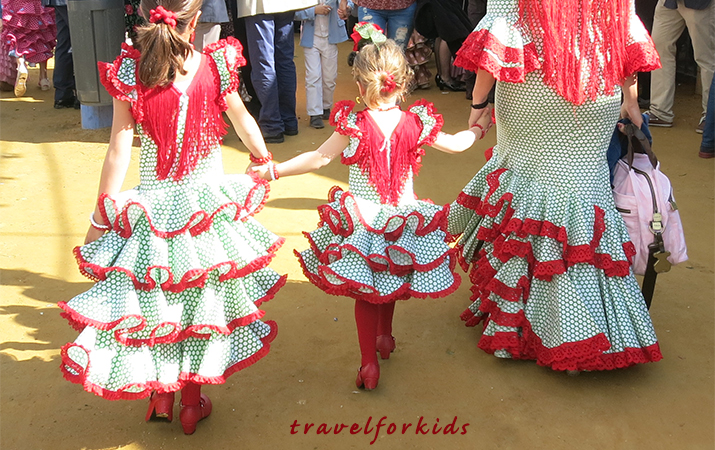 It's time for spring fair in Seville – Feria de Abril. The city is jam packed with visitors and locals alike, horses clip clop through the streets, at the huge fairground families and friends gather in brightly painted "casetas" to eat, drink, sing and dance, kids happily rush onto amusement park rides, thousands of lights twinkle and glow in the darkness at night.
There's nothing like Feria, and it's a family friendly event for kids of all ages, from babies carried in parents' arms, to teens eager to try thrilling rides, even little kids stay up late at Feria.
"Vamos a Feria!"
Exhibicion de Enganches
Before Feria opens at the fairground, don't miss Enganches – a parade and exhibition of horse-drawn carriages. In the Exhibicion de Enganches two hour show, groups of carriages swiftly drive around the Plaza de Toros arena in a superb performance of horsemanship and swirling patterns of carriages and costumes.
Arrive at Enganches before the performance to see the carriages line up, and view the horses and people up close.
Horses wear colorful pom-poms and bells, their manes and tails braided, all styles of beautifully-preserved carriages are pulled by one or more horses.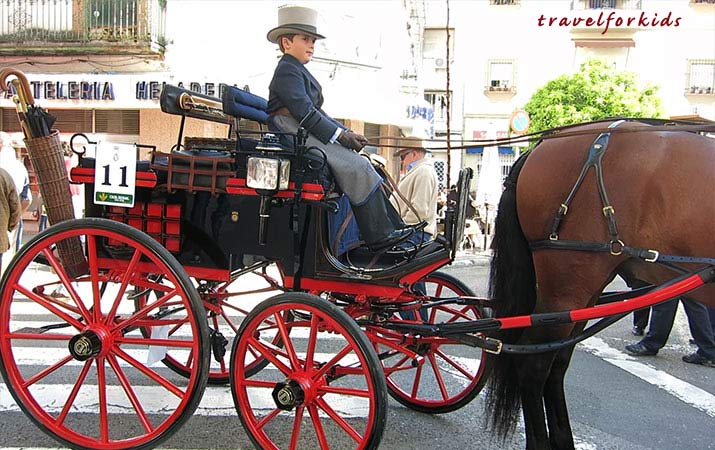 Children are very much a part of the parade, either as occupants of the carriages, or even as the carriage driver, sitting up very straight and confidently holding the reins in their hands. Some carriages are filled with whole families, mom and dads, kids, grandparents.
Girls are dressed in ruffled dresses, shades of bright pink, yellow, green, red, and wear embroidered or fringed shawls, silk flowers in their hair. Mothers and daughters often have matching dresses (so adorable). Women also wear lacey mantillas, secured on their hair with high combs. Boys are dressed in formal wear with top hats and shiny leather boots, just like the men.
Fairground
The fairground is a huge area, streets lined with "casetas," decorated tent pavilions, and a big amusement park with rides, carousels, two big ferris wheels.
Before going to the amusement park, take time to just stroll down the streets, looking into the casetas (which are generally private), and the parade of horses and carriages going up and down the street.
We loved looking at women and girls dressed in traditional Feria costume, a long fitted dress with plenty of ruffles and long fringes, fabrics with bright polka dots and contrasting trim, polka dot shoes, brilliant colored silk flowers – what a fashion show. Also women on horseback, wearing dark colored riding jackets and long skirts, flat brimmed hats.
Tips for Feria
Feria is a week long event, usually two weeks after Easter (the dates change every year).
Planning to attend Feria, be sure to reserve a family hotel or family apartment well in advance, city is very full of visitors.
Girls and moms will have fun shopping for dresses, fans, polka dot shoes, and silk flowers as a souvenir of Feria. Even Barbie dolls have Feria dresses.
Go to Feria in the afternoon, and then let the kids stay up late – it's fun to see the fairgrounds lit up in the darkness.
Visiting other sights in Seville, during Feria week museums and cafes close early, or may not be open at all.
Tip: And find more fun things to do with kids in Seville on Travel for Kids.
Feria is one big outdoor party!