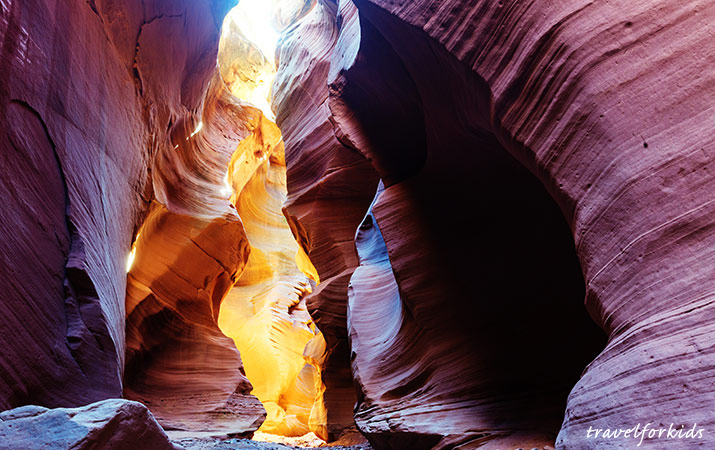 Southern Utah is world famous for its stunning desert landscape, slot canyons, arches and spires, a "land of sleeping rainbows."
Each year, Utah national parks are visited by millions of people – Zion, Bryce Canyon, Arches & Canyonlands.
Along with these well-known national parks, we have two more favorite "hidden gems" for family trips – Grand Staircase-Escalante National Monument (GSENM) and Capital Reef National Park.
Grand Staircase-Escalante National Monument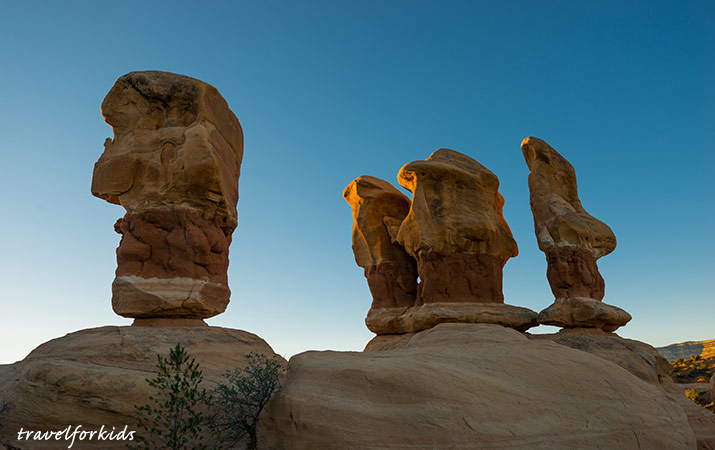 In Grand Staircase-Escalante National Monument, we drove Highway 12 through extraordinary slickrock canyonlands, inhabited by ancient Native Americans, a timeless landscape with year-round creeks, and canyons accessible for hiking with kids.
Tip: The national monument covers a very large area, almost 2 million acres. On our trip we explored only one section, sites with easy access from Highway 12. Hotels and lodges are available in the small towns of Boulder and Escalante.
The area has fun location names – Spooky Canyon, the Toadstools, Salt Gulch, Devils Garden, Peek-A-Boo Canyon, inspired by fantastic rock formations. Rocks in the photo above looked spooky to us.
At Escalante Petrified Forest State Park, pick up the trail brochure and walk the 1 mile Petrified Forest Trail around to see brilliant orange red, yellow, and black petrified wood, dwarf trees that survive with little water, and colorful lichens. Don't collect any rocks, leave them for the next visitors.
Calf Creek Recreational Area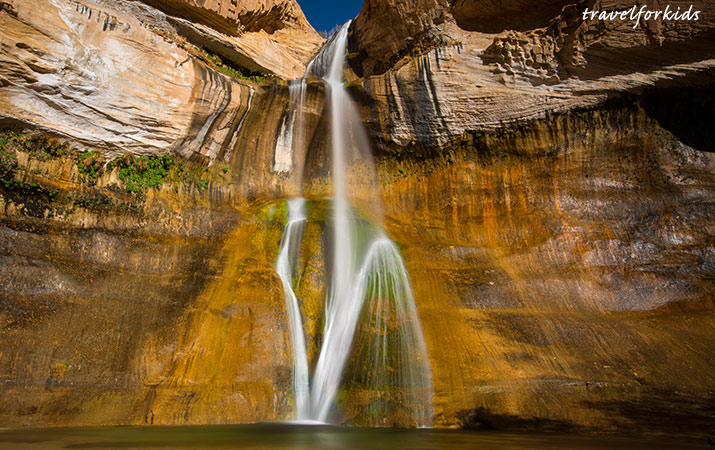 Take a 3 mile hike (6 miles round trip) to Lower Calf Creek Falls. With younger kids, the canyon is interesting enough, don't think you need to hike the whole way to the waterfall.
Calf Creek Canyon is extraordinary – rocks in colors of cream, chocolate, caramel and licorice. The year round creek is lined with cottonwood trees, tiny trout swim in the water, beavers build lodges on the banks. Ancient Fremont people painted pictographs on the cliff walls, and farmed, fished and hunted in the canyon.
Tips: Pick up a trail brochure, with 16 numbered stops. Kids can rest at the sandstone "benches" at Stop #3. Stop #12 is a good place to stop for lunch, right next to the creek, with flat grassy areas.
Bring drinking water with you (don't drink the creek water), and take away all your trash (no trash cans along the trail).
Boulder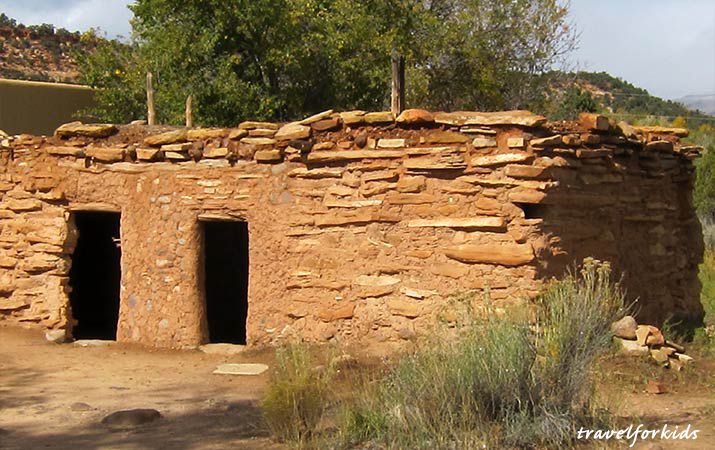 Anasazi State Park Museum – Discover the Anasazi way of the life, people who lived in the area during the 12th century AD, hunted wild game, farmed corn and squash, and built stone houses.
Inside the museum are exhibits about the Anasazi, their pottery, jewelry, stone tools, and an underground house, with ladder through the roof. Outside, go inside a replica of a life-size Anasazi stone house – six small rooms and short doorways are perfect kid's size.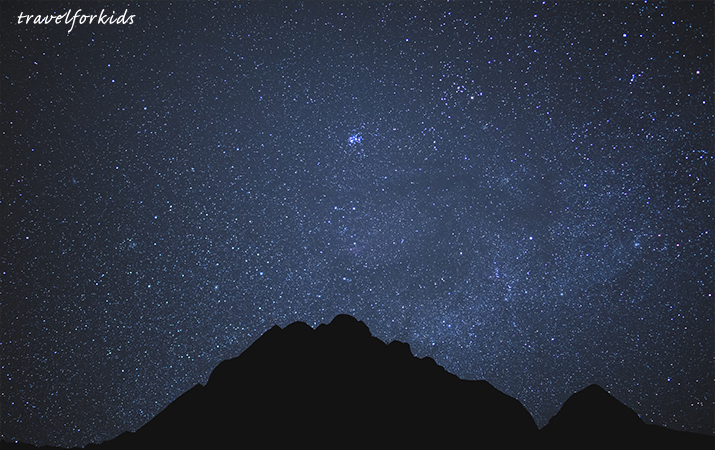 Stargazing – If you're staying overnight in Boulder, go outside at night and look at the stars. There's no big city lights, and the desert night sky, filled with stars, is infinite.
Capitol Reef National Park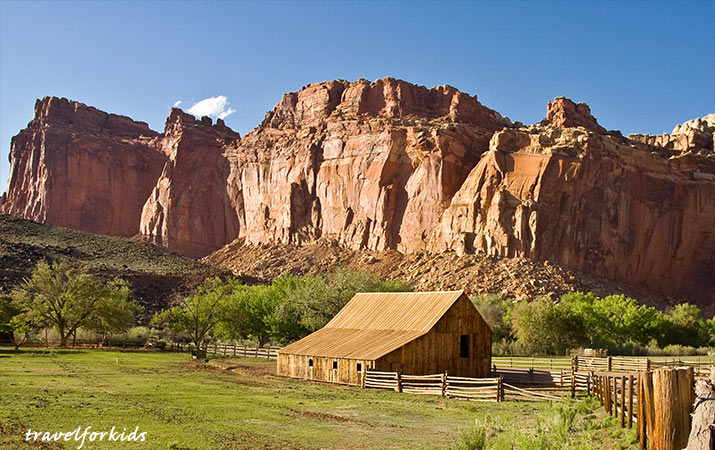 Driving along Highway 24, gazing at Chimney Rock and "The Castle" rock formations, suddenly you turn the corner, and there are green trees, fast flowing river, and remnants of a 19th century pioneer community. With the Fremont River providing year-round water, ancient people lived here over a thousand years ago, followed by Mormon pioneers in the 1880's. Today kids can pick fruit in heirloom orchards in the Fruita historic district.
There are no ocean reefs in Capitol Reef National Park, but you'll see immense stone ridges and cliffs, as difficult to get through as deep coral reefs. In the park, sandstone rock formations are weird and wonderful, shaped like castles, elephant's feet, or ruffled skirts, rising out of the desert.
Fruita orchards – Along Highway 24 and Scenic Drive are heirloom orchards, planted in 1880's along the river. In summer and early fall months, when fruit is ripe, you can pick the apricots, cherries, peaches and apples. Signs will be posted, and the park provides buckets, ladders and fruit picking tools – eat what you pick right off the tree. Call the park in advance to find out what's in season: 435.425.3791.
Gifford Farmhouse – Check out a weathered wood barn and farm house, furnished with wood burning stove and rag rugs. Kids can imagine pioneer life in this canyon, many miles from the nearest town. At the store, try homemade pies and ice cream, out front are picnic tables under the trees.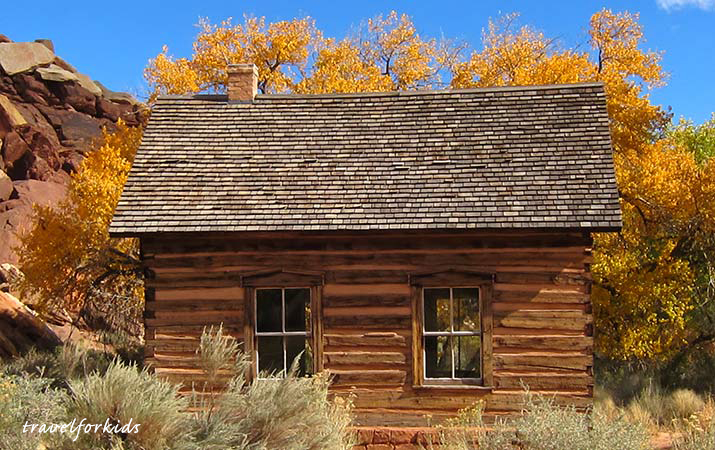 Fruita schoolhouse – Look inside the one room schoolhouse, with eight grades in one room. The schoolhouse was also a community and church center. Inside are old fashioned wooden desks, with writing slates, the teacher's desk, blackboard, and wood stove.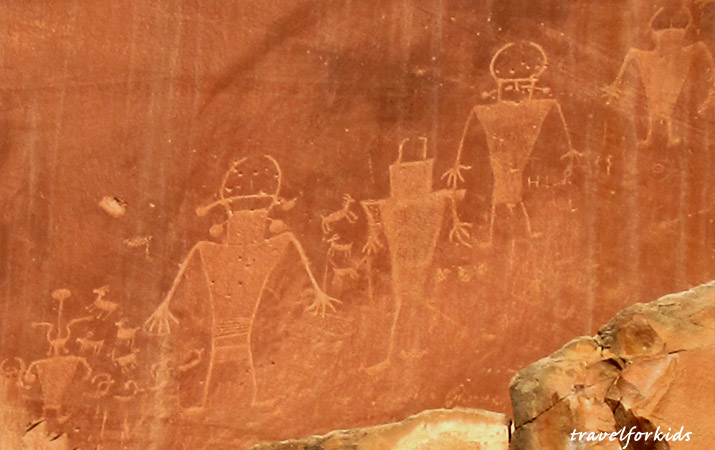 Just down Highway 24 from the schoolhouse, stop to see petroglyphs on the sheer rock cliff. The petroglyphs are human figures with horned headdresses and mountain sheep leaping around, carved by the ancient Fremont people. Easy access and a nice viewing platform for the petroglyphs, but bring binoculars for close up views.
Preserve the "land of sleeping rainbows"
On our explorations through Utah, we are constantly amazed by these unique environments – rocks formed 300 millions years ago under a vast ocean, or petroglyphs carved by Native Americans over 1000 years ago.
After visiting Capitol Reef, we continued our trip to Arches and Canyonlands National Parks, and stayed in Moab.
Outside the national park on the northwest side of Moab is a wasteland. This site was a part of a uranium mine that closed in 1984. Mine tailing were piled 90 ft high, and toxic waste was deposited in a large pond, right next to the Colorado River.
To protect the environment and Colorado River, the US government Department of Energy has spent millions to remove uranium tailings and waste to another location. But the original landscape will never be restored.
We hope that Grand Staircase-Escalante National Monument is preserved for our children's children, and future generations, to enjoy and discover the wonders of the natural world.
On Travel for Kids, more national parks to see – Zion, Bryce, Arches, Canyonlands – and fun things to so with kids in Utah.