Summer is a time for families to get together.
It's always fun when grandparents share recipes and family cooking traditions with grandchildren.
"How do I know summer is here?
Summer smells like mango jam simmering on the stove, the first thing my Lola makes after she flies in for her summer stay.
It smells like the cassava cake covered with smooth and glossy custard, sliding out of the hot oven as Lola tells us a story about the first time Mom made this cake and confused sugar with salt."
This is from one children's book about a grandmother from the Philippines who comes to visit.
Read more stories about baos, ice candy, mac n cheese, tomato dishes from India, spicy sambal, flan and Cuban traditions, Jamaican breakfast, berry picking in Alaska.
Ice Candy Recipes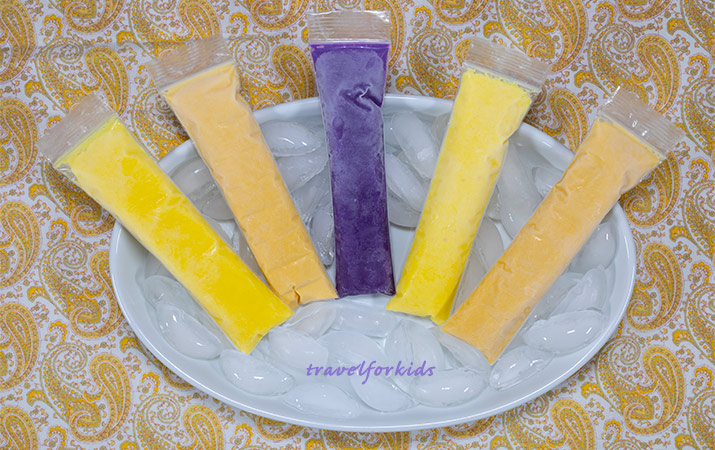 Mango Ice Candy
14 oz can sweetened condensed milk
12 oz can evaporated milk
1 cup heavy cream
2 cups mango puree
Ice candy bags
Put everything in blender, blend until smooth. Use funnel to fill ice candy bags.
Recipe makes about 14 ice candies.
Freeze for 10 – 12 hours, but can eat sooner, ice candy will just be softer.
Pineapple Ice Candy
7 oz sweetened condensed milk
12 oz evaporated milk
1 cup heavy cream
1 lb frozen pineapple
Ube Ice Candy
4 tbsp ube powder
2 tbsp ube extract
1 cup water
7 oz sweetened condensed milk
2 cups heavy cream
2 tbsp sugar (or to taste)
Mix ube powder, extract and water in a pyrex measuring cup. Whisk, then microwave one minute, whisk until smooth.
Add ube mixture, condensed milk, heavy cream, sugar in blender, mix.
You can mix up all kinds of fruit – fresh, frozen, purees to put in the ice candies.
Taste the mixture, and adjust accordingly. If fruit is really sweet, use less condensed milk. Or add bit of sugar if fresh fruit is tart.
Ice candy recipes adapted from Sari-Sari Summers.