Mount Vernon is the plantation home of George Washington, first president of the United States.
Mount Vernon was truly home to George Washington. He was a family man with his wife Martha, welcoming many visitors, designing gardens and plantation buildings, and managing the details of a large estate with 8,000 acres and five working farms.
Visiting Mount Vernon with kids, discover George Washington in a different role than president or commander in chief of the American Revolution. Here George was a progressive farmer, planting trees and taking his turn in the garden, eating corncakes and honey for breakfast.
Tip: Our itinerary begins with Mansion House, but another starting point is the Museum and Education Center, for exhibits about George Washington, and then continue on to the Mansion, outbuildings, gardens, Pioneer Farm, etc.
Mansion House
On the tour through the house, kids will see the "New Room" where the Washingtons had dinner parties and danced the night away (George loved to dance), outdoor piazza (long shaded porch length of the house), Central Passageway, '"Little Parlor, " a small family room for music, bedrooms on all floors, dining room, and George's study.
The tour ends at a separate building, the large kitchen with huge stand up fireplace, traditional iron cooking pots, tables for food preparation, cooking utensils, sunken larder to keep perishable foods cool.
Don't miss:
Piazza – Imagine the Washington family, sitting out on the piazza, chatting and having tea or coffee, taking in the cool breezes and watching the Potomac River flowing by.
Central Passageway, look for the key to the Bastille, given to George by the Marquis de Lafayette in 1790, after Lafayette had ordered the prison demolished in the French Revolution. The key has been in this location in the house since that time.
On the second floor, Nelly Custis bedchamber has a baby crib. Granddaughter Nelly's first child was born here at Mt. Vernon in 1799.
George's study lined with bookshelves was his private spot (you had to be invited in). In the study, he sat under a special fan chair operated with foot pedals to cool him while he worked. Also, see the black leather chair with rollers on four legs, a chair which George used as president.
North Lane Outbuildings & Gardens
See the slave quarters for men and women, shoemaker's shop, stove room, blacksmith shop, spinning house, salt house, greenhouse and upper garden.
Don't miss:
Blacksmith shop – A large estate such as Mt Vernon required plenty of nails, hooks, horseshoes, farm tools, and repairing metal pots. Watch demonstrations of the blacksmith shop in action.
Slave quarters – Enslaved male house servants, craftsmen, laborers lived in bunkhouse rooms, eating basic food such as corn, fish, deer, and simple clothing of shirts and breeches. Female enslaved workers did laundry, sewed, spun yarn, and cooked.
Spinning house – On the plantation were flocks of sheep to use for wool, along with flax and hemp for linen and rope making. Basic cloth and wool was woven on the estate, see the looms set up.
"Necessary" – On the path going up to the Mansion House on the north side (where the line forms for the mansion tour), check out the necessary, an outdoor outhouse (toilet) with red roof and white painted sides.
South Lane Outbuildings
Explore the outbuildings south of the Mansion House, including storehouse, clerk's quarters, paint cellar, smokehouse, wash house, dung repository, coach house, stable, ice house.
Don't miss:
A Dung Repository was for composting (to improve the soil on the farms). Animal manure was collected to use as fertilizer for the fruit trees and gardens. This is a reconstruction of the original 1787 building.
In the Coach House, check out two 18th century "riding chairs". The horse-driven riding chairs were more easily maneuvered than a four-wheeled coach and less expensive to make.
The Stable has stalls, saddles, and a lovely carriage, similar to ones Washington would have used. George was a superb horseman, "who rode as horse as well as – if not better than – anyone in Virginia."
From the Stable go out to the right, to see the Paddock. When we visited, there were horses and donkey grazing.
Washington's Tomb
Walking down the hill to the Pioneer Farm and Wharf, stop off to see Washington's tomb in a large brick vault. Washington wanted to be buried here at Mount Vernon (not Washington DC). On the right is George's marble sarcophagus, on the left is Martha's tomb.
Slave Memorial
Further down the hill from Washington's tomb is a memorial to the slaves of Mount Vernon, marking their burial ground. When Washington died, he no longer believed in slavery, and freed the slaves he owned.
Pioneer Farm
At the Pioneer Farm, kids will see living history demonstrations of activities on an 18th century plantation. George was a very progressive farmer, trying out new techniques to improve crops, and making products to sell, such as salted shad from the river.
On our visit, we saw people working by hand to build a "bateau," similar to boats used in Washington's time, Hog Island sheep wooden pens, and demonstrations of barrel and net making. Two people, using a horse-drawn plow, neatly plowed rows in a field to be planted with wheat.
Don't miss:
Sixteen-sided threshing barn – Go inside a reproduction of thebarn designed by Washington to make wheat threshing more efficient. Mules walked around and round, stomping on the wheat, the wheat berries would separate from the chaff and drop through the slats to lower level. As threshing was indoors, this also protected the wheat from rain (wet wheat would become moldy and ruin the crop).
April to October are living history demonstrations. In April, see traditional methods for cooking fish, May is wool washing, spinning, and weaving in into textiles, June is ice-cream making (strawberry, chocolate, ginger, oyster, Martha liked oyster ice cream), July is wheat threshing, autumn cooking pies and drying gourds.
Wharf & Potomac River
The Potomac River was a transportation highway, as well as a plentiful source of fish. Washington thought the Potomac was "one of the finest Rivers in the world."
Washington used the Potomac to transport goods produced by the plantation – wheat, salted fish, whiskey, flour. Also, the river was easier to use than roads, especially in winter when muddy roads were impassable.
Don't miss:
In summer months, take the 45 minute sightseeing boat ride from the wharf. Cruise along the river to Fort Washington and back, with stellar views of the Mansion House along the way. Much of the forest lands along the river have been preserved as it was in Washington's time!
Slave Cabin

Next to the Pioneer Farm threshing barn, visit a replica slave cabin. Most of Washington's slaves, both men and women, did farm work. In spring they planted, late summer and fall was harvest season, along with work in the grist mill. In the winter, they preserved food and crops, repaired fences, and cut firewood. They worked from sunrise to sunset.
Forest Trail
Next to the Slave cabin, take the Forest Trail and walk back up to the fruit orchards and animals.
On this nature trail, kids can learn about the uses, animals, trees and plants of the 18th century forest. In Washington's time, the forest was not just a source of timber, medicinal plants were gathered, and stones collected for foundations.
Tip: If kids are tired, instead taking the trail, there's a shuttle stop next to the threshing barn, ride the shuttle to the top of the hill.
Livestock and Gardens

Washington kept orchards, a large kitchen garden, and animals. In pens and fields, kids will see animals typical of Washington's time – Devon cattle for milking, Ossabaw Island hogs, and wandering around, Dominique chickens and Bronz turkey.
Education Center and Museum
In the Education Center and Museum are multimedia exhibits, artifacts from the lives of George and Martha Washington, and scenes dramatizing events in Washington's life. Life-size figures of Washington – as a young Virginian, commander in chief, taking the oath of office as first president – are so realistic, you expect him to start talking.
Don't miss:
George's false teeth – He had problem teeth, and when they fell out, he designed false teeth designed with springs and carved from a hippo's tusk, to be more comfortable than usual wooden teeth.
Martha's jewelry, shoes and gown – On display are her gold earrings and necklace, wedding gown and lace-covered slippers, and portrait of Martha in her wedding dress.
Revolutionary War Theater – 4-D experience (with fog, seats vibrating, "snow" falling") of key battles in the American Revolution.
Hands-on-History Center – Center has hands-on activities for kids, such as doll house with cloth dolls in period dress, make black paper tricorn hats, storytelling and picture books for little kids.
Distillery and Gristmill
At a separate location (take the shuttle, or drive by car), it's well worth a visit Washington's grist mill and distillery. Open April to October.
At the grist mill, powered by a water wheel, wheat was ground into a fine flour sold in Europe, corn and barley were coarsely ground to sell locally and for use at Mt. Vernon.
At the distillery, rye, corn, malt, barely and water were used to make whiskey, sold in Alexandria nearby.
Both the grist mill and distillery are fully functional (exact reproductions), and kids can watch corn and wheat being ground, and the see the mash tubs, copper-stills, and oak barrels used in the whiskey production process.
Children's Books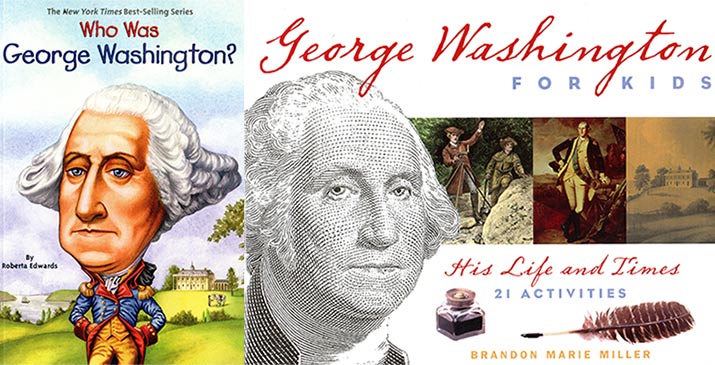 Tips for enjoying Mount Vernon
Plan to spend the day at Mount Vernon – it covers a large area. In summer months, go down to the Pioneer Farm for living history demonstrations, and take the boat ride on the Potomac.
Buy Mount Vernon tickets online, no waiting in lines, go right in.
Mansion Tour – Included in the ticket is a timed entry tour of the Mansion House, where the Washington family lived. The tour through the Mansion House takes approximately 15 minutes, no photos (and no strollers).
Lunch options – No picnicking is allowed inside on the grounds. A food court food court with snacks, hamburgers, sandwiches, pizza, ice cream, cold drinks. A lovely spot for a picnic is Riverside Park on the Potomac River, half mile away on the parkway.
Shuttles – It's fun to walk down the hill to the Pioneer Farm and Wharf. A free shuttle stops at the wharf, and Pioneer Farm threshing barn, and goes back up, stopping near the Education Center. Also, pick up the free shuttle to the Distillery and Gristmill.
Security lines – There are two security lines, through the Ford Orientation Center, or entrance near the Education Center. When you go out to the food court, you will have to go through the security lines again to re-enter. Organize things so it's easy to see what's in your purse or daypack, to minimize holding up the line.
Tip: Mount Vernon is a fun day trip from Washington DC.