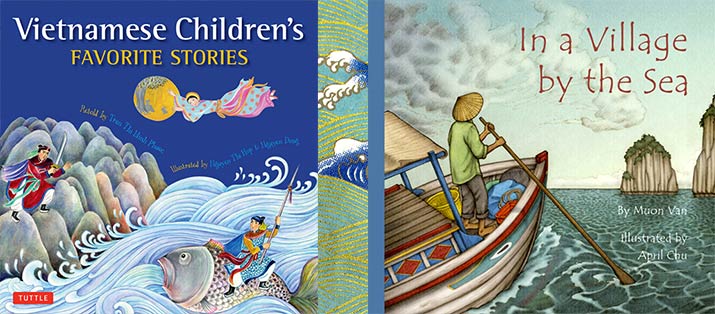 Vietnam is on our list of countries to visit, but in the meantime, here are two fabulous new books we're reading.
Vietnamese Children's Favorite Stories by Tran Thi Minh Phuoc, Nguyen Thi Hop & Nguyen Dong.
Fifteen different stories retold, each beautifully illustrated, express the traditions, beliefs, people and culture of Vietnam.
In "The Legend of Banh Chung and Banh Day," a young prince creates two new dishes to offer the ancestors at Lunar New Year – square green and round white rice cakes, Banh Chung wrapped in green dong leaves is the Earth, round Banh Day is the Heaven Sky.
Did you know watermelons grow in Vietnam? In "Mai An Tiem, and the Watermelon Seeds," the king's adopted son, Mai An Tiem, is exiled to a deserted island. A flock of crows drop black seeds, which he cultivates into delicious watermelons. Mai An Tiem's juicy watermelons become so famous, after the king eats a melon from the far off island, he re-discovers his exiled son and restores Mai An Tiem to the kingdom.
"The "Legend of the Mai Flower" is the story of the flower tree that brings happiness and prosperity at Tet (Tet Nguyen Dan), Lunar New Year celebrations. A little girl goes with her father, a hunter, to fight a great beast, who is defeated, but the girl is trapped in the beast's cave; she asks the Kitchen God to re-unite her with her family. So each year, for nine days at Tet, the Mai tree blooms with bright yellow flowers.
And there's more stories about the God of Fortune, why the Mountain Lord and Sea Lord fight during monsoon season, Le Loi the great hero and his magical sword, a Celestial King who comes down from heaven to protect villagers from invaders, the selfish wife turns into a mosquito, why the sea is salty and ducks sleep on one leg.
In a Village by the Sea by Muon Van, April Chu.
"In a village by the sea, there is a small house." Step into a house high above the ocean, follow a dog into the kitchen, where a woman tends a steaming pot of noodle soup, while a child sleeps nearby.
Looking into a dusty hole, a brown cricket paints a raging storm, a small boat rolls in the crashing waves and a fisherman thinks of his family, who wait for him to return home, safely.
Gorgeous illustrations, both so real and magical, you can smell the noodle soup cooking, feel the strength of the storm, and wonder if Vietnamese houses all have resident crickets who paint.
For centuries the Vietnamese have worked as fisherman and lived in coastal villages. This book is inspired by the author's father and her ancestral village in central Vietnam.