During the Edo period (1603-1868), fashion was very important for both women and men in Japan. Ladies wore exquisite kimonos made of silk and brocade, and elaborate hair styles were adorned with exquisite hair ornaments. In kabuki plays, actors appeared on stage in dazzling costumes. Edo was renamed Tokyo in the 19th century, but even today, kids will see people dressed in kimono and tabi socks, rushing to get on the subway.
Kimono have many different layers and pieces, made from gorgeous fabrics that are woven, dyed, painted and embroidered. Designed for each of the four seasons, kimono are often are decorated with seasonal motifs, such as cherry blossoms for spring, maple leaves for fall.
Visiting Tokyo with kids, here's places to find Edo kimono, costumes and hairstyles.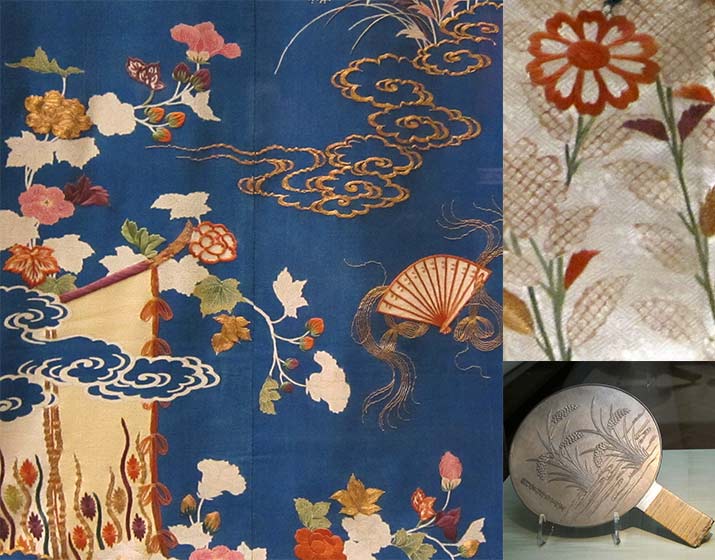 Honkan Japanese Art Museum (Tokyo National Art Museum, Ueno Park) –
Head up to the second floor galleries for displays of kimono, Noh costumes and elegant hair ornaments of the Edo period.
The kimono embroidery is incredible – chrysanthemums and clouds on white satin, fans and autumn grasses on dark blue, bouquets of spring flowers, a water landscapes dotted with boats.
Ornate Noh costumes are decorated with dandelions and snowflakes, or phoenixes on purple silk.
Teens and tweens interested in personal accessories will be fascinated with a variety of tortoiseshell, gold and silver hair pins, combs, and one mirror ornamented with rice plant design on the back.
Bunka Gakuen Costume Museum (3-22-7 Yoyogi, Shibuya-ku) –
A small museum, but the kimono collection is exquisite (no photos allowed so we don't have any examples),
Kimono are displayed so both front and back are visible. Here's just a few examples – a ceremonial robe of deep purple brocade with a flower pattern, Noh costume made from light turquoise silk, woven with white, blue and gold, a kimono of blue silk, decorated with painted whites on a border around the bottom.
Don't miss our favorite – a girl's kimono with dark blue background, white butterfly design, tied with a bright pink bow.
From Shinjuku Station, Exit 6 (Toei Shinjuku and Oedo Lines), it's a short walk down Koshu-Kaido St. to the museum. Closed on Sunday.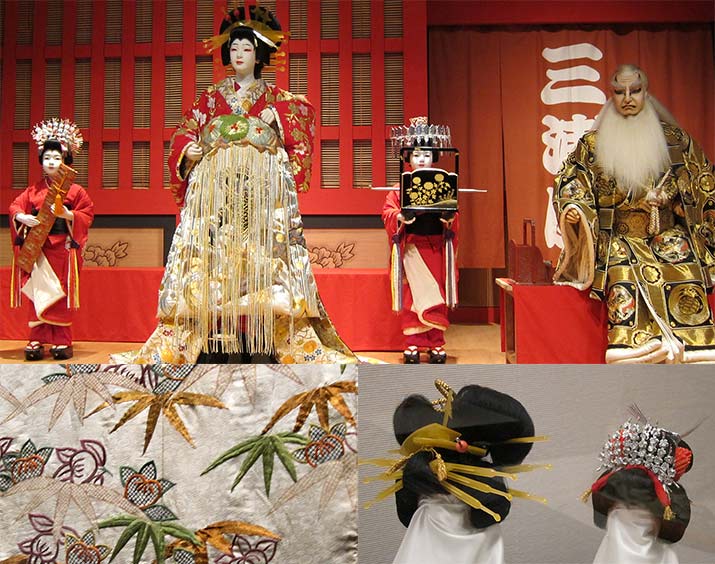 In the Kabuki Theater gallery, mannequins are attired in elaborate kabuki costumes for women and men (in kabuki, all roles were played by men). The styles of kabuki costumes influenced Edo fashion.
Another exhibit has Edo era hairstyles, adorned with hairpins, combs and ornaments. Each different hairstyle identified the wearer's social and marital status – unmarried teens, wives, geisha. There are also beautiful examples of embroidered silk kimono in the museum.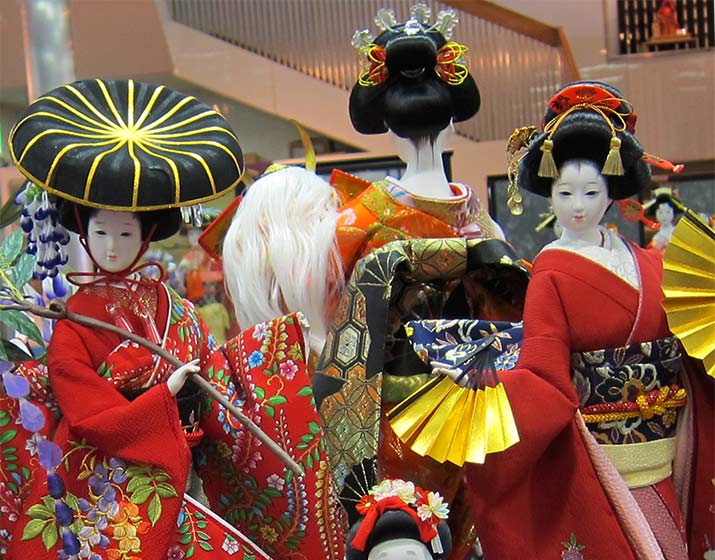 Yoshitoku Dolls (1-9-14, Asakusabashi, Taito-ku) –
Stop into this shop (founded in 1711), where kids can get a look at traditional kimono and costume. Dolls are outfitted in exquisite kimono, wearing spectacular hairstyles with colorful hair ornaments or hats, holding fans and drums. Male figures are outfitted in eye-catching Noh costumes. The details are exquisite, and prices suitable for collectors.
The store is located, right next to the Asakusabashi subway stop, Asakusa subway line.