The Christmas season in Seville, December to January 6, is a wonderful time to visit with kids.
City streets glow with sparkling lights, nativity scenes are on display around Seville, families enjoy seasonal ice skating rink and amusement park, shops are filled with Christmas sweets, Feast of the Immaculate Conception is celebrated with Baile de los Seises in the cathedral.
The holiday season culminates Jan. 5 and 6 in a spectacular Three Kings parade, celebrating the arrival of three Wise Men in Bethlehem, twelve days after Christmas.
Streets sparkle with lights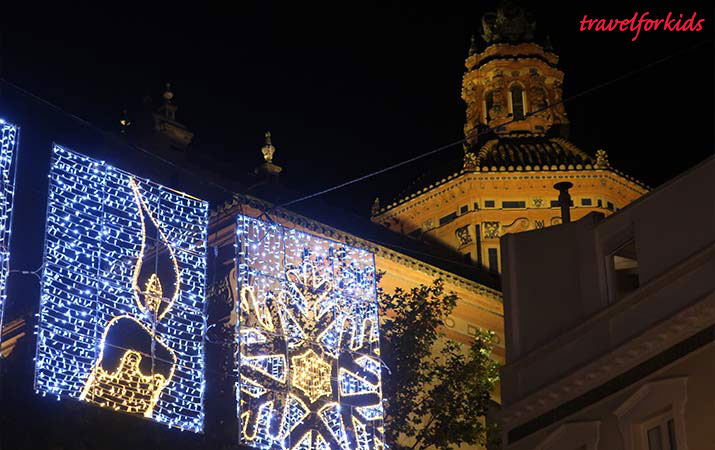 During the Christmas season, city streets are beautifully decorated with millions of lights, and every evening people leisurely stroll down Avenida de la Constitucion.
Historic Seville is a great walking area, some streets are pedestrian only. Look for street performers, such as puppeteers or musicians with guitars, toss coins to the "cabra de suerte" (goat of luck).
At night, go out like Spanish families with their kids, and walk around, staying out late. Toddlers come along too, though at the end of the evening, we saw parents carrying little ones on their shoulders.
Christmas sweets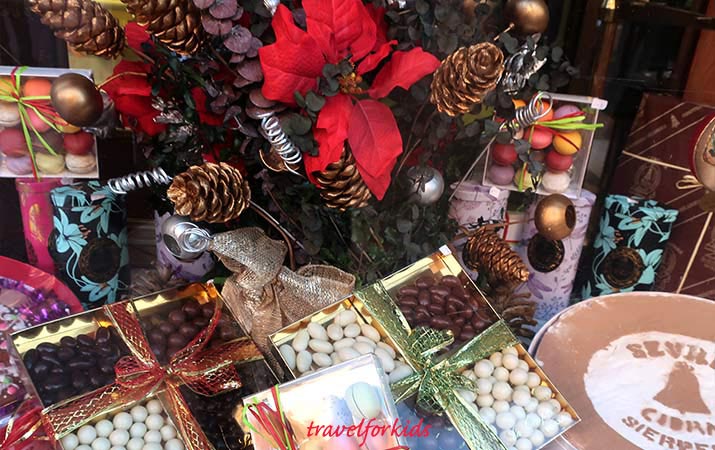 The sweets and cake shops (confiterias and pastelerias) in Seville are filled with traditional candies and pastries throughout the holiday season.
It's fun for kids to try four different kinds of traditional sweets – mazapanes, polvorones and mantecados, and turrones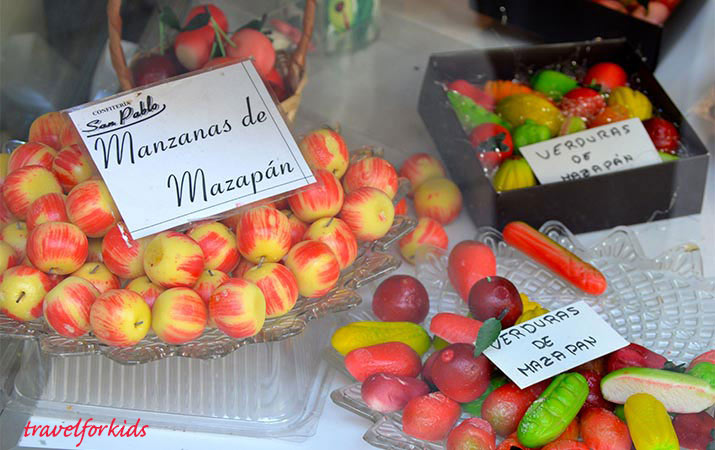 Mazapan (marzipan) is shaped like apples or vegetables, candied fruits such as pears, pumpkin, cherries, mandarin oranges.
Polvorones and mantecados, crumbly little almond or hazelnut cakes, come in flavors such as lemon (limon), cinnamon (canela), caramel (caramelo). Mantecados are made with lard.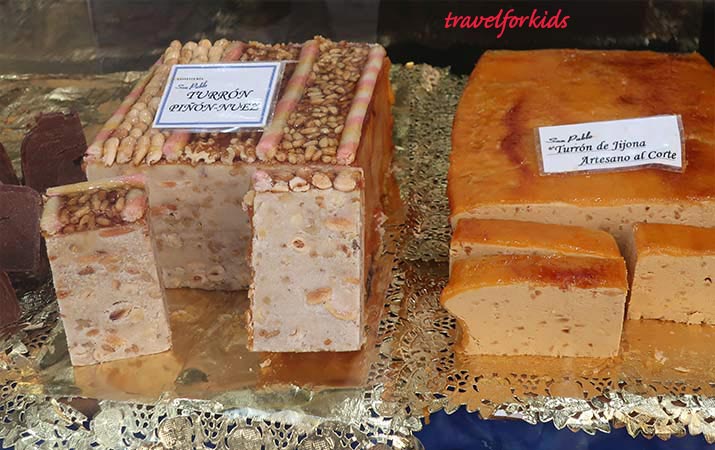 Turron, Spanish nougat of Arab origin, is made of honey-roasted almonds (or pine nuts, hazelnuts), egg whites and sugar.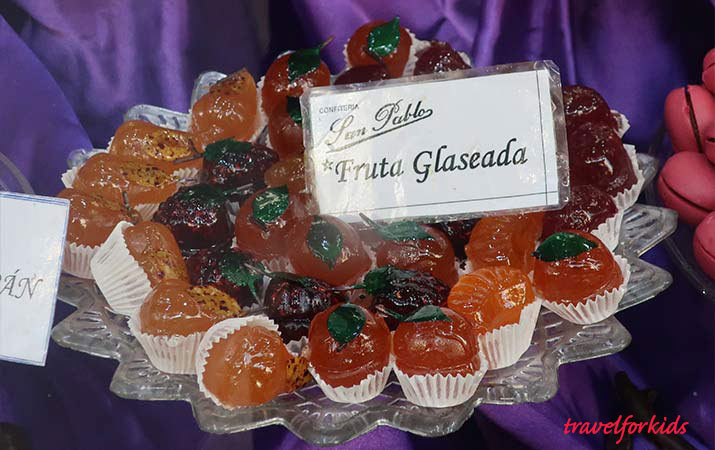 More sweets include candied nuts, candied fruits and orange peel (Seville is famous for its oranges), and of course, chocolates.
It's always fun to go shops such as La Compana and La Colchona to look at the window displays and buy sweets to eat immediately.
Cortes Ingles supermarket (lower level, Plaza del Duque de la Victoria) has a large selection of Christmas sweets, packaged in sturdy boxes to bring back home with you.
Nativity scenes
Nativity scenes – belenes – are very popular in Seville, with elaborate miniature figurines set up in homes, businesses and churches.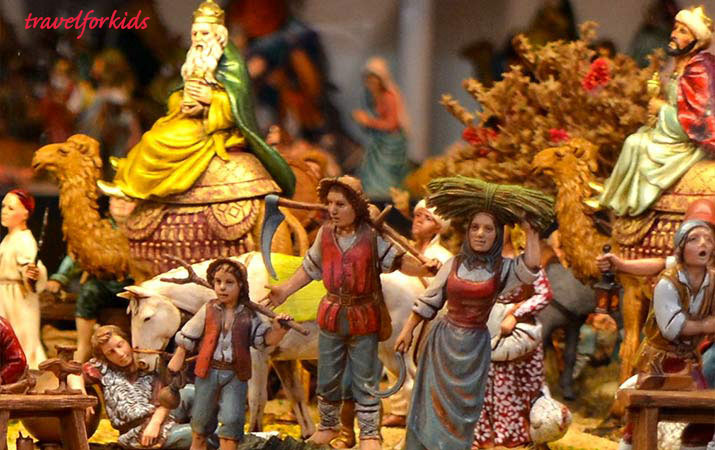 Belenes are on display all over the downtown area. One of the most popular nativity scenes is the Fundacion Cajasol (shown above).
Along with Mary, Joseph, and the baby Jesus, figures in nativity scenes represent local people engaged in traditional activities – feeding the chickens, making clay pots, baking bread in an oven, forging metal tools, washing clothes by hand, carrying a basket of fish, collecting firewood.
In the belenes, look for a wonderful variety of animals – tigers, elephants, camels, galloping horses, and miniature food of all kinds – meat, fish, grapes, lemons, nuts, eggs, sausages, cheeses.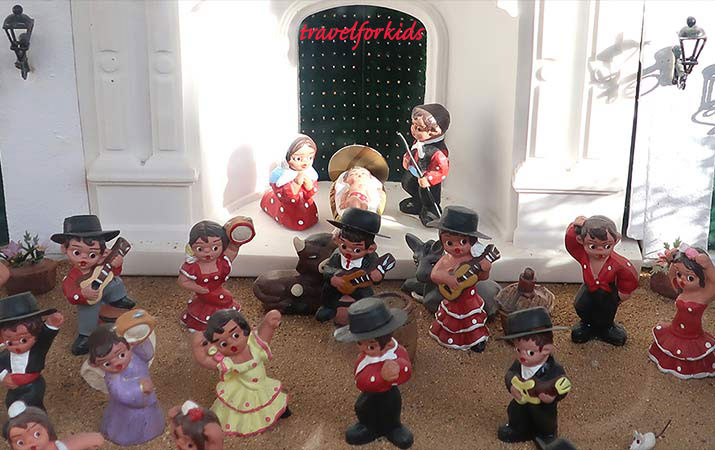 Take a stroll through the Belen Fair (Feria de Belen), located near the cathedral on Avenida de la Constitucion.
Kids have fun looking at all the stalls stocked with nativity figurines to buy – so many to choose from!
Tip: Stalls may be closed in the middle of the day for the lunchtime break. Just come back later in the afternoon.
Ice skating and amusement park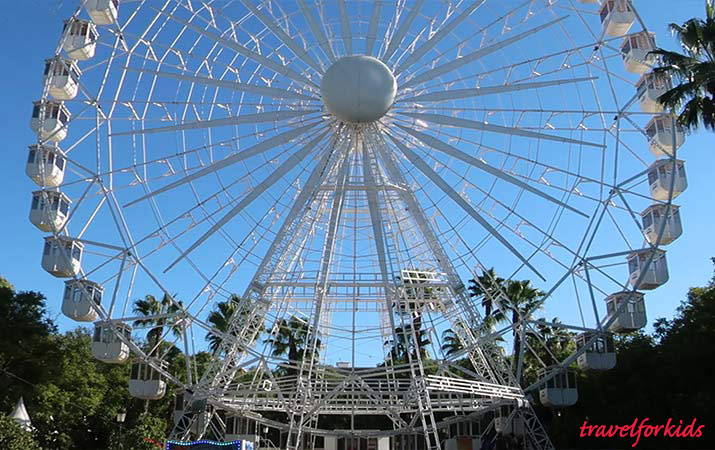 When we visited, in Prado de San Sebastian was a seasonal ice skating rink and amusement park with rides, bumper cars, bouncy house, go karts, ice toboggan.
The spacious ice rink is perfect for teens and older kids to zip around, little ones can use a smaller separate area, with plastic penguins to help them stay up.
From the Jumbo ferris wheel are panoramic views of downtown Seville, you can see for miles around on a clear winter day.
Pick up a snack of hot chocolate with bunelos or churros.
Feast of the Three Kings – Epiphany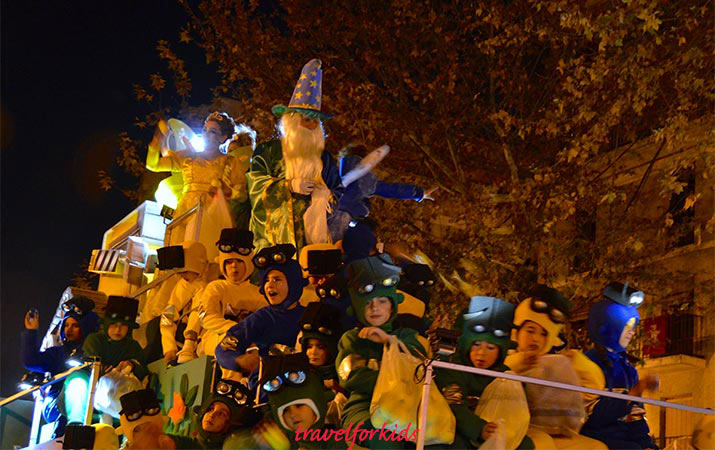 January 6 is the Feast of Three Kings, also called Epiphany throughout Europe.
This holiday, twelve days after Christmas, celebrates the arrival of the Three Kings (Three Wise Men) in Bethlehem.
The night of January 5 is the Three Kings parade (Calbagata de Reyes Magos), an over-the-top spectacle.
The parade, with more than forty floats (including children in costumes on the floats), marching bands, people on horseback, lasts six to eight hours.
Tons of wrapped hard candies are tossed out to the spectators, and kids carry umbrellas upside down to catch lots of candy!
At the end of the parade, there's so much candy on the streets, it's like sweet ice crunching under foot.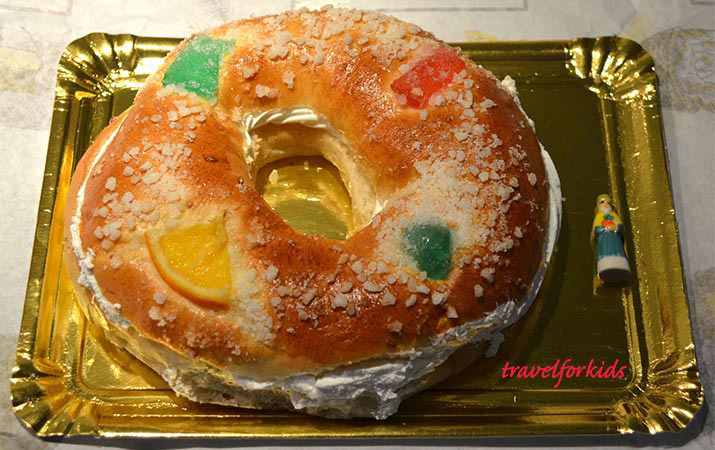 On January 6, families share a Three Kings Cake (roscon de reyes).
The cake is a ring-shaped pastry, sliced into two layers with cream in the middle, and topped with candied fruits.
Baked into the pastry is a small figurine, usually the Christ child or a king figure. The person who gets the figurine in his or her slice of cake, is "king for a day."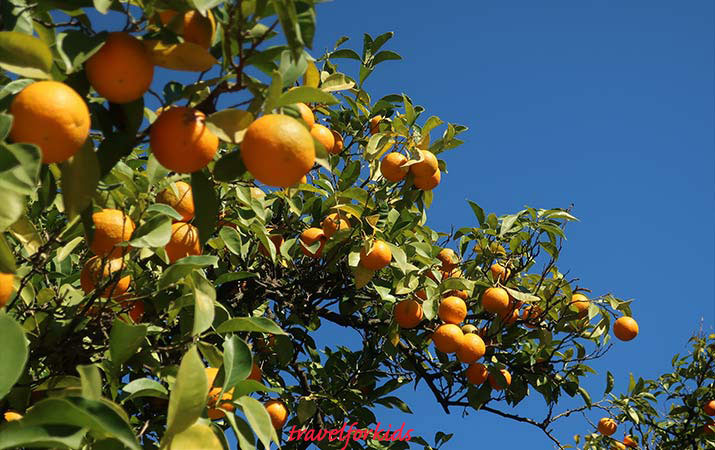 So many fun things to do with kids in Seville, you'll need a fun place to stay.
Check out Travel for Kids researched lists of Seville family hotels and apartment rentals.
Tip: During our visit in Seville this December, the weather was clear and sunny with bright blue skies, though cool enough for a jacket in the evening.