London goes all out at the holiday season – city sparkles with millions of lights, kids will enjoy endless Christmas sweets treats, go ice skating in sites around London, in Hyde Park, Winter Wonderland carnival has rides for toddlers to teens, live music and shows.
Here's our favorite fun things to see and do in London for kids during the Christmas season, plus travel tips.
Store windows and Christmas lights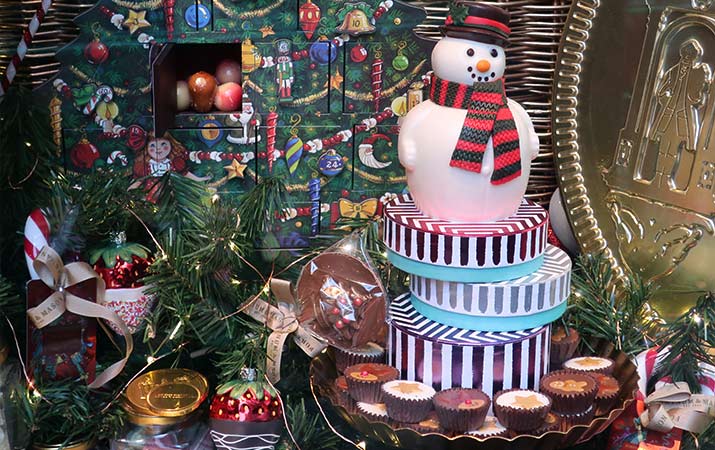 London is always a great walking city – in December, the streets are gorgeously decked out with lights.
Stores such as Fortnum & Mason, Harrod's, Selfridges have lavish window displays.
Hotels are beautifully deocorated with Christmas trees, garlands, shining baubles.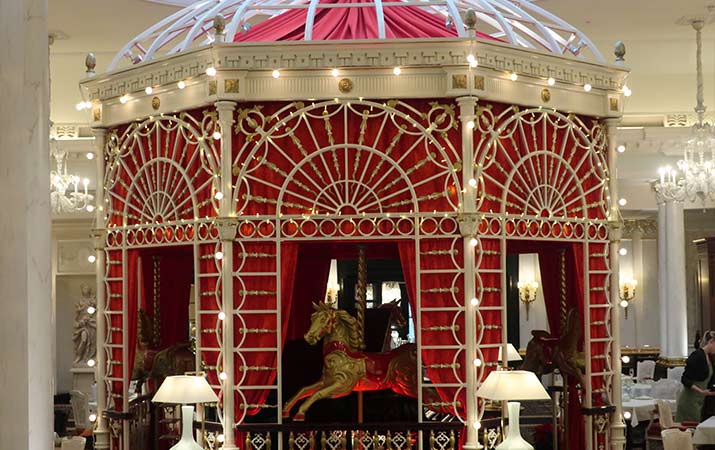 In the lobby of The Savoy hotel, a miniature ferris wheel rotated inside a giant snow globe, red and gold carousel was set up in the Thames Foyer (above).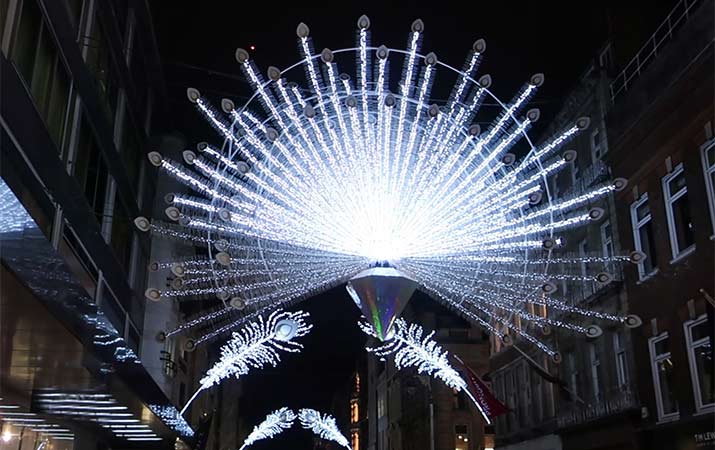 For a big bright light display, walk down busy Oxford St., but also explore smaller streets, such as Marylebone High Street, lights glowing like jewels, stars overhead.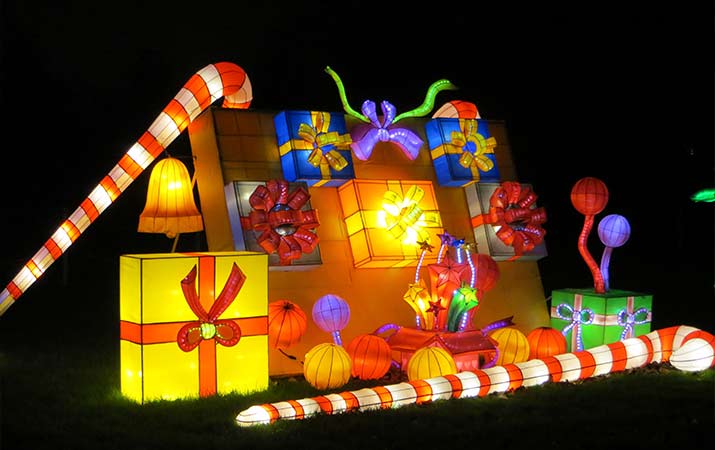 Kew Gardens has a must see light display that changes each year.
Follow the Christmas Lights Trail at the London Zoo.
Christmas sweets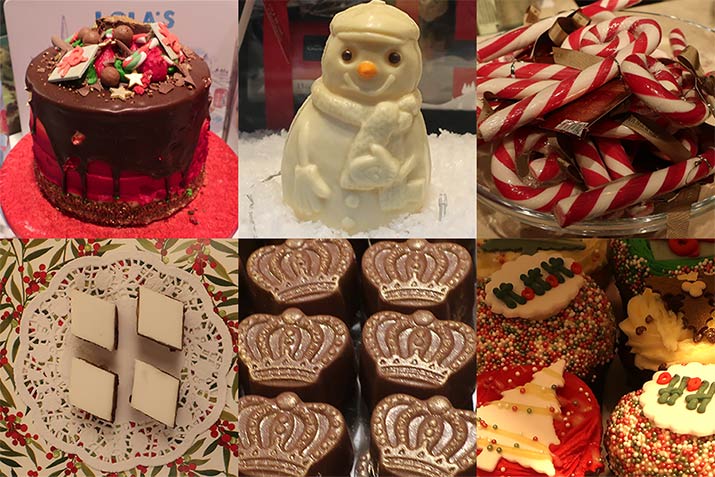 Shops are filled with chocolates in every imaginable shape – snowmen, wreaths, stars, Christmas trees, royal crowns, sea shells, prince charming frogs, lucky pennies. And try hot chocolate, English style, e.g. Cadbury's is a classic.
Fortnum & Mason has a lovely selection of gingerbread houses, trains and cookies.
At Harrod's food hall we saw unicorn cakes, and gold covered cupcakes!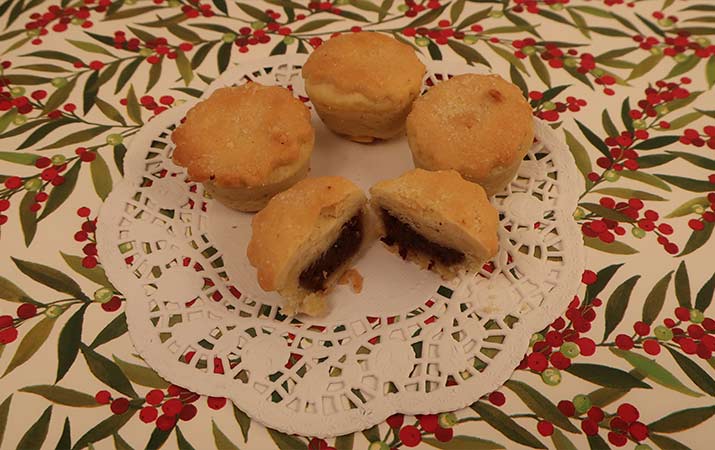 Mince pies and fruit cakes are traditional English sweets, served at Christmas time. Children's books are filled with descriptions of these desserts, so this is a chance for kids to take a taste.
Mince pies (shown above) are a buttery pastry filled with variety of currants, sultanas (like a raisin), apples, nuts.
Christmas cakes have a similar fruit filling, topped with white icing.
Tip: Vegan, gluten and nut-free mince pies and Christmas cakes are available in London.
Look for mince pies and cakes in many cafes, department stores, Covent Garden, but also shop at Waitrose supermaket, which has a good selection of British made treats.
Children's afternoon tea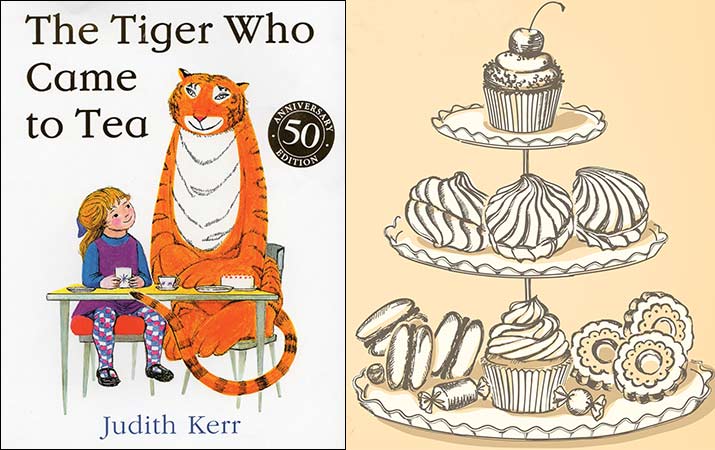 Christmas season in London is fun for special children's teas, at hotels and venues such as Fortnum & Mason, or create your own.
Classic children's afternoon tea typically includes finger sandwiches, scones, tea cakes, and choice of hot chocolate, tea, fruit juice or glass of milk.
Some children's teas are inspired by books.
At The Savoy Hotel, inspiration for their children's tea was a charming book The Tiger Who Came to Tea, complete with tiger-striped scones, plates decorated with tigers, and souvenir plush tiger.
A less expensive option is to create your own afternoon tea.
Go to a local neighborhood cafe or department stores (e.g. Selfridges Kitchen), kids can pick out their own small cakes, scones, shortbreads, cookies, pastries, hot chocolate, juices, or tea.
Ice skating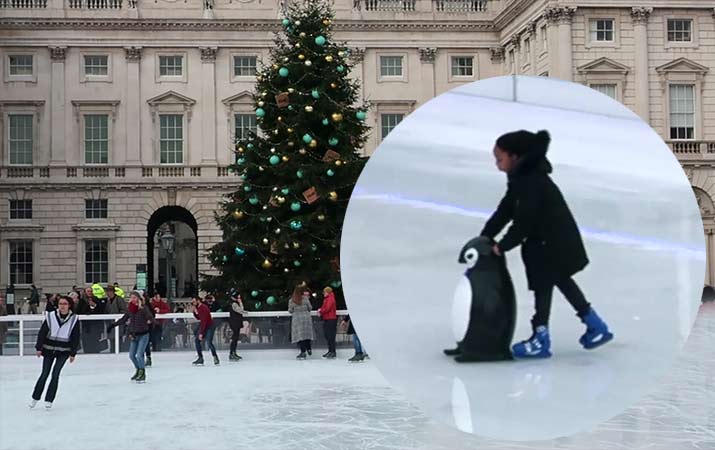 Throughout the Christmas season, ice skating rinks are open from the end of November to January.
Rinks have separate areas for little kids, no experience needed, "plastic assists" (penguins and bears) are provided.
Look for ice skating rinks at the following locations:
Tower of London
Somerset House
Natural History Museum
Winter Wonderland – Hyde Park
Hampton Court Palace
Winter Wonderland – Hyde Park
Winter Wonderland started as an open-air Christmas market in Hyde Park.
It's now expanded to a large amusement park and carnival with food, live music and shows.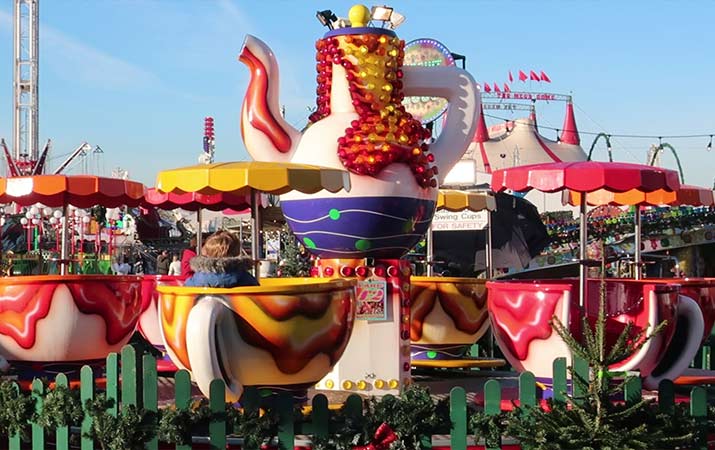 Santa Land is perfect for younger kids, with rides such as tea cups, taxis and buses, a mini train, carousels, and a visit with Santa Claus.
For teens, take your pick, plenty of tingling roller coaster rides.
Everyone in the family will have fun at the ice skating rink, midway (win prizes), large ferris wheel with panoramic views, food stalls, sweets, shows and live music.
Family events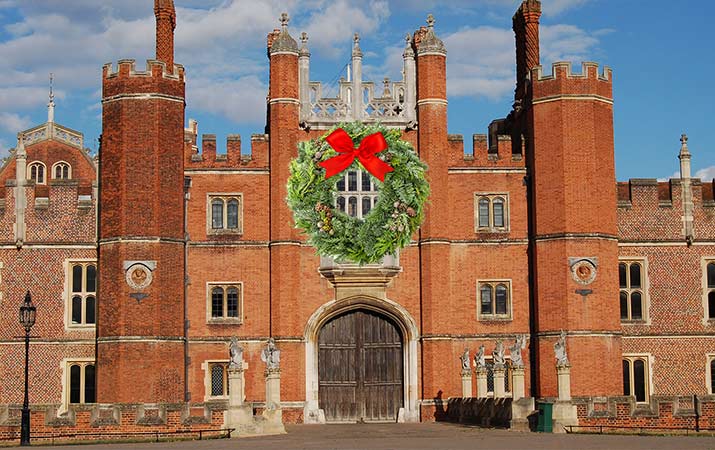 London has many seasonal family events throughout December.
At Hampton Court Palace – Christmas carol singing daily, interactive storytelling every Sunday, ice skating, and weekend family workshops, such as write a letter to Father Christmas (letter will be magically transported to the North Pole), make tree decorations, a tradition since Victorian times, or hand-made gift tags.
Museums also have family activities, make gingerbread houses at the Victoria and Albert Museum, or Christmas sleepover at the British Museum.
Theaters and concert halls throughout London offer a variety of Christmas themed shows, such as "The Snowman and Paddington Bear."
Tips for London at Christmas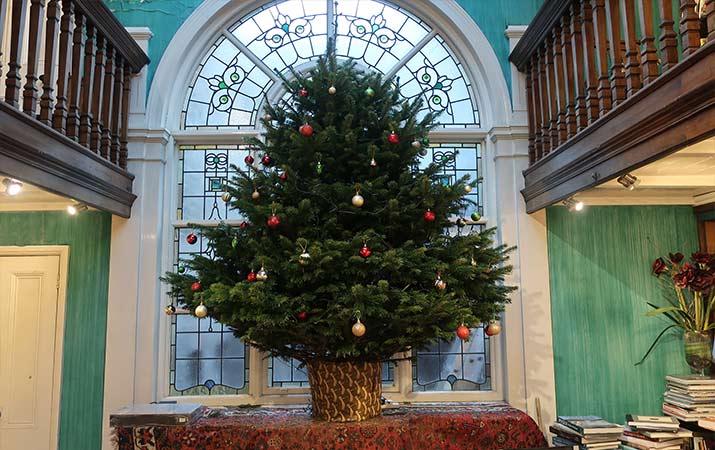 Weather
December can be variable, from pale winter sunshine to rain and chilly weather. Your family will want to be out at night, bring clothing to stay warm.
When you arrive in London, check the weather forecast, and plan outdoor activities, e.g. ice skating, Winter Wonderland, for days with a promising weather forecast.
Cosy cafes and bookstores
When it does rain, step into the nearest cosy cafe for hot drinks and snacks.
Or go shopping, e.g. Selfridges on Oxford St. has a fun Christmas toy shop on the 4th floor, plus Christmas sweets on the ground floor.
Or browse the bookstores – London bookstores are filled with stellar children's books. Two of our favorites, are Daunt Books on High Street in Marylebone, and Waterstone's at Trafalgar Square.

Christmas Day and Boxing Day
London shuts down on Christmas Eve, and doesn't re-open until Dec. 27.
Christmas Day and the day after Christmas, Boxing Day, stores and many restaurants are closed.

Fun places to stay


London at Christmas is one of our favorite times to visit, and you'll need a fun place to stay.

Check out Travel for Kids list of London family hotels and London family apartments.