Dublin is a modern city, situated on the site of a Viking settlement. And long before the Vikings, more than 2,000 years ago, Celts came to Ireland, bringing artistic traditions that continue to this day.
Visiting Dublin with kids, set out to discover Vikings and Celtic treasures.
In 836, the Vikings sailed their ships into Dublin Bay, and set up a trading settlement near a "black pool," called Dubh Linn by the local Irish people. The Vikings expanded their presence in Ireland, raiding towns and monasteries, but they also organized trade with other parts of Europe. In 1014, Brian Boru, high king of Ireland, fought the Vikings in the Battle of Clontarf near Dublin, ending the Viking age in Ireland.
The Celts came from Europe, arriving in Ireland by the 3rd century BC, perhaps even earlier. Celtic craftsmen were highly skilled in metalworking silver and gold, decorated with curves and swirls. After Christian communities were established in Ireland, the Celtic artistic tradition flourished, particularly in the 7th to 9th centuries, creating treasures such as the Ardagh Chalice (shown above).
Viking Dublin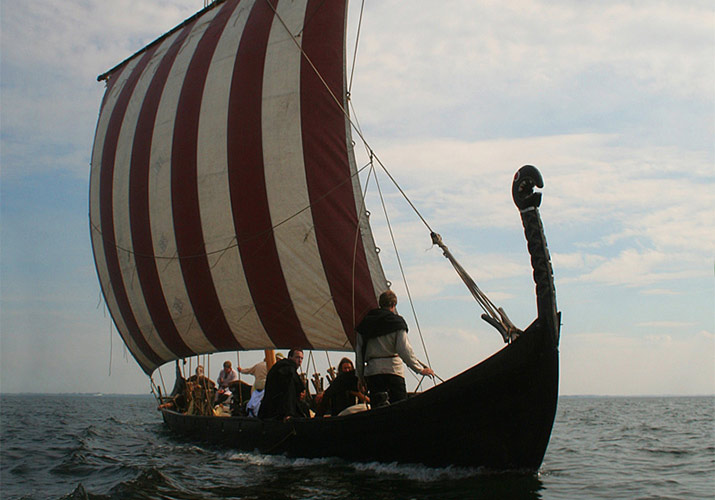 When the Vikings settled in Dublin, they built a walled community along the River Liffey, in what is now Dublin's old city. Viking Dublin was a busy town, filled with craftsman, merchants and traders, shops and market stalls, closely-packed houses, ships bringing goods from all over Europe.
Dublinia (next to Christ Church) – Dublina is a hands-on history of Viking and medieval Dublin. Learn about Viking runes and life on a warship, try on clothing, walk down the streets of town, sit around the fire in a Viking house.
Dublin Castle – The second half of the guided tour of Dublin Castle is the Undercroft. The Powder Tower was built on top of a Viking wall, cemented together with hair, ox blood and eggshells (great recipe). This wall was a defense against any attackers from the river.
Dubh Linn Gardens – Next to the castle is Dubh Linn Gardens. Walking through the gardens, you're walking on the original site of Dublin, the "black pool." In the grass is a design, like a big Celtic knot – see if you can see two snake's heads.
National Museum of Ireland – Archaeology (Kildare St.) – In the Viking Ireland galleries are a replica of a Viking ship, skeleton from a Viking burial, and objects of everyday life, such as golden rings, amber necklaces, craftsmen's tools, swords and spears.
Celtic Treasures
The Bronze Age Celts who arrived in Ireland were pagans, with sacred beliefs in nature that they incorporated into patterns of swirling lines and stylized animals in art. Their extraordinary artistry in metalworking appears in weapons, personal ornaments, and items meant as offerings to the gods. In the 5th and 6th century, when the Celts converted to Christianity, their artistic traditions continued, in decorations on illuminated manuscripts, stonework, metal crosses, chalices and reliquaries.
National Museum of Ireland – Archaeology
In the Treasury start with gold goodies – twisted gold torcs, huge crescent collars, bracelets, and brooches to fasten cloaks. The Celts were great warriors, and the torcs were worn in battle.
The Broighter Hoard from 1st century BC includes a gorgeous gold collar, miniature gold boat, two torcs, and two gold chains.
Ardagh Chalice (8th century) was found along with a bronze chalice and four silver brooches. The chalice, a wine vessel used in church services, is finely made with gold, silver, enamel, amber and crystal. At the bottom of the chalice are the names of eleven apostles (Judas is left out).
Tara Brooch (shown above) is an exceptionally fine personal ornament – brooches were worn by both men and women. Also 8th century, made with fine gold and silver work, it's decorated with stylized snakes, and animal heads with glass eyes.
Book of Kells – Trinity College
The Book of Kells, a 9th century illuminated manuscript of the four gospels, glows like magic. Pages and single letters are decorated with fantastic creatures, angels, and religious figures, outlined in brilliant colors of blue, green, red and white, yellow (looks like gold).
Before viewing the book, in the preceding exhibit, learn about book making, how the pages were made, sewn together, and how artists using quills decorated each page with such exquisite artistry.
Book of Kells is stored in a darkened room – one page of text and one decorated page is displayed, plus pages from two other famous illuminated manuscripts, the Book of Armagh and the Book of Durrow.
Tip: As only a few pages of the illuminated manuscripts are on display, pick up postcards in the museum shop. The lion in the Book of Durrow is one of our favorites.
Children's books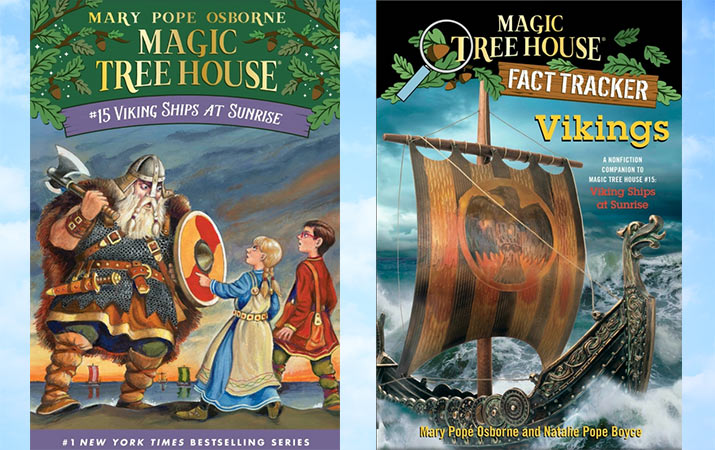 Viking Ships at Sunrise (Magic Tree House) by Mary Pope Osborne.
When the magic tree house whirls Jack and Annie back to ancient Ireland, they visit a monastery filled with books of wonder. Will they escape the Viking raiders with their jeweled treasure? (Easy reader)
Vikings Magic Tree House Fact Tracker by Mary Pope Osborne.
Nonfiction companion book, who were the Vikings, lives of Viking chieftans, warriors, traders, traditions of telling sagas and religious beliefs, how the Vikings were great boat builders, and sailed amazing distances. (Easy reader)
Viking (Eyewitness Books) by Susan M. Margeson.
Get to know the Viking world – warriors, weapons and warships, Viking forts and trade, jewelry (brooches, necklaces and bracelets for men and women), gods and legends. Rich detailed illustrations (Picture book)