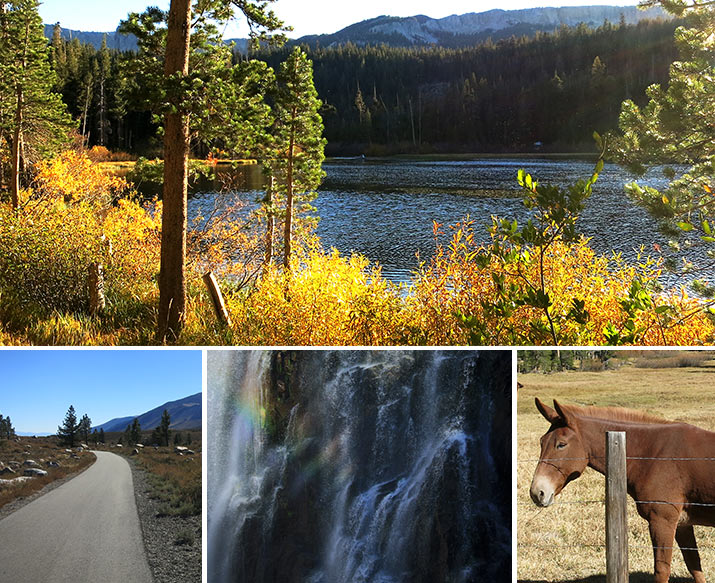 For the October Columbus Day holiday weekend, we traveled to the Eastern Sierra – Mammoth and Reds Meadow Valley.
This area is gorgeous in the fall – aspen trees turn bright yellow, leaves fluttering in the wind like butterflies. This year it was warm and clear, the Minaret mountain range silhouetted in an endless blue sky; however, in other years mid-October snow could fall .. .
One day we hiked down to Rainbow Falls (even little kids can do this hike from the trailhead). Although with the current California drought, the river is a diminished force, rainbows were there, shining in the crevices of the falls.
We stayed in a cabin (Tamarack Lodge) on Twin Lakes. Take a walk around the lakes, and watch migrating ducks having a party on the water, skittering across the surface, then diving down for goodies under the water, bottoms up.
Mammoth has tons of bike paths, and don't think it's only "extreme mountain bike" stuff. We rode the Town Loop bike path, starting at Mammoth City Park, going south. Stop for panoramic views of Mammoth Mountain, which is aptly named – from the bike path it does look "mammoth" (though we couldn't see the tusks).
On the way home, we headed up to Lake Tahoe to see the Kokanee salmon at Taylor Creek. This time of year, salmon depart Lake Tahoe and swim up Taylor Creek to spawn – watch bright red salmon shimmering in crystal clear water. And here's our Travel for Kids video: Lake Tahoe in Autumn.
The Eastern Sierra is not as well known as Yosemite or Lake Tahoe, but is easily accessible from southern California or San Francisco area. It's one of our favorite locales, going back four family generations.