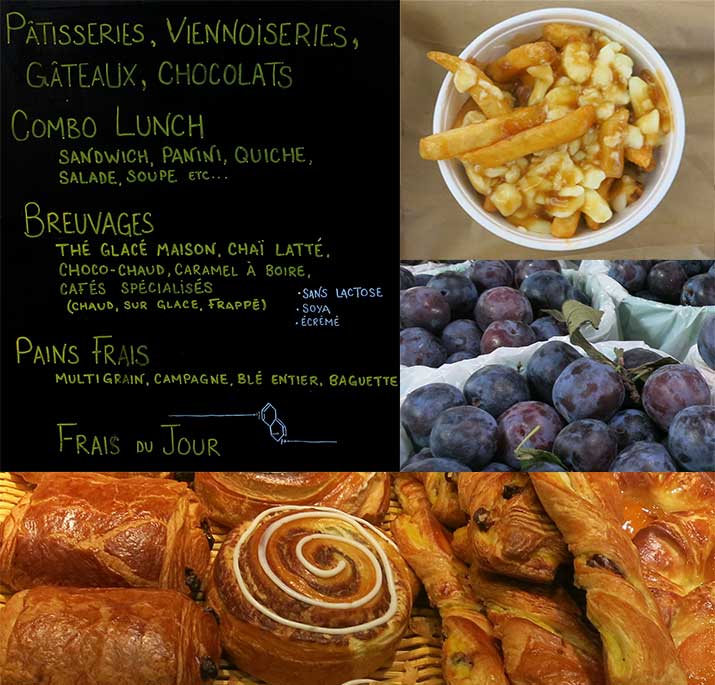 On our last trip to Montreal to see the Gardens of Light lantern festival, food was another highlight.
Just walking down the street, kids will see cafe and restaurant menus posted in French. Patisseries have sparkling displays of croissants, pain au chocolat, brioche with caramel, creme brulee, raspberry, strawberry, apple and pear tarts. Hot chocolate is chocolat chaud or choco-chaud (delicious), ice cream is creme glacee.
At the year-round Marche Jean-Talon farmers market, kids can try sweet crepes with chocolate and caramel, or maple butter and apples. This market also has local produce, many kinds of apples, pears, plums, cheeses, and cornets, tiny little cones with tire (maple taffy) and sucre (maple butter).
Walking through the food courts in the "underground city," shopping centers such as Eaton Centre, Complexe Desjardins, or Place Ville Marie, look for poutine, a local dish invented in Quebec. Poutine (prounounced poot-sin) is French fries covered with a brown gravy and melted cheese. Order poutine for a snack, or for a more substantial dish, poutine also comes with chicken or hot dogs.
Muffins come in all shapes and sizes – kids can try strawberry banana, cheddar cheese, cranberry, raspberry, carrot, raisin, and many more.
Bagels are a Montreal specialty, and they're different from a New York style bagel. Typically the dough (no salt) is rolled by hand, popped into sweetened boiling water for 5 minutes, and then cooked in a wood-burning oven for 15 minutes. Bagels can also be whole wheat, topped with sesame or poppy seeds, flavored with cinnamon and raisins, or covered with "everything" (tout garni).
Watch Travel for Kids video, making bagels by hand at St. Viateur Bagel Shop:
Also, if kids haven't tried classic French dishes, such as steak or mussels with frites (French fries), savory crepes, croque monsieur (grilled ham and cheese sandwich), or French onion soup, Montreal has plenty of kid-friendly bistros.