Visiting Paris with the family, tips for riding the Metro and how to get out of maze-like stations, museums and monuments, laundromats, restrooms, what to do when restaurants are closed on the weekend, where to stay.
Ride the Metro –
Riding the Metro (subway) is a speedy and inexpensive way to get around Paris. Here's a few things to keep in mind.
Lines are all clearly numbered and colored coded, both on the Metro map, and signs in the stations, e.g. Line 1 is yellow.
Before getting on, know when direction you're headed, e.g. in the direction of La Defense or Chateau de Vincennes (end stops for Line 1). Also, you may need to change lines, so remember your transfer station.
Buying tickets – Buy individual tickets for one trip (zones 1-2 for the city center), buy a day ticket Mobilis for unlimited rides on a single day, or Paris Visite for unlimited rides on 1,2,3, or 5 consecutive days.
To go through the turnstile, stick the ticket in the slot, it will pop up. Take the ticket with you.
Tip: Keep your ticket handy, don't bury it. Although we haven't seen this before, in one instance, Metro personnel came through, checking everyone's tickets. Without a valid ticket, there can be a penalty.
Getting on and off – On some Metro cars, the doors open and close automatically. Other cars, the door is opened manually. Getting on or off, to open the door either press the green button, or flip up the silver-colored door handle.

Exits – SORTIE means exit, so follow the signs to go up street level and exit the Metro. In big stations, multiple exits are numbered, along with the street name, e.g. at Chatelet stop, exit 1 is Rue de Rivoli. Also, check the street map with the exits, and you'll know which exit is closest to your destination.
Tip: Some stations are quite complex and spread out, such as Chatelet or Opera. To transfer to another line, it can be a long walk up and down through various tunnels and stairs. There aren't aren't always escalators, so consider this if you have a stroller.
Museums & Monuments –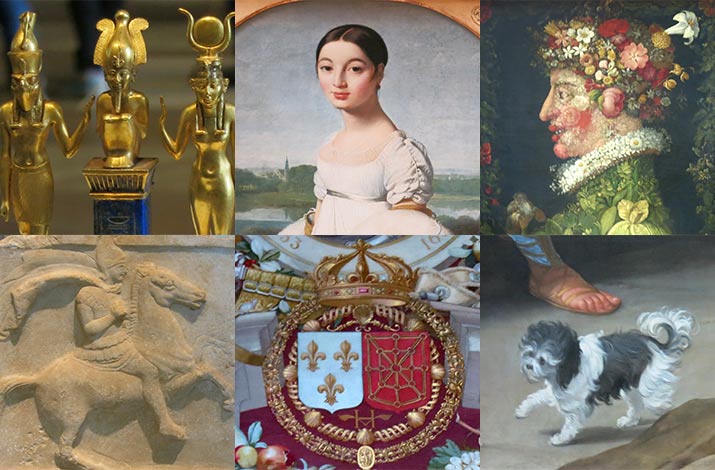 For popular monuments such as the Louvre, Musee d'Orsay, Versailles, Eiffel Tower, essential to buy tickets in advance online, or use a museum pass, such as the Paris Pass.
Currently, masks are required, and museums require timed entry reservations for a specific day, along with online ticket purchase. Check museum websites below to plan your visit.
In many museums, in addition to the ticket line, the security line is first. Large purses or tote bags will be opened, and don't have large backpacks with you.
Some museums are open every day, others closed on Monday, some on Tuesday. Make a note about museums you plan to visit, so you aren't disappointed trying to visit a museum on the day it's closed. Museums are typically closed on May 1, December 25.
Louvre – Closed Tuesday
Musee d'Orsay – Closed Monday
Pompidou Centre – Closed Tuesday
Eiffel Tower – Open every day
Versailles – Closed Monday
Smaller museums or monuments such as Museum of the Middle Ages, Musee de l'Armee, Musee des Arts et Metiers, Chateau de Vincennes, are much less crowded, and some of our favorites.
Laundromats –
Self-service laundromats are more plentiful in Paris than cities in Italy or Germany. Look for "laverie libre sevice" around your neighborhood, ask at your hotel, or check for addresses online.
Sometimes the instructions at the laundromat are only in French, but the general thing is this. First get laundry detergent. Put your clothes and detergent in the washing machine, select temperature, pay for your numbered machine. (In one laundromat, the machine started automatically after we put in the money, so make sure the door is tightly closed.) For dryers, load up the dyer, select temperature, pay for your dryer, hit start.
To pay, just put coins directly into the washing machine and dryer, for other laundromats, there's a central kiosk to buy detergent, select the number of the washing machine or dryer, then put in the money.
Restrooms –
There are public restrooms in Paris, though they never seem available when you need them.
One place you can always find restrooms is museums. After visiting a museum, don't leave without a bathroom break, before continuing on.
While wandering around city, if kids need a restroom, stop into any café, and order coffee and cold drinks, then ask for the "toilette." Restrooms are often down stairs in cafes and restaurants.
Restaurants on weekends –
On weekends, Sunday, and even Saturday, restaurants, patisseries (and shops) in neighborhoods may be closed. Try traiteurs, which provide take out food, but also have dining areas in the shop, and look for brasseries which offer service from early morning to night – "service continu."
Fun places to stay –
Tons of fun things to do with Paris with kids, and you'll need a fun place to stay. Check out Travel for Kids hand picked list of Paris family hotels. Hotels are selected for their amenities for families, such as restaurants, markets, laundromat in the neighborhood, breakfast is included in the room rate, babysitting services, rooms that sleep 4 (not that common in Paris) and more.
And Paris family apartment rentals have lots of advantages for families – a kitchen so you don't need to eat all your meals in restaurants (for breakfast, just hop out to a nearby patisserie to pick up croissants or brioche), room to spread out, cost savings for larger families. Apartment rentals are selected for their amenities such as such as apartments that sleep 4 – 8, washer and dryer, proximity to bakeries and markets, and more.
One of our favorite neighborhoods stay is the Marais – for all the details read our blog post: Paris: A Stay in the Marais
For more tips, read our our blog posts "Tips for Visiting the Louvre" and "Navigating Charles de Gaulle Airport."
And, find complete list of fun things to do with kids in Paris on Travel for Kids.