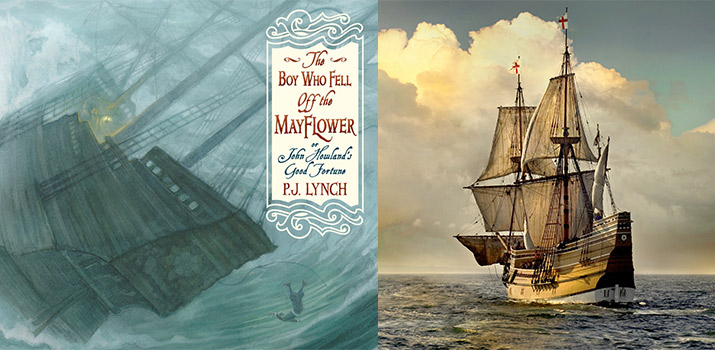 In fall 1620, John Howland set sail on the Mayflower, voyaging from Plymouth, England to America. Not accustomed to ships, he went on deck in a storm, was hit by a wave, and fell overboard. Lucky for him, the crew saw him go over, and dragged waterlogged John Howland back onto the ship. Lucky for us, he's our children's ancestor, along with millions of Howland's descendants.
The Mayflower landed on Cape Cod, and the colonists set up in the area around Plymouth, Massachusetts. John Howland was an indentured servant to John Carver, who became the new governor. The first hard winter, half the colonists perished. In the spring, local Indians helped the settlers to plant crops, and survive.
John Howland married Elizabeth Howland, they celebrated fifty years together, both living to an old age (80) and (79). The Howlands had ten children, who had eighty-eight grandchildren, and many generations later, here we are.
Exploring Plimoth Plantation and Plymouth town, visit two Howland houses.
Howland House, Plimoth Plantation – We stepped into a reconstruction of a thatched-roof, single room Howland house. It was furnished with wooden table and two rush-bottom wooden chairs, low cabinet on the left with pewter plates, on the right, a fireplace, Dutch oven on a tripod ready for cooking. At the other end of the room, dried herbs hung in the window over a bed.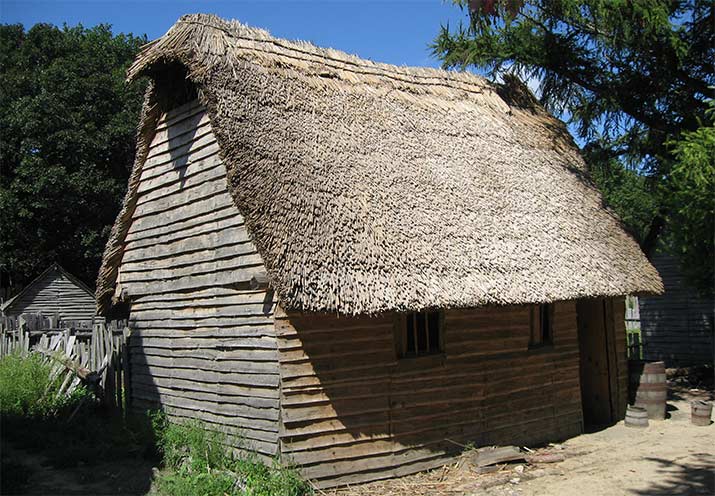 Jabez Howland House (333 Sandwich St.) – John Howland's son Jabez bought a two story house (built around 1667) in Plymouth town. John and Elizabeth Tilley stayed here during the winters, and Howland died in the house in 1672/3.
The house is furnished with 17th century furniture and artifacts, including china, kitchen utensils, writing desk, chests, trunks and wooden baby cradles.
On Burial Hill in Plymouth town is a John Howland monument (added in the 19th century):
Here ended the Pilgrimage of
John Howland,
who died February 23, 1672/3
aged above 80 years
He married Elizabeth daughter of
John Tilley
who came with him in the
Mayflower Dec. 1620
From them are descended
numerous posterity
John Howland outlived all the men who came over on the Mayflower.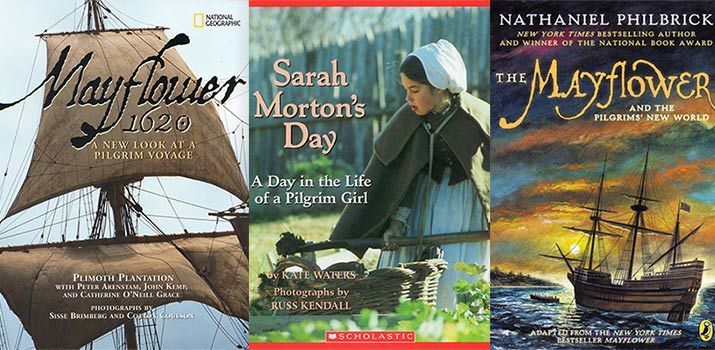 More children's books to read about sailing on the Mayflower, daily life in the new world, and first Thanksgiving.
The Boy Who Fell off the Mayflower by P.J. Lynch – Beautifully illustrated story of John Howland's voyage to America, and survival in difficult times. Howland leaves his family in England, sails on the Mayflower, falls overboard, but is saved. The first winter is hard, and when Carver dies Howland is now a free man. A year later, a ship arrives from England, Howland has a decision to make, stay or go. (Picture book)
Mayflower 1620 by Plimoth Plantation. Re-creation of the voyage of the Mayflower – the passengers arrive on board (there were about 30 children), provisions are loaded, charting a course, storms and rough conditions at sea, landfall at Plymouth. (Chapter book)
If You Sailed on the Mayflower in 1620 by Ann McGovern, Anna DiVito. Imagine yourself in 1620 sailing to America – what could you take with you, where would you sleep, how could you keep clean, where could you get into trouble on the ship? Answers to all these questions and more.. (Illustrated chapter book)
Tapenum's Day by Kate Waters, Russ Kendall. Illustrated with photographs from the Wampanoag Homesite at the Plimoth Plantation, explore the life of a Wampanoag Indian boy in the 1620's, fishing from a dugout canoe, going out to hunt, making an arrow that shoots straight and true, learning stillness in the forest. (Picture book)
Sarah Morton's Day by Kate Waters, Russ Kendall. A day in the life of Pilgrim girl – she gets up at dawn, served her parents breakfast, feeds the chickens, prepares a midday meal of stew and cornbread, and does her lessons. (Picture book)
Sammuel Eaton's Day by Kate Waters, Russ Kendall. What was a typical day for a Pilgrim boy? He gathered firewood in the morning, helped with the rye harvest, reaping and binding until sun down, and at the end of the day collected mussels for the evening meal. (Picture book)
Eating the Plates by Lucille Recht Penner. Fun account of what the Pilgrim's ate the first year (they were always hungry). On the Mayflower cheese was moldy and biscuits rock hard, corn pudding was eaten for breakfast, lunch and dinner, families ate right out of the cooking pot. Included are recipes to make your own Pilgrim meal. (Illustrated chapter book)
Squanto's Journey by Joseph Bruchac, Greg Shed. Story of the first Thanksgiving, Squanto of the Wampanoag welcomes the settlers, teaches them how to hunt, fish and plant, and in the fall, shares a feast together. (Picture book)
Colonial Kids by Laurie Carlson. Kids at Plymouth had to be self-sufficient and did adult's work to make a new life. Here's 30+ activities to try – learn about knots, sew an apron or rag rug, churn butter, make cornbread and hasty pudding, use a quill pen and homemade ink, stitch a sampler, play ninepins, and more. (Activity book)
The Mayflower and the Pilgrims' New World by Nathaniel Philbrick. Our favorite non-fiction book about Plymouth book for older kids and parents alike. The story goes far beyond the first Thanksgiving, as Pilgrims and Indians struggled to adapt, in peace and war, to the changes in a new world. (Chapter book)