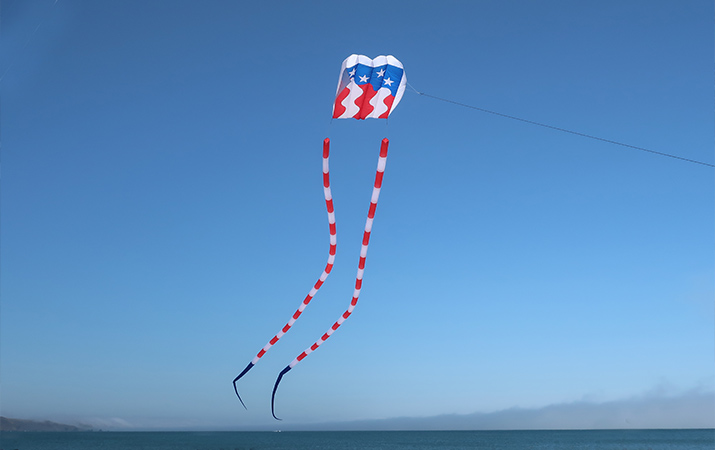 Bodega Bay is a fun family destination for the July 4th holiday.
The scenic small town of Bodega Bay, located a couple hours from San Francisco, celebrates a relaxed July 4th – kite flying on the beach, boat parade, tide pool activities for kids, kayaking around the harbor, families hike around Bodega Head and picnick outdoors.
It was sunny and clear when we arrived in Bodega Bay, so we decided to hike around Bodega Head first thing.
We zipped around the west side of the harbor, stopping to pick up sandwiches at Spud Point Crab Co.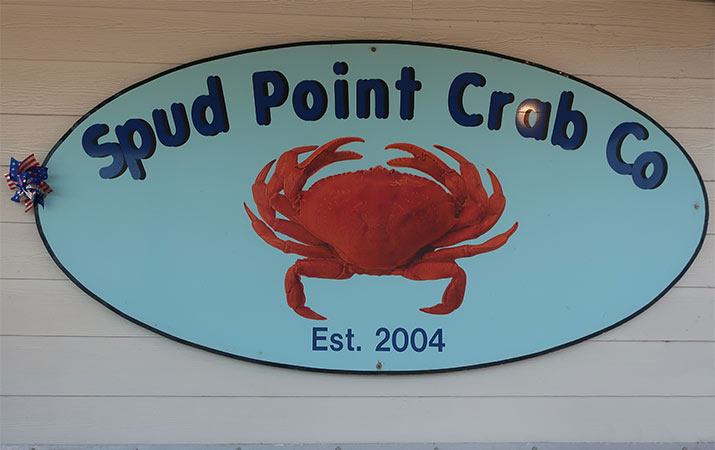 A local family-run shop with outdoor tables, they have delicious crab and shrimp sandwiches, hot dogs, tri-tip sandwiches, clam chowder, hot coffee and doughnuts. In honor of July 4th, kids were given red-white-and-blue sparkly pinwheels, flags for the grown-ups.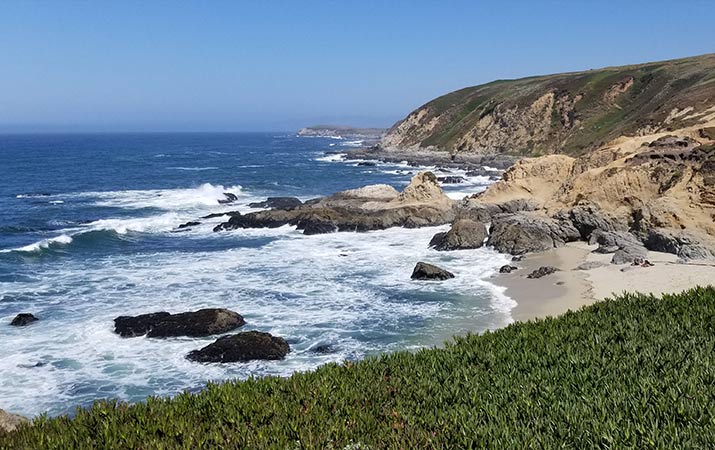 Westshore Road ends at parking lots for the Bodega Head Trail. Bodega Head is a large rock promontory, covered with shore grasses and wildflowers, rocky cliffs on the ocean side.
Bodega Head Trail south goes around Bodega Head. We took the south loop in a counter-clockwise direction, spectacular westward ocean panoramas, and then harbor views and Doran Beach to the east. (Trail also goes north, with views of Horseshoe Cove.)
Numerous level crisscross Bodega Head, 1.9 miles is full length, trail is largely level, wheelchair and stroller accessible. Benches and several picnic tables are available. restrooms at the upper and lower parking lots.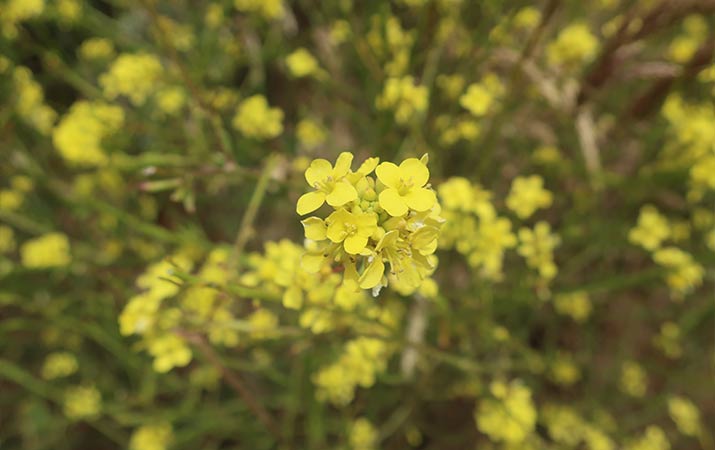 After our picnic lunch, a light fog rolled in, time to put on jackets, but still a lovely hike around Bodega Head, yellow poppies and mustard in bloom, tall grasses blowing in the wind.
Tip: January to May, bring your binoculars, and come to Bodega Head to look for migrating gray whales off shore.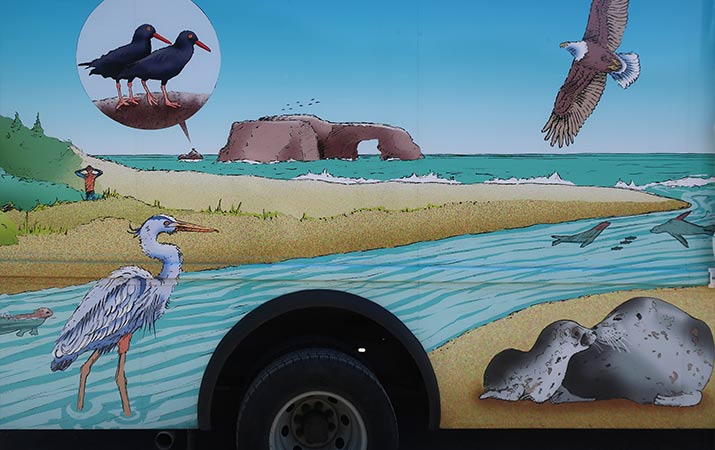 After our hike, we stopped at Campbell Cove to see a July 4th temporary interpretive exhibit "Tide Pool Adventure," set up by Stewards of the Coast and Redwoods, volunteer organization in partnership with Sonoma Coast State Parks.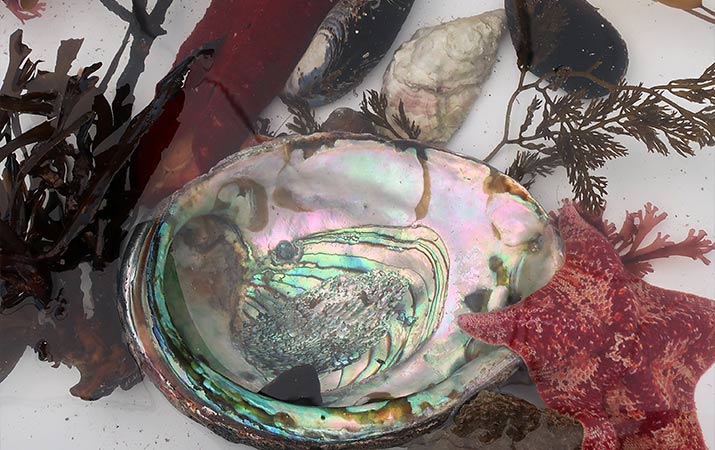 First time we've seen a mobile tide pool, kids could touch sea urchins, sea stars, sea cucumber, seaweed. The exhibits also had boxes of shells, whale's teeth and baleen, information about gray whale migration and marine protected areas along the California coast.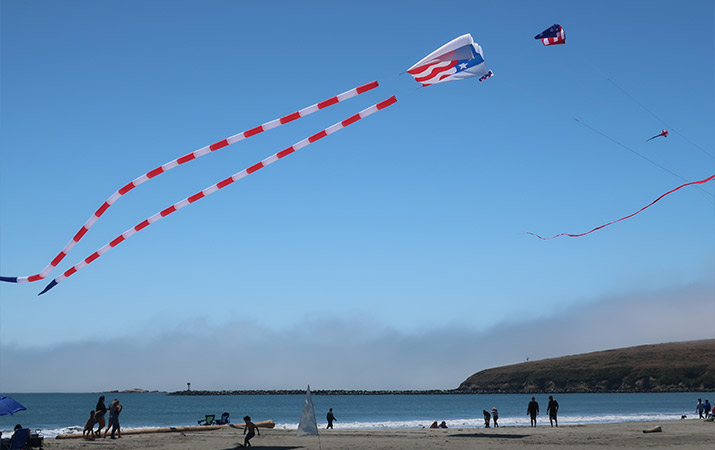 It was now early afternoon, winds had come up, perfect for "monster" kite flying, with red white and blue kites from Second Wind kite shop, soaring high in the sky over Doran Regional Park a long sandy 2 mile long beach.
At the beach, families were settled in with beach tents, chairs, coolers, picnics.
Tip: There are two very good kite shops in Bodega Bay (on Highway 1) – Second Wind and Candy & Kites.
The perfect long summer day at the beach, building sand castles, digging in the sand, flying kites, playing in the waves.
Find out more fun things to do on Travel for Kids Sonoma Coast, and fun places to stay – Bodega Bay family hotels and vacation rentals.